Peter Born in 1939
Peter Alfred Biggins
b. 1939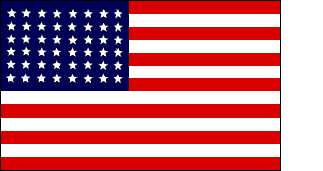 Kalamazoo, 1939-1941. Peter Alfred Biggins was born breech November 8, 1939, at Borgess Hospital in Kalamazoo, Michigan. In 1939, there were 48 states in the Union. Franklin Delano Roosevelt was President of the United States.
Peter was the second child of John Alfred and Jane Drueke Biggins, who lived at 916 Normal View (now 916 Lee Barton Court).
Peter was born 364 days after his sister, Emily Jane.
Peter was baptized November 19 at St. Augustine Church by Father Raphael Dunigan. His godparents were Jack Covington and his aunt Marian Drueke. In 1951, a new church was built and, in 1971, Kalamazoo became a diocese and the church became St. Augustine Cathedral.
Peter's father was a corrugated box salesman for Container Corporation of America. He had a company car: a 1938 Chevrolet Master Business Coupe. The list price new was $648. Specs: 85 horsepower, 6 cylinders straight, 80 mph top speed, 17 mpg fuel economy.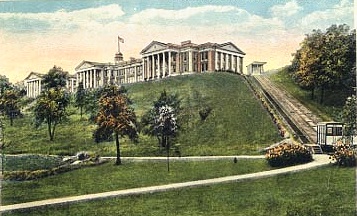 1931 postcard showing the tram up to East Hall at Western Michigan University. Source: Kalamazoo History.

The house on Normal View was across the street from Western State Teachers College, now Western Michigan University. The college was originally called Western State Normal School.

Peter is half German and half Irish.Peter's paternal grandparents, Leslie and Emily Foy Biggins, lived in the Lincoln Park community of Chicago in an apartment building they owned at 2318 N. Sheffield Avenue in St. Vincent DePaul Parish. Leslie was a third generation American of Irish descent and had his own waterproofing business. Emily was a second generation American of Irish descent.
Biggins Y-Chromosome DNA
DNA test results for Peter show that his closest Y-chromosome DNA matches are testers named Biggins, Bigham, Beggan, Beagan, and Little. The Irish word for little is beag. They share a mutation named BY3164, which is roughly estimated to have occurred in the 14th century in central Ulster. These and certain testers named McGuire, Boylan, McAuley, McDonald, and Connolly share a mutation named S953, which is roughly estimated to have occurred in the 5th century in a man named Carthend who lived on the River Faughan in far north Ulster. These and certain testers named McMahon, Hughes, Duffy, Monaghan, McQuillan, McKenna, and MacDougall share a mutation named Z3008, which is roughly estimated to have occurred in the 4th century in England. It was the Y-DNA of The Three Collas, Roman-trained warriors who emigrated from England to Ulster. Only males have Y-DNA, and it goes back father to father to father. See also The Story of My Y.
Peter's maternal grandparents, William and Rose Smith Drueke, lived in Grand Rapids, Michigan in a house they owned at 120 Grand Avenue NE, about 50 miles north of Kalamazoo. William was a second generation American of German descent and owned a game manufacturing company. Rose was a fourth generation American of German descent.
Drueke Y-Chromosome DNA
DNA test results for Peter's cousin Paul Drueke show that he matches up fairly closely with people whose ancestors are from England (Arnold, Bennett, Lowder, Ozment, Scott, Self, Wooten), Wales (Ellis, Price), Scotland (Armstrong, Russell), and Ireland (Moore). Many people with English names have Germanic origins. The term Anglo-Saxon is used by some historians to designate the Germanic tribes who invaded and settled the south and east of Britain from the early 5th century up to the Norman conquest in 1066. The Druekes are from Westphalia, which was part of Old Saxony. Paul's most recent shared mutation is named BY3323, which is roughly estimated to have occurred in the 4th century BC.
| | |
| --- | --- |
| 916 Normal View, Kalamazoo, Michigan. 1938 Chevrolet Master Business Coupe: 85 horsepower, 6 cylinders straight, 80 mph top speed, 17 mpg fuel economy, list price new was $648. | The Biggins family on the front steps of 1518 Evanston Avenue, Kalamazoo, Michigan, in 1941. From left: Jane, Emily, Peter, and Al. |
In 1940 or 1941, Peter's family moved a mile and a half south to another house in Kalamazoo at 1518 Evanston Avenue. Peter's brother, James Alfred, was born at Borgess Hospital on July 15, 1941.
Glendale, 1941-1942. In 1941, Peter's father was transferred to St. Louis, and the family moved to Sappington Road in Glendale, a suburb of St. Louis.
| | |
| --- | --- |
| Sappington Road, Glendale, Missouri. | 400 Fairwood Lane, Kirkwood, Missouri. |
Kirkwood, 1942-1944. Not too long after that, the family moved to a newly-built house at 400 Fairwood Lane in Kirkwood, another suburb of St. Louis. Peter's sister Sarah Jane was born on February 6, 1943, while they were living there.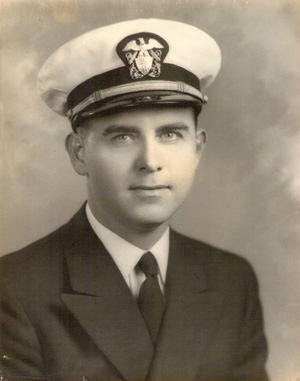 Lt. J. A. Biggins, Supply Corps, U.S. Navy.

Chicago, Lincoln Park, 1944. In January 1944, at age 33, Peter's father left Container Corporation and enlisted in the U.S. Navy, as a Lieutenant (junior grade). He was assigned to the Supply Corps in the American Fore Building on Rush Street, which is across the street from Quigley Preparatory Seminary. His job was purchasing corrugated boxes. Peter's parents sold their house in Kirkwood and spent the summer of 1944 in the home of Chicago artists Gus Dalstrom and Frances Foy in the Lincoln Park community of Chicago at 2637 N. Dayton Street, about a mile north of where Peter's grandparents lived on the north side of Chicago. The house had a studio in the attic that the four Biggins children enjoyed exploring. Gus and Frances spent summers working at their cabin along the Little Manistee River in Michigan's northwoods. Frances Foy was a second cousin of Peter's grandmother.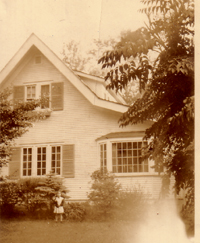 Emily standing outside house at 545 Scranton Avenue, Lake Bluff, Illinois.

Lake Bluff, 1944-1946. Later in 1944, the Navy transferred Peter's father to Great Lakes Naval Station, north of Chicago in Waukegan, Illinois. The family bought a house at 545 East Scranton Avenue, in nearby Lake Bluff, about two blocks from Lake Michigan and the beach. In September 1944, Peter went to Kindergarten in the local public school. On May 8, 1945, the Germans surrendered in Berlin. On August 15, 1945, the Japanese surrendered in Tokyo, and World War II ended. In March 1946, Peter's father was discharged from active duty in the Navy as a full Lieutenant, joined the Naval Reserve, and went back to working as a corrugated box salesman in Chicago. In September 1945, Peter went to first grade at St. Mary's in Lake Forest.

Webster Groves, 1946-1948. At some point between 1946 and 1952, Peter's father joined Union Bag & Paper Corporation. In any event, his job took him to St. Louis. Peter's parents bought a home at 200 Parkhurst Terrace in Webster Groves, a suburb of St. Louis. The house was across the street from a plant wildlife sanctuary.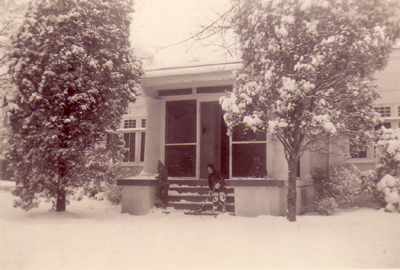 House at 200 Parkhurst Terrace, Webster Groves, Missouri.
The family lived in Holy Redeemer Parish. The children went to Holy Redeemer School. Peter went to second and third grades there.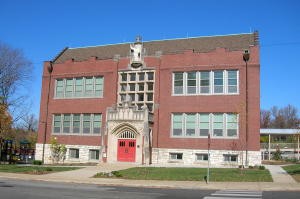 Holy Redeemer School, Webster Groves, Missouri.
He became a St. Louis Cardinal fan when they had Stan Musial, Enos Slaughter, Red Schoendienst, Marty Marion, and Harry the Cat Brecheen.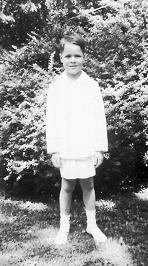 Peter, First Holy Communion, 1947.
On June 7, 1947, Peter's brother, William Alfred, was born.
On hot days in the summer, the family would go swimming at Treecourt, along the Meramec River at 2499 Marshall Road in Valley Park, 7 miles southwest of Webster Groves. They also spent time at the St. Louis Zoo in Forest Park.
Wilmette, 1948-1963. In 1948, Peter's father was relocated to Chicago. His parents sold the house in Webster Groves and bought a house at 806 Oakwood Avenue in Wilmette, a suburb just north of Chicago. Peter went to St. Francis Xavier School, starting in fourth grade there.
Peter was in the Boys choir in 1950 and 1951. He was an Altar Boy from 1949 to 1953.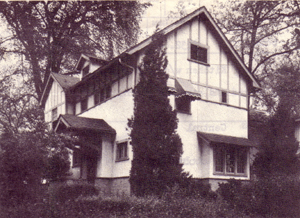 House at 806 Oakwood Avenue, Wilmette, Illinois, where the Biggins family lived from 1948 to 1963.


Indian Hill Club

At age 12 to 16, Peter was a caddy at Indian Hill Club in Winnetka, 2.3 miles from his house. Bill Murray also caddied at Indian Hill, although a few years later. Peter made $2.50 a bag, which could amount to $10 on days when he could get out twice with two bags. Tips were not allowed. One day Peter caddied for John M. Biggins, the only other Biggins he had met until he went to Ireland in 2006. John M. Biggins (1896-1960) was a guest from Elgin Country Club. Peter later learned that John was a Treasurer of the Elgin Watch Company until his retirement in 1958. His father's family had immigrated to Poughkeepsie, New York, from Ireland sometime before 1851. In 1866, the family moved to Peoria, Illinois. His grandfather and father, both named John, were dairy farmers and cattle dealers.

Peter played football and basketball at St. Francis Xavier School. In basketball, he was a second string forward. He was a good set shooter but not a good dribbler or jump shooter. In football, he was third string center.

In February 1952, Peter's father was promoted by Union Bag & Paper Corporation to Western Division sales manager of corrugated containers. His biggest account was Anheuser-Busch in St. Louis.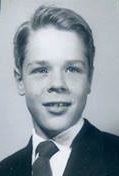 Peter, Graduation from St. Francis Xavier School, 1953.
In 1953, Peter and four others from his eighth grade class at St. Francis Xavier went on to study for the priesthood at Quigley Preparatory Seminary. Quigley, the seminary of the Catholic Archdiocese of Chicago, is located at 103 E. Chestnut Street on the Near North Side of Chicago. There he took, among other subjects, three years of Latin, English, and religion; two years of Greek; a one year of German and general science. In his sophomore year at Quigley, he won the basketball shooting contest.

St. James Chapel, Quigley Preparatory Seminary, 103 E. Chestnut Street, Chicago, Illinois. The seminary was closed in 2007 and became a Pastoral Center and headquarters of the Archdiocese Chicago.
At Quigley, Saturday was a school day, but Thursday was a day off. One Thursday, May 17, 1956, a fellow student arranged for a group of students to be Andy Frain ushers at Comiskey Park for a game between the White Sox and the Yankees. Peter, a Cub fan, was ball boy on the left field line. The Yankees won 10-3. Mickey Mantle, Whitey Ford, Yogi Berra, Phil Rizzuto, and Billy Martin were playing for the Yankees. Casey Stengel was the manager. Nellie Fox, Luis Aparicio, Minnie Monoso, and Sherm Lollar were playing for the White Sox. The Yankees went on to win the World Series that year, beating the Brooklyn Dodgers 4-3 in the 7th game. The White Sox finished third in the American League. The fellow student was from Queen of All Saints Parish, also the parish of Andy Frain.
One day after lunch, Peter was out on Chestnut Street with a number of other students, and they saw Danny Thomas. He smiled and waved to them.

Loyola University.
In 1956, after three years at Quigley, Peter decided he did not want to be a priest. Quigley had a standing arrangement with Notre Dame and Loyola University to accept three-year students without graduating from high school. Peter chose Loyola because it was cheaper. He took the el train from Wilmette to the Lake Shore campus of Loyola University at 6525 N. Sheridan Road in the Rogers Park section of Chicago. In his sophomore year of college, Peter decided to study industrial engineering and went on to Northwestern University in Evanston, where his father had received a degree in civil engineering. He did not do well at engineering and missed friends at Loyola, so he returned to Loyola for his junior and senior years, receiving a BS in Social Sciences in June 1960. Peter attended the 50th reunion of his class in June 2010, with Mass at Madonna Della Strada chapel and a brunch afterward where he received the honorary degree of Doctor of Durability.
On January 18, 1956, Peter's grandfather, William Francis Drueke, died of an abdominal aortic aneurism at age 72 at Berea College Hospital in Berea, Kentucky. He and Peter's grandmother Rose were driving to Florida for a two-month vacation. Following a funeral mass at St. Stephen's Church in Grand Rapids, he was buried at Mt. Calvary Cemetery.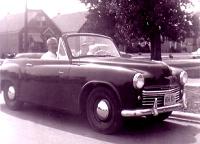 Al and Jane in 1951 Hillman Minx at home of Al's brother Dick at 7358 N. Osceola Avenue, Edison Park, Chicago, 1956.
Peter had a succession of foreign cars. In 1954, he learned how to drive on his parents' used red 1951 Hillman Minx drop-head coupe. In 1955, he bought a new Volkswagen Beetle.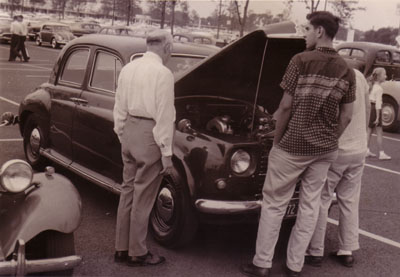 1951 Rover 75 at Old Orchard Concours d'Elegance, 1956.
In 1956, he bought his parents' used green 1951 Rover 75. The Rover had an engine and side panels made of aluminum. With his friend Bob Ford as navigator, he participated in a number of sports car rallies and concours d'elegance, winning various dash plaques.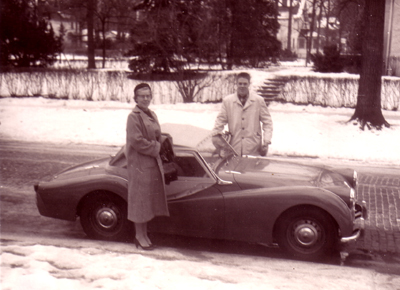 1957 Triumph TR3, Peter, and his mother. Photo: Jerry Milks.
In 1957, he bought a new blue Triumph TR3. In 1958, he bought a used black TR2. In 1960, he bought a used Beetle. In 1964, he bought a used white 1962 Rover 2000.

During the first two summers while Peter was in college, he worked as a mail clerk at the First National Bank and Trust Company of Evanston. During the last two summers, he had a job with the North Shore Mosquito Abatement District. He rode a red Harley-Davidson motorcycle with a side tank used to spray sewers with DDT. (Rachel Carson's bestseller Silent Spring exposed the hazards of DDT in 1962. In 1972, the newly established Environmental Protection Agency banned DDT.)
For several Christmases, Peter was a mailman in Evanston.
On May 25, 1959, Peter's grandfather Leslie Biggins died at age 82 in Chicago. Peter's grandparents were living in an apartment that their son Richard had built onto their house. Following a funeral Mass at the Church of St. Juliana in Chicago, he was buried in the Foy plot in Mount Carmel Cemetery in Section B, Block 2, Lot 19.
In April 1960, Peter was a Federal census taker in Rogers Park (his pages will be made public in 2032).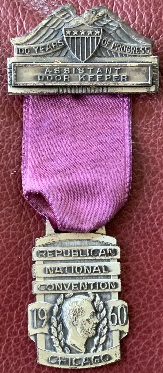 Assistant Door Keeper badge Peter was given for admission to the 1960 Republican National Convention in Chicago. 4" tall. At the top: "100 Years of Progress"

In July 1960, the Republican National Convention was held in Chicago at the International Amphitheater, adjacent to the Union Stock Yards. A 100 years earlier, the Republican convention had nominated Abraham Lincoln in Chicago.

Peter's Uncle Richard Biggins got him a job as a driver at the Convention. He happened to be assigned to the Administrator of the Convention, Hal Short (1911-1984) from Oregon. He received an Assistant Door Keeper badge for admission to the convention.

Despite his work with the Republicans, Peter voted for John F. Kennedy, the first Catholic to be elected president of the United States. He just happened to turn age 21 and become eligible to vote on election day, Tuesday, November 8, 1960. His birthday was to fall on election day every 7 elections (28 years): 1960, 1988, and 2016. In addition to voting for the winner on his birthday in 1960, he also voted for the winner in 1988 (George H. W. Bush), and 2016 (Donald Trump).

The University of Chicago.

In 1960, Peter was intending to go on to graduate school in Industrial Relations at Loyola, but one of his professors, Father Theodore V. Purcell, S.J., suggested he apply to the business schools at Harvard and Chicago. Peter had taken a course with Father Purcell about his book, The Worker Speaks His Mind on Comany and Union. He was rejected by Harvard, but accepted by the University of Chicago in the Hyde Park section of Chicago. At Chicago, Peter was President of the Business Club. One of his professors was George Shultz, who would later serve as Secretary of Labor, Secretary of the Treasury, and Secretary of State. Peter received an MBA in June 1962 with a concentration in Industrial Relations.

In 1961, Peter received an autographed picture of President John F. Kennedy with best wishes. The cover letter said it was sent at the request of Dave Powers. A fellow student at the University of Chicago had requested it through his uncle Dave Powers.

On April 28, 1962, Peter's sister Emily married John David "Jack" Williams at St. Francis Xavier Church in Wilmette.

After graduation from the Business School, Peter joined the Army reserves for six years to avoid the draft. He joined the 374th Convalescent Center, 85th Regiment, 85th Division (Custer Division) on the south side of Chicago at 71st Street. In August 1962, he went on six-months active duty for training. He took eight weeks of basic training at Fort Leonard Wood in Rolla, Missouri. The Cuban Missile Crisis occurred while he was there, causing some concern from October 16 to 29, 1962.
| | |
| --- | --- |
| Shoulder sleeve insignia for the 85th Infantry Division (Custer Division). | Unit insignia for the 85th Regiment: "PRAEPARATIO ET COOPERATIO" |
After basic training, he took eight weeks of Medical Corpsman training at Fort Sam Houston in San Antonio, Texas. He was discharged from active duty in February 1963 and joined a driver training detachment of the 85th Regiment on Kedzie Avenue on the north side to be closer to home. There he commenced weekly meetings and annual active duty for two-week summer camps.
Upon reading this page, Peter's second cousin Bill Donahue wrote that during his service in the Korean War he worked with the 7th Cavalry Regiment on the DMZ. The 7th Calvary Regiment and the Custer Division both have connections with Custer but they are not related organizationally. Bill noted that the Custer Division was so named because it was activated at Camp Custer (Fort Custer after 1940). This was in 1917 in Kalamazoo County, Michigan. Camp Custer wass named after George Armstrong Custer, who came from Michigan, fought for the Union in the Civil War, and was present at Appomattox for Lee's surrender to Grant. After the war, Custer led the 7th Cavalry Regiment in the Battle of the Little Bighorn. Custer and all of his detachment, including two of his brothers, were killed. The battle is known popularly as "Custer's Last Stand."
On March 23, 1963, Loyola University Chicago won the NCAA basketball tournament, defeating No. 1 ranked Cincinnati 60-58 in overtime. Peter saw the game with fellow graduates at the home of Bob and Mary Jane Bailey.
Chicago, Edgewater, 1963-1964. After completing his six months of active duty in the Army, Peter found a job at the headquarters of Allstate Insurance Company at 7447 Skokie Boulevard in Skokie, Illinois (now Lincoln Pointe condominiums and townhouses). He worked in Corporate Planning and then Operations Research.

6000 N. Winthrop Street, Chicago, Illinois, 2000.

In June 1963, Peter and his brother Jim rented an apartment in a new building at 6000 N. Winthrop Avenue in the Edgewater section of Chicago. This ended when Jim joined the Navy and Peter got married.
Marilyn Born in 1940
Marilyn Kathryn Carroll
1940-2020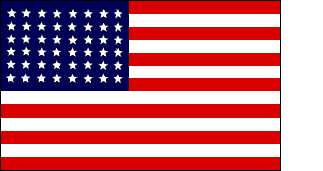 Chicago, Austin, 1940-1952. Marilyn Kathryn Carroll was born January 3, 1940, at West Suburban Hospital in Oak Park, Illinois, exactly eight weeks after Peter was born in Kalamazoo. In 1940, there were 48 states in the Union. Franklin Delano Roosevelt was President of the United States.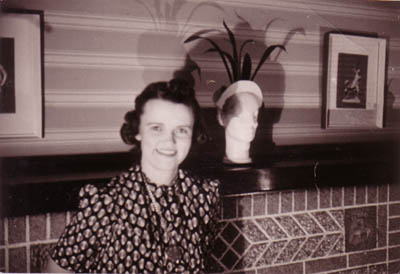 Henrietta Kenny Carroll, "Bunny," at 4955 W. Fulton, Chicago, Illinois.

Marilyn was the first child of Edward and Henrietta "Bunny" Kenny Carroll, who had been married five years when Marilyn was born. They lived at 4955 W. Fulton Street in St. Thomas Aquinas Parish in the Austin community of Chicago, which is on the far west side of Chicago, just east of Oak Park. St. Thomas Aquinas was an Irish Catholic parish located at 5112 West Washington Boulevard. It opened in 1909 and closed in 1988. Marilyn's father was a plumbing fixture salesman in the Chicago branch office of the Kohler Company in Tribune Tower. When Marilyn was born, Bunny quit her job as executive secretary for the Field Estate.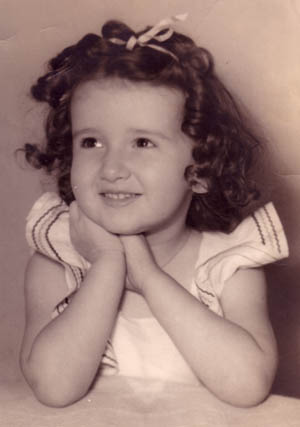 Marilyn, age 2 years and 9 months.
Marilyn is 3/4ths Irish and 1/4th Swiss. Marilyn's paternal grandparents, David and Emma Starke Carroll, lived a few miles away at 2730 W. Jackson Boulevard in Most Precious Blood Parish. David was born in Ireland and was a retired Chicago policeman. Emma was a second generation American of Swiss descent.
Carroll Y-Chromosome DNA
DNA test results for Michael Patrick Carroll, second cousin of Marilyn, once removed, show that his closest matches are Carrolls. They share a mutation named FT79210, which is roughly estimated to have occurred in the 10th century. They share an earlier mutation with a broader group named Y5058, which is roughly estimated to have occurred in the 2nd century. This broader group of testers includes men named Ryan, O'Dwyer, Lee/Leary, Gorman, and Kennedy. These families descend from Breassal Breac who lived in Leinster. They settled in the 13th or 14th century in County Tipperary and County Limerick. See Breassal Breac DNA.
Marilyn's maternal grandparents, James and Charlotte McDonald Kenny, lived a few blocks away at 4715 W. Maypole Avenue. James was a second generation American of Irish descent and was retired from the railway postal service. Charlotte was a second generation American of Irish and Scottish descent. She was 15 years younger than her husband. During World War II, she worked as an assembler for a manufacturing company as part of the war effort.
McDonald Y-Chromosome DNA
DNA test results for Michael McDonnel, Marilyn's third cousin, once removed, show that his closest matches are named McGee and Patton. They share a mutation named BY216377, which is roughly estimated to have occurred in the 12th century. They, in turn, share a mutation named FT120288 with testers named Tierney. This mutation is roughly estimated to have occurred in the 10th century. Michael's DNA is associated with a group called Cenel Moain, a subset of Cenel Eoghain, a subset of Northwest Irish (M222). Northwest Irish was originally identified in a Trinity College Study and said to be descended from Niall of the Nine Hostages, who lived in Ireland in the 4th/5th century.
The year Marilyn was born, her family moved around the block to a 4-unit apartment building they purchased at 200 N. Lamon Avenue, at the corner of Maypole Street.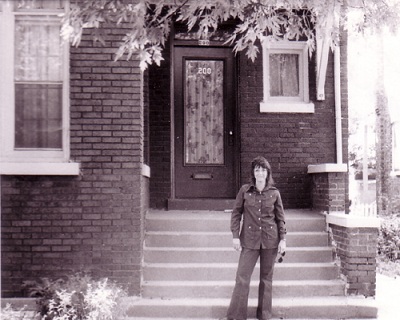 Maureen (Micki) Carroll returning to 200 N. Lamon Avenue in 1973.
Marilyn's only sibling, Maureen (Micki), was born on June 19, 1942.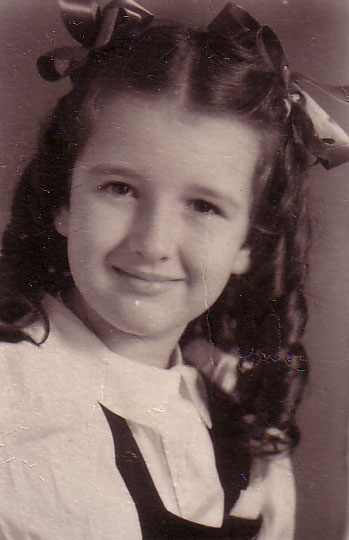 Marilyn posing, 2nd Grade, St. Thomas Aquinas School.
Marilyn went to kindergarten at Spencer School and then went to grammar school at St. Thomas Aquinas. In second grade, Marilyn wanted to maximize the effectiveness of her class picture. So she practiced smiling in front of a mirror the night before the pictures were to be taken. It worked. The result is the smile in the picture shown here.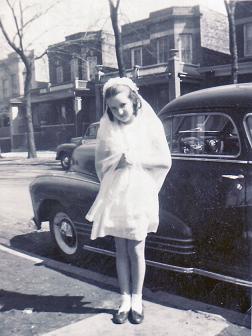 Marilyn, First Holy Communion, 1947. Standing in front of the family's 1946 or 1947 Pontiac Torpedo Business Coupe parked in front of their home at 200 N. Lamon Avenue in the Austin section of Chicago.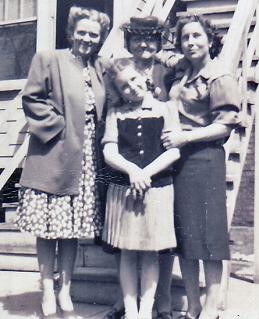 Three generations in 1947: Henrietta "Bunny" Kenny Carroll, 40, Charlotte Mae "Lottie" McDonald Kenny, 62, Marilyn Carroll, 7. Woman on far right is unidentified neighbor.
In April 1948, when Marilyn was age 8, her grandmother, Charlotte Mae McDonald Kenny, fell down a flight of stairs at the neighbor's next door and died suddenly. The man next door was sick, and she was going to visit him. The hallway was dark. She opened the wrong door and fell down the stairs. The coroner certified that the cause of death was a "skull fracture" and that "the deceased fell down a flight of stairs striking her head on the basement floor." Following a funeral Mass at St. Thomas Aquinas Church, Lottie was buried at Mount Carmel Cemetery.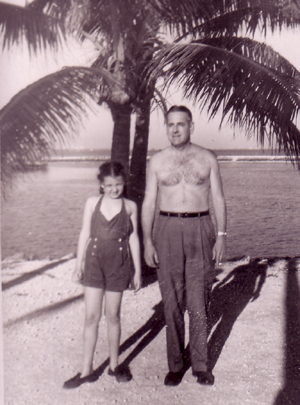 Marilyn Carroll and her father Edward Carroll in Florida, circa 1950.
Charlotte lived on the other side of Cicero Avenue, three blocks east, at 4715 W. Maypole Avenue. Marilyn remembers walking to the bakery at Maypole and Cicero Avenues to get jelly doughnuts and freshly baked bread and waving to her grandmother standing across Cicero Avenue waiting for a bus to go to work.
One day, in fifth grade, Sister asked the children to write an essay on what they wanted to do when they grew up, with perhaps a slant toward the religious life. Marilyn's essay states:
When I Grow Up

When I grow up I want to be a plain ordinary housewife. Now don't let this shock to much. I think a nuns life is nice for some people. But for my self I like the more active life such as having a very large family. I have had that ambission since second grade and it won't change.

Marilyn Carroll
Wing Lake, 1952-1955. In March 1952, when her parents were just about to move in to a new house on Arbor Street in Glenview, Illinois, Marilyn's father was named manager of the Detroit Branch of the Kohler Company. In July the family moved to 6385 Thurber Road in the Wing Lake section of Bloomfield Township, Michigan. Marilyn went to Holy Name School for eighth grade and then on to Bloomfield Hills High School. While at Wing Lake, Marilyn became an excellent swimmer.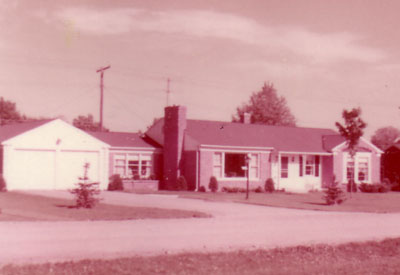 6385 Thurber Road, Bloomfield Hills, Michigan.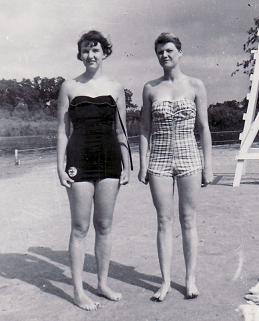 Marilyn and her friend Dorothy Couse at Wing Lake, Bloomfield Hills, Michigan.
In April 1954, the union struck Kohler in what was to be one of the longest and bitterest strikes in United States labor history. The company hired and trained replacement workers, but production slowed significantly and the inability to fill customer orders made Marilyn's father's life very stressful.
In the summer of 1954, Marilyn and her family went on a vacation to New York City. Her father drove and they stayed for a week in a hotel. The highlights were walking around Times Square, going to Ripley's "Believe It or Not," and eating at the Automat. The Kohler district manager took them to the Aquashow in Queens with synchronized swimming and clowns on the diving board.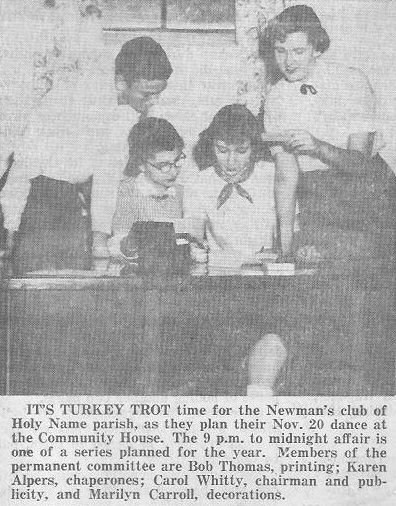 Marilyn and friends, November 1954.
In April 1955, Herbert Kohler Sr. traveled to Detroit and met with Marilyn's father at the Detroit branch. At night, he took her parents to a fancy party in the area. Afterwards, he returned to their home and was introduced to Marilyn and and her sister Maureen (Micki).
On May 16, 1955, Marilyn's father, Edward William Carroll, died suddenly of a heart attack at Beaumont Hospital in Royal Oak, Michigan, at age 49. Marilyn was age 15. The funeral was held at St. Thomas Aquinas Church back in Chicago. Herbert Kohler Sr., the chief executive of the Kohler Company, attended the funeral. Marilyn counted 50 cars in the funeral procession. Marilyn's father was buried at Queen of Heaven Cemetery.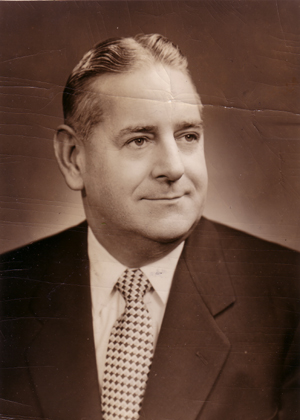 Edward Carroll.
Glenview, 1955-1962. After the funeral, the house on Thurber Road was sold, and in August the family moved back to Illinois. Marilyn's mother Bunny bought a new house at 338 Nordica Avenue in Glenview.
After 21 years as a housewife and mother, Marilyn's mother was left with two teenage daughters to support. She started working again as a secretary. First she worked at the research laboratories of Kraft Foods Company, 923 Waukegan Road, Glenview. In 1961, Bunny started work as a secretary at Milwaukee-Golf Development Co., owner of the Golf Mill Shopping Center at Golf Road and Milwaukee Avenue.
Marilyn finished high school at Niles Township High School (now Niles East). At age 16, after babysitting for five years, Marilyn got a job working part-time and summers as a waitress in the tea room at Marshall Field's in the Old Orchard Shopping Center. On Spring break in her junior year, she went on the school trip to Washington, D.C., and Colonial Williamsburg. In her senior year, she went on the trip to New York City.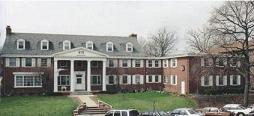 Phi Mu Sorority House, West Lafayette, Indiana.
After graduation from high school in 1957, Marilyn applied to and was accepted at several colleges. She decided on Purdue University in West Lafayette, Indiana, where she majored in English and Speech. Marilyn joined Phi Mu Sorority, where she met her friends Nancy Kurfess and Joanne Jemison (now Leilich). While at Purdue, she worked summers as a secretary. Marilyn graduated from Purdue in 1961.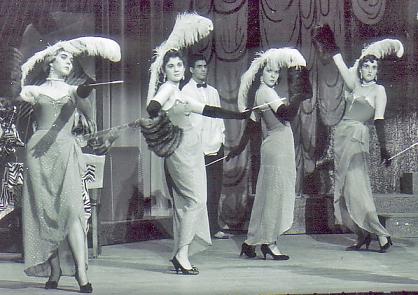 Hot Box Girls singing "Take Back Your Mink" in the Purdue University production of Guys and Dolls in February 1959. Marilyn is the first chorister on the right.
With the help of Ralph Gust a friend of the family and President of the Proviso School Board, Marilyn got a job teaching English and Speech at Proviso West High School at 4701 Harrison Street in Hillside. Marilyn met her friend Fran Baumgartner at Proviso West.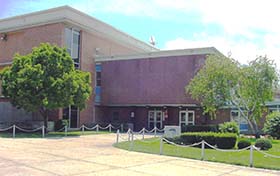 Proviso West High School, 4701 West Harrison, Hillside, Illinois.
After her first year teaching at Proviso, Marilyn went on a 10-week tour of Europe with her sorority sister Nancy Kurfess and Nancy's friend, Gail Dent. While in Rome, Marilyn took a side trip by herself to Castel Gandolfo to see Pope John XXIII.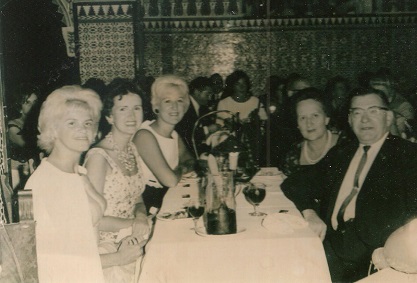 Marilyn in Madrid in 1962. From left: Gail Dent, Marilyn, Nancy Kurfess, Mrs. Kurfess, Mr. Kurfess.
Park Ridge, 1962-1964. In 1962, the family moved to an apartment at 1306 Carol Street in Park Ridge, and the house on Nordica was rented out and eventually sold. Marilyn continued to teach at Proviso West High School. She lived with her mother and sister in Park Ridge until she got married.
On October 31, 2007, Peter received this e-mail from one of Marilyn's former students, Linda Leffler Simpson.
This email is actually for Marilyn. First, let me say that I came across your website purely by accident (while researching churches of all things). However, you have no idea how ironic this is for I have been thinking about my old high school teacher, Ms. Carroll, a lot recently. I've always talked about her off and on, but lately she's been on my mind more often. This is so bizarre.

I, too, am a genealogist and have been for more than 25 years. Currently, I have been writing personal books -- historical stories -- for distribution among the many genealogy organizations that I belong to (thus, the reason for my currently thinking more about her). I figured I'd better do this before too much more time passes and my brain cells start functioning only in spurts.

Anyway, I often think of Marilyn because it was she who first told me that I was born to be a writer and encouraged me to do so at every opportunity. She got me published in the school newspaper more than once. (I'm sure she has NO recall of any of this. But that's ok.) Every teacher (I am one myself) wonders if they ever "reached" a student. Well, I am here to tell her (would you please pass it on?) that she did. I have always considered myself a closet writer -- child rearing got in the way -- and I am recently finding and spreading my wings. But I often talk about Ms Carroll and how she inspired me. She was the reason I began to write. Everyone has a favorite teacher and she was mine.

Oh...I was at your wedding. You may not remember that. Me and two other friends (all her students) attended the church service. I have a picture of us all filed away somewhere around here. If you still have this photo in your wedding album, I am the short one in the red dress.

I was just so flabbergasted to have come across your site while I was writing another story. I can't believe that I was just talking about her, too, last week actually, to someone who asked me who I remember the most from Proviso West. This is really something. Wow.

Well, I just wanted to tell you both all of this. Your genealogy site is really good, by the way.

Linda nee Leffler Simpson (Wow. I just can't believe I was just talking about her and then your website pops up -- in response to a Google search -- because of the church photo on your site. Unbelievable. I just have to wake up my husband and tell him this one! He's gonna be thrilled. Mm hm. I'm sure.)

Did I mention how crazy serendipitous this is?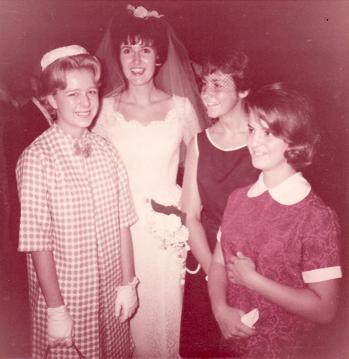 Three of Marilyn Carroll's students from Proviso West High School attended her wedding in August 1964. At far right is Linda Leffler Simpson.
Peter and Marilyn Marry in 1964, Have 4 Children
Peter and Marilyn met for the first time on Memorial Day in 1963 at Illinois Beach State Park. The occasion was a picnic for college graduates sponsored by the Sheil Club, a Catholic club at Northwestern University. Marilyn went on to summer school at the University of Wisconsin in Madison. Peter called in the Fall. They began dating and in March, Peter said "I think I ought to get married." Marilyn said "I have to go to the bathroom." Sometime after that they decided to get married.
| | |
| --- | --- |
| Our Lady of Perpetual Help Church | Wedding Party, 1964. From left: Bob Ford, Gail Chelius, Robert Witherell, Nancy Kurfess, Marilyn Biggins, Peter Biggins, Joanne Leilich, Jack Williams, Jim Biggins, and Maureen (Micki) Carroll. |
| Peter and Marilyn | Iroquois Hotel, Mackinac Island, Michigan. |
Peter and Marilyn were married by Father John Dussman on August 22, 1964, at Our Lady of Perpetual Help Church in Glenview, Illinois. Marilyn was given away by her uncle, Bob Witherell. Peter's brother James Biggins was best man, and Marilyn's sister Maureen (Micki) Carroll was maid of honor. The reception was at the Orrington Hotel in Evanston. Marilyn and Peter spent their honeymoon at the Iroquois Hotel on Mackinac Island, between the upper and lower peninsulas of Michigan. On the small plane up to Mackinac Island, they saw the pianist Van Cliburn.
Arlington Heights, 1964-1966. After their honeymoon, they moved into a one bedroom apartment at 809 East Miner Street in Arlington Heights. Peter was an analyst at Allstate Insurance Company in Skokie.
On August 15, 1965, Marilyn's sister Mickey married Johnny Varro in Miami. They were married by a Miami councilman at the Roney Plaza Hotel on Miami Beach. Mickey was given away by Harold E. Rainville, friend of the family and special assistant to Senator Everett McKinley Dirksen, minority leader of the U.S. Senate. Mickey, age 22, was an actress appearing in "Gentlemen Prefer Blondes" and "The Music Man" at the Deauville Hotel. Johnny, age 35, was a pianist with Phil Napoleon on the Jackie Gleason Show. (In 2004, Johnny's first marriage was annulled, and Micki and Johnny were married in the Catholic church by Father Barry Furey at St. Thomas More church in Darien, Connecticut on December 23.)
Their first child and only daughter, Carroll Kathryn, was born on September 10, 1965, at Northwest Community Hospital. She was baptized on October 18, 1965, at St. James Church by Father James Murphy, who went to grammar school and Quigley seminary with Peter. Godparents were Robert Ford and Marilyn's sister Maureen (Micki) Varro (stand-in was Marilyn's cousin Carroll Fultz).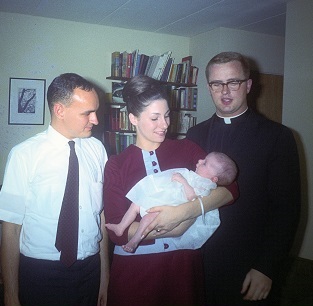 Bob Ford, Carroll Fultz holding Carroll Biggins, and Father Murphy.
Marilyn quit teaching English and speech at Proviso West High School to become a full-time mother when her first child was born. She had taught for four years. Peter continued working at Allstate Insurance Company in Skokie.
In July 1966, Peter left Allstate to join the Chicago and North Western Railway Company at 400 W. Madison Street. He was director of financial planning, working for a person whom he had worked for at Allstate. Just before going to Chicago and North Western, Allstate had appointed him Corporate Economist in a new research center in Menlo Park, California. He and Marilyn had rented an apartment there, and Tom and Donna Kuehne had given them a going away party. But a last minute offer from C&NW convinced them to stay in the Chicago area. At C&NW, Peter worked on a project with consultant W. Edwards Deming. The CEO of the railroad was Ben W. Heineman, Sr. (1914-2012).
Evanston, 1966-1968. In October 1966, Peter and Marilyn moved to a two bedroom apartment at 503 Sheridan Road in Evanston, a half block from Lake Michigan and the beach. They joined St. Nicholas Parish. Carroll got her own room and no longer had to sleep in a crib in the dining area.
On August 24, 1967, Peter's grandmother, Emily Foy Biggins, died at age 89 in Milwaukee. Following a funeral Mass at the Church of St. Juliana, she was buried in the Foy plot in Mount Carmel Cemetery in Section B, Block 2, Lot 19. In 1966, Emily had moved to a nursing home in Milwaukee to be near her daughter Kathleen.
Peter and Marilyn's second child and first son, Edward Peter, was born at Evanston Hospital on February 26, 1968. He was baptized by Father Robert Maier on March 31, 1968, at St. Mary's Church. Peter went to Quigley seminary with Father Maier. Godparents were James Scallan and Peter's sister Sarah Biggins.
Wilmette, 1968-1972. In September 1968, Peter and Marilyn bought their first house at 2231 Greenwood Avenue in Wilmette for $25,000. The down payment came from money they invested at $7 a share in American Express Company after the salad oil scandal and sold for $35 a share.
| | |
| --- | --- |
| 2231 Greenwood Avenue, Wilmette, Illinois. Oil painting by Johnny Varro, 1968-1972. | Garden Home sponsored by the Stran-Steel Corporation at the Chicago World's Fair of 1933-34. |
The house was originally part of the Homes of Tomorrow Exhibition at the Chicago World's Fair of 1933-34 sponsored by the Stran-Steel Corporation of Detroit, Michigan. Steel was used instead of two-by-fours. The house, designed by Chicago architect G. L. Tucker, was called the Garden Home, and it was said to be done in the manner of a New England cottage. In the 1940 U.S. Census (Image 1 and Image 2), the house was owned by Daniel K. Strassheim, a food broker, born in Illinois in 1907. The house was valued at $15,000. Dan was a high school graduate and had an income of $4,000 in 1939. He lived with his wife Nathalie, their 6-year old son Daniel III, their 6-month old twins Janice and David, and a maid Theresa, age 21.
In February 1969, Peter's godfather, Jack Covington, died at age 60 in Arlington Heights, Illinois.
On July 5, 1969, Peter's sister Sarah married Elroy "Kelz" Kelzenberg in Bond Chapel at the University of Chicago.
In October 1969, Peter became godfather for Stephen, the son of James and Eileen Scallan.
In October 1969, Peter's job at the railroad was eliminated as a result of the merger of Northwest Industries and a conglomerate named Philadelphia and Reading. He decided to seek a job in management consulting. He was allowed to stay on until the end of the year while he looked for a job. A week before year-end, he received an offer from Hewitt Associates. Hewitt had 125 employees at the time and specialized in employee benefit consulting. Peter worked at the headquarters which was housed in the former summer home of Joseph Medill Patterson (1879-1946) on Milwaukee Avenue at Route 60 in Libertyville, Illinois. Patterson, founded the New York Daily News in 1919. John Cuneo Sr. (1885-1977), who lived next door, bought the house and grounds in 1946 and rented the house to Hewitt from 1951 to 1971. Cuneo sold the Patterson property in 1971, and it became part of the Westfield Hawthorne Shopping Mall. Hewitt then rented space in an office building on Wilmot Road in Deerfield. The Cuneo property, acquired from Samuel Insull (1859-1938) during the Great Depression, is now The Cuneo Museum.
| | |
| --- | --- |
| Hewitt office in Libertyville (now part of Vernon Hills) from 1951 to 1971. Formerly Westwood Farm owned by Joseph Medill Patterson. Source: Cuneo Museum and Gardens, by John B. Byrne, 2009. | |
Peter and Marilyn's third child and second son, Christopher Peter, was born at Columbus Hospital in Chicago on June 10, 1970. He was baptized on July 12, 1970, at St. Joseph's Church. Godparents were his uncle and aunt, Elroy and Sarah Biggins Kelzenberg.
Peter and Marilyn's fourth and last child and third son, Brendan Peter, was born at Columbus Hospital in Chicago on April 11, 1972. He was baptized on May 7, 1972, at St. Joseph Church. Godparents were Marilyn's cousins James Hennessey and Carroll Fultz.
Darien, 1972-1978. In August 1972, Hewitt Associates transferred Peter to their New York office at 600 3rd Avenue. Peter and Marilyn bought a newly-built "raised ranch" at 3 Revere Road in Darien, Connecticut. The house in Wilmette sold for $50,000. The new house in Darien cost $68,000.
The family joined St. Thomas More Church. where Father Edward Howley was the pastor and had Mass at 10:00 am every Sunday especially design for the children. The children attended Hollow Tree School and Happiness Pre-School at St. Thomas More.
| | |
| --- | --- |
| 3 Revere Road, Darien, Connecticut, April 1973. | |
| | |
| --- | --- |
| Peter the horse in the living room with his four children. Darien, 1972. | Al Biggins and grandson, Monkey Jungle, Miami, Florida, Christmas 1975. |
On August 13, 1973, Peter's grandmother, Rose Viola Drueke, died at age 91 in her home at 1624 Seminole Road SE in Grand Rapids. She had been a widow for 16 years. Following a funeral mass at St. Stephen's Church, she was buried at Mt. Calvary Cemetery next to Peter's grandfather.
In August 1973, while working on a flexible benefits project for a client at Xerox Corporation, Peter left Hewitt Associates to work for his client at Xerox and became manager of employee benefits.
At Christmas time in 1975, the family traveled to Florida. Shown is a photo Peter took of his youngest on his grandfather's shoulder at Monkey Jungle.
In 1976, Marilyn appeared as an extra in a made-for-TV movie about John F. Kennedy, entitled "Johnny We Hardly Knew Ye." It starred Brian Dennehy and was directed by Gilbert Cates.
In June 1977, the family attended a reunion of the Al and Jane Biggins family hosted by Kelz and Sarah Biggins Kelzenberg at their home in South Bend, Indiana.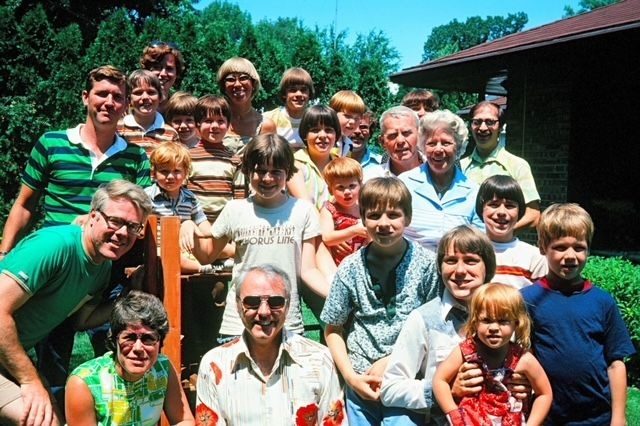 1977 reunion in South Bend, Indiana.
In 1977, Peter became a member of the parish Council at St. Thomas More and editor of Dialogue, a quarterly parish newspaper. One of his writers was John Cotter, a professional newspaperman who worked for Newsday and the New York Post.
On Thanksgiving 1977, the family visited Plymouth Rock.
In 1978, Peter decided to leave Xerox to take a job with Ford Motor Company in Dearborn, Michigan. Pat and Anne O'Malley gave Peter and Marilyn a going away party and gave them a plaque with a poem signed by 32 friends in attendance.
To Peter and Marilyn -

We've gathered together this big classy crew
To tell you two Biggins, we'll be missing you.
Our liturgical leader, and Dialogue Czar
Has heard a new drummer - the dollars in "car,"
They are bound for the town where the auto is king
But Detroit doesn't know what the Biggins will bring.
They bring four little Bigs who are happy and smart
Who have polished high spirits up into an art.
They bring on a Mom of the unoverage sort
The bridge games and PTA's just aren't her sport.
If Detroit still has plans to keep turning out cars,
We will still see commercials where Marilyn stars
So to Peter and Marilyn we wish all that's fine.
May your hopes and your dreams fall directly in line.
To Detroit we give warning . . . these peoople rate -
They are no Xerox copies, but genuinely great.

May 5, 1978
John Cotter had some nice words in the next issue of Dialogue.

Peter Biggins, who edited these pages for several years, packed his Clark Kent clothes last month and moved his wife and four kids to Michigan where he has accepted a post with the Ford Motor Company. Peter, a personnel expert who continually wondered how he managed to attract strange friends (including yours truly), was very active in the St. Thomas More community and his contributions, those of his wife Marilyn and the rest of the family will be missed. The Dialogue staff and his friends will also miss him, but we have fond memories. We will miss mostly, I think, his sense of humor, which is as dry as black powder and twice as explosive. Peter was so funny I personally can't think of anything funny he ever said. Now that's real wit (and also a bit of parody). A major Biggins contribution to the morale of the Dialogue staff was allowing us to have beer at our monthly meetings. His decision was wracked by such soul searching, however, that most of us figured that he had a bad experience with altar wine while growing up in Chicago. But enough of that nonsense. To get a true picture of Peter Biggins, human being, we asked Pat O'Malley, a parish member, to speak briefly on Peter's character. "I really don't know where to begin," O'Malley began. "How can I put this? Peter is a true Christian man, a devoted husband and father, a man for all seasons, a man of compromise. Let me give you an example: Peter's wife Marilyn didn't like to cook. Now, some fellows might get upset, but not Peter Biggins. He showed true Christian spirit. He took the family out, especially on holidays. Why, just last Easter he took the family to the Bronx Zoo for Sunday dinner. What can I say? Peter Biggins is just a classy guy." John Cotter
John Cotter died in 1991 at age 48, just before he was to become managing editor of the New York Daily News.
| | |
| --- | --- |
| First Communion at St. Thomas More Church, Darien, 1978. The four Biggins children with Father Edward Howley. This picture appeared in the Church Bulletin in 2016, the 50th Anniversary of the Church. | |
Birmingham, 1978-1980. At Ford, Peter became manager of salaried employee benefits and foreign service administration at Ford's headquarters in Dearborn. His office was on the fourth floor of the "Glass House," eight floors below Henry Ford II and Lee Iacocca. (In July 1978, Henry Ford II fired Lee Iacocca.)
Peter and Marilyn bought an existing house at 2720 Bradway, Birmingham, Michigan. This was in the Bloomfield Village section of Bloomfield Township, Michigan. It cost $175,000. They sold their house in Darien for $139,000.
| | |
| --- | --- |
| 2720 Bradway Boulevard, Bloomfield Village, Michigan, October 1980 | |
| Biggins Family, Bloomfield Village, December 1978 | Al and Jane Drueke Biggins below sign prepared by their granddaughter, Birmingham, September 1979 |
The house was three miles from the Wing Lake home that Marilyn grew up in from 1952 to 1955. The children attended Westchester elementary and Covington junior high schools. Carroll completed her freshman year of high school at Birmingham High School. During the summer, all the children were on the swimming team the Cranbrook Swim Club.
For Christmas 1978, the family drove to Miami, visiting Marilyn's mother Bunny and Marilyn's sister Micki and family.
On December 13, 1979, Peter's father, Al Biggins, died at age 69 of acute myelogenic leukemia at City of Hope in Duarte, California. Jane's brother William hosted the family at his home in Grand Rapids. The funeral was held at St. Thomas the Apostle Church in Grand Rapids. He was buried at Woodlawn Cemetery in Grand Rapids. Just three months before Al died, he toured the country visiting his family. His granddaughter must have lifted his spirits with her colorful sign proclaiming: "Welcome Grand Ma/Pa."
For Christmas 1979, the family drove to Miami again, visiting Marilyn's mother Bunny and Marilyn's sister Micki and family.
Dallas, 1980-1989. In 1980, after just two and a half years at Ford, Peter left to join The LTV Corporation, a conglomerate in Dallas, Texas. He was hired by the client who had hired him away from Hewitt at Xerox, and he became manager of employee benefits. Peter and Marilyn sold their house in Birmingham for $215,000 and bought a newly-built house at 6532 Copper Creek Drive in Dallas for $205,000. They had a swimming pool built for relief from the Dallas summers. Only two years before, the subdivision had been a cotton field. The neighborhood was very friendly, consisting of families who had all recently moved into the subdivision. There were block parties and frequent pool volley ball contests. Long lasting friendships were made, especially with the Engelskirgers, who subsequently moved to Darien, and the Morrices, next door neighbors in Dallas. The family joined All Saints Church.
The children attended Brentwood Elementry School, Parkhill Junior High School, and J.J. Pierce High School. The boys played basketball andfootball at Pierce. All four children graduated from the University of Texas.
| | | |
| --- | --- | --- |
| Peter and Marilyn Carroll Biggins, 6532 Copper Creek, Dallas, Texas, 1980-1989. | | "Big Bertha," drum obtained by the University of Texas from the University of Chicago in 1955. All four Biggins children graduated from the University of Texas. |
Marilyn appeared in a new film "Word of Honor" starring Karl Malden. Alex Karras was Executive Producer.The film was shot in the Detroit area. Marilyn plays a policewoman. She does not have a speaking part, but she is in many scenes. The film was the CBS Movie of the Week on January 6, 1981.
The family drove to Los Angeles for Christmas 1981 to be with Marilyn's family.
In 1982, Peter put in a new flexible benefit program for LTV employees. Roger Staubach appeared in a film announcing the new program. Staubach had retired from the Dallas Cowboys in March 1980.
The family drove to Los Angeles for Christmas 1982 to be with Marilyn's family.
The family drove to Estes Park, Colorado, in the summer of 1983 and stayed at a Y camp in the Rocky Mountains.
While at LTV, Peter testified in 1984 on flexible benefits before the U.S. Senate and the U.S. House of Representatives. See: Senate Finance 1984 Hearings on Fringe Benefits, pp. 231-256 and 278-279. Senators Dole, Packwood, Chafee, and Symms were present.
In 1985, Marilyn gave Peter a hot-air balloon ride for his birthday. He was surprised and a little worried about the present. Everything turned out alright, and he enjoyed drifting 1,300 feet in the air.
In 1986, it looked like LTV might go bankrupt, and Peter was interested in going back into consulting. He rejoined Hewitt Associates in their Dallas office. For the first time, he had a computer on his desk. It was a dumb terminal tied in to a mainframe at Hewitt headquarters in Illinois, with access to Supercalc spreadsheets and PROFS mail. Mail names were eight characters with the first two being initials for one's first and middle names and the last six being the first six letters in one's last name, hence pabiggin. He could communicate with anyone within Hewitt Associates and people within a few client companies.
As part of the Hewitt hiring process, he filled out the Myers-Briggs Type Indicator. The result was INTP. Sometime later, Marilyn filled out the MBTI and found she was ISFJ.
Marilyn worked for several years as an instructor for Weight Watchers.
In June 1988, one week apart, her first child received her bachelor's degree in communication from the University of Texas in Austin and Marilyn received her master's degree in counseling at North Texas State University in Denton. Bill Moyers was the commencement speaker at both graduations. As part of her degree, Marilyn interned as a guidance counselor at R. L. Turner High School in Carrollton.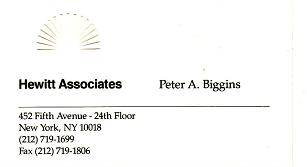 Darien, 1989-present. In 1988, Hewitt asked Peter to move to either Chicago or New York. Peter and Marilyn decided on New York, where Peter worked at the Hewitt office at 452 5th Avenue, across 40th Street from the New York Public Library.
Next door neighbors, Bruce and Marge Morrice, gave them a going away party. They sold their house in Dallas for $320,000 in November 1988 and rented an apartment temporarily in Dallas.
In January 1989, they moved to Darien and rented a house temporarily at 337 Brookside Road in Darien. In May 1989, they moved in to a newly-built house at 230 Old Kings Highway North that they bought for $600,000.
The house backs up on the Five Mile River and is built on the site the The Red Mill.
An historical marker on Old Kings Highway two miles south of the house reminds passers-by that George Washington went by in 1756, 1776, and 1779.
Old Kings Highway was originally The Kings Highway between Boston and Charlestown, South Carolina. It was called the Country Road in Colonial times. It was part of the Boston Post Road between New York and Boston.
| | |
| --- | --- |
| 230 Old Kings Highway North, Darien, Connecticut. March 2006. | From 1789 Colles atlas showing the Old Post Road, now Old Kings Highway North, the Red Mill (Grist *), the Five Mile River (southbound squiggly arrow), and 48 miles from Federal Hall. Source: Library of Congress. |
The family rejoined St. Thomas More Church in Darien. Father Edward Howley was still the pastor.

In 1989, Marilyn started teaching English as a Second Language (ESL) at Norwalk State Technical College part-time. In 1992 it merged with Norwalk Community College. For several years, ESL classes were held at Pitney Bowes in Stamford. She retired in 2006.
| | |
| --- | --- |
| Picnic at St. Thomas More Church, June 1989. Peter and the four Biggins children. Photo: Father Nicholas Punch, OP. | Marilyn and Peter celebrating their 25th wedding anniversary at St. Mark's Church, Venice, August 1989. |
In August 1989, Peter and Marilyn celebrated their 25th wedding anniversary with a trip to Italy. They flew to Zurich on American Airlines points, rented a small Fiat Panda, and drove down to Rome with stops in Verona, Ferrara, Bologna, Florence, and Venice. In Rome, they visited St. Peter's Basilica, the Vatican museum, the catacombs, and the Pantheon. They stayed in a pension near the Spanish Steps and had dinner at Alfredo's and at the Canova Café on the Piazza del Popolo.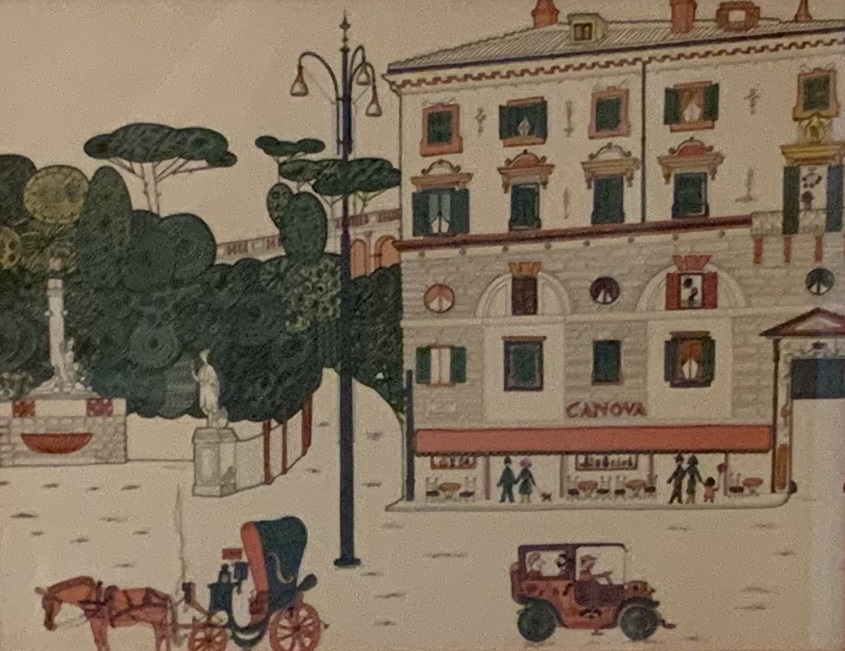 Placemat from the Canova Café on the Piazza del Popolo, where Peter and Marilyn celebrated their 25th wedding anniversary.
Marilyn's mother, Henrietta Kenny Carroll, died November 1, 1989, at St. Joseph's Hospital in Stamford, Connecticut. She was 81 years old. The funeral was at Divine Infant Church, the parish church of Ralph and Gertrude Gust, in Westchester, Illinois. Bunny was buried at Queen of Heaven Cemetery, next to Marilyn's father.
On October 15, 1994, Carroll married Roger Byrne at St. Thomas More Church in Darien, Father Edward Howley officiating. A reception was held at Cobb's Mill Inn in Weston, Connecticut. After a honeymoon in Hawaii, Carroll and Roger settled in a house at Beacon, a town on the Hudson River in New York State.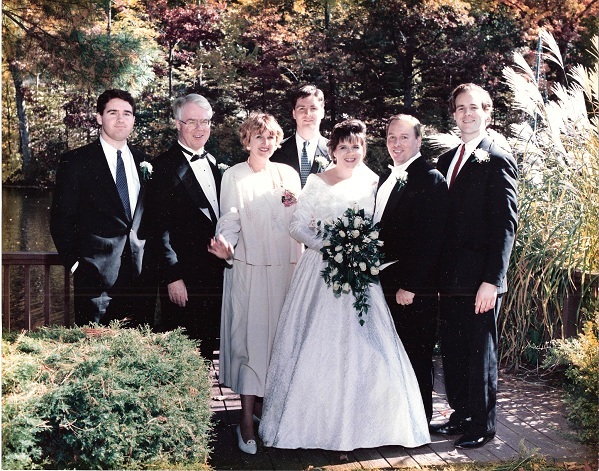 Wedding party at Cobbs Mill Inn, Augst 15, 1994. From left: Brendan, Peter, Marilyn, Edward, Carroll, Roger, Christopher.
On October 18, 1995, Marilyn received a master's degree in social work from Columbia University. As part of her work at Columbia, she interned as a social worker at Yale-New Haven Hospital in New Haven. She worked as a social worker at Parents Foundation in New Haven, Smith House Health Care Center in Stamford, and Mediplex of Westport.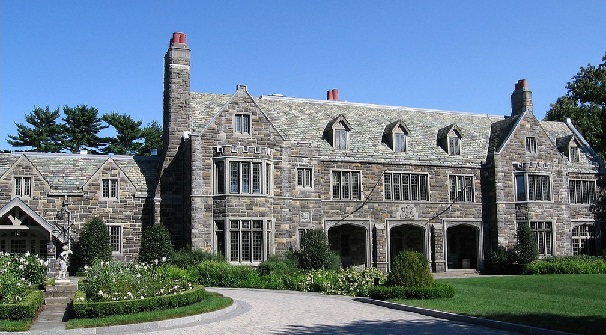 Rock Ledge, built as a summer home in 1913 for James A. Farrell, President of U.S. Steel.

In 1995, Peter was transferred by Hewitt from the New York office to the regional office, a mansion called Rock Ledge, at 40 Highland Avenue in Rowayton, Connecticut--about a seven minute drive from home.

Rock Ledge was once the home of James Augustine Farrell (1862-1943), son of Irish immigrants and president of the U.S. Steel from 1911 to 1932. In 1910, he built a Tudor revival mansion here. It burned down in 1913 on the occasion of his daughter Theresa's wedding to Joseph Bradley Murray. In 1916, it was rebuilt in granite with a slate roof. The Farrells and their five children used the estate as their summer home and later made it their year-round home. The Farrell family maintained a fully consecrated Catholic chapel on the second floor in Rock Ledge. Mr. and Mrs. Farrell died in 1943. In 1945, Rock Ledge was bought by Remington Rand. In 1951, Remington Rand developed the UNIVAC I (Universal Automatic Computer I) in the Rock Ledge stable across Highland Avenue. In 1955, Remington Rand was acquired by Sperry, which then became Sperry Rand. General Douglas MacArthur became Chairman of the Board and had his office in Rock Ledge. In 1964, Rock Ledge became the Thomas School for Girls. In 1974, it was purchased by Continental Can, but never used by them. The property was listed on the National Register of Historic Places in 1977. In 1979, Hewitt Associates bought Rock Ledge. In 1981, Rock Ledge became Hewitt's Eastern regional office. In 2003, Hewitt sold Rock Ledge to Graham Capital. The stable across Highland Avenue has been the Rowayton Library since 1966.

In December 1995, Peter and Marilyn's first grandchild, Mary Byrne, was stillborn at Vassar Hospital in Poughkeepsie, New York.

In 1997, Peter had an annual physical and the doctor suggested he exercise regularly. As a result, Peter started walking four miles a day. His normal route is down Raymond Street to the mail boxes near the end of Five Mile River Road, and back. For the first 10 or 15 years, the walk took an hour. After 20 years, it was up to an hour and 15 minutes. In 2020, he started a web page on the Five Mile River.

On May 18, 1998, Peter's mother, Jane Drueke Biggins, died at age 83 in Florence, Oregon, where Peter's sister Emily lived. She had emphysema, but she was doing fairly well and had just bought a brand new house in Florence. There was a Memorial Mass at St. Mary's Catholic Church in Florence. Her ashes were buried in Woodlawn Cemetery in Grand Rapids, Michigan, next to Peter's father.

In October 1998, Peter's group at Hewitt moved from Rowayton to the 201 building at Merrit-7. In October 2001, they moved to 45 Glover Avenue, a new Hewitt building in the Merritt-7 office complex in Norwalk, Connecticut.

On June 12, 1999, Edward and Kerry O'Brien were married by Father Jack Hamilton at Saint John Vianney Church in South Bulington, Vermont.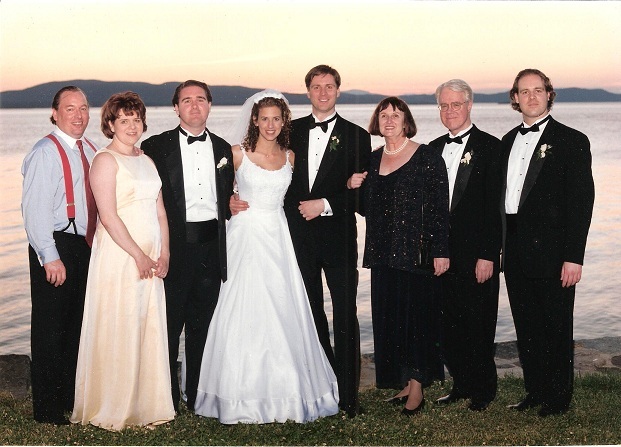 The Biggins family at Shelburne Farms for Ed and Kerry's wedding on June 12, 1999. From left: Roger, Carroll, Brendan, Kerry, Ed, Marilyn, Peter, and Christopher.
In September 1999, Peter and Marilyn went to France. They spent a week in Paris on the Left Bank. They visited the Louvre, Notre Dame Cathedral, the Picasso Museum, and the Musée d'Orsay. They went to Montmarte and and dinner at a restaurant to celebrate their 35th wedding anniversary.They then rented a car and drove up to Normandy. In Normandy, they visited the Memorial Museum in Caen and stayed overnight at Mont Saint-Michel. They also visited the American Cemetery in Colleville-sur-Mer and Omaha beach.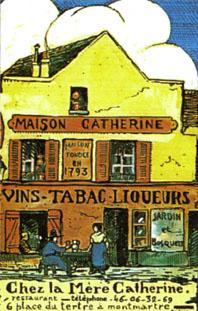 Restaurant in Montmarte where Peter and Marilyn celebrated their 35th wedding anniversary in September 1999.
Peter and Marilyn celebrated the millennium, which was called Y2K, at the home of Paul and Mariann Knag in Darien.
On the morning of September 11, 2001, terrorists caused two Boeing 767 passenger jets to crash into the World Trade Center in New York City, a half mile south of where Ed and Kerry lived on Duane Street in Tribeca. Kerry was still at home. Ed had gone to work at 24th Street and Madison Avenue. The North Tower was hit at 8:46 and collapsed at 10:28. The South Tower was hit at 9:03 and collapsed at 9:59. After the first tower was hit, Kerry went up on the roof of their building . She saw the second tower being hit. Ed walked the four miles home from work, and the two of them walked the three miles up to Grand Central Terminal and took the train up to Darien to stay with Peter and Marilyn. Ed and Kerry were OK, but Kerry was shaken by what she saw from the roof. There was debris on the street in front of their building. Dust reached as far as the Empire State Building.
In March 2002, Peter and Marilyn took a vacation to London, England. The saw their son who was living there at the time. They went to the Imperial War Museum and took train/walking tours of Bath, the Cotswolds, and Oxford. They stayed at the Cranley Gardens Hotel in South Kensington. They went to Mass at the London Oratory. Peter visited the statue of St. Thomas More at Chelsea Old Church.
On June 27, 2002, Peter's employer Hewitt Associates converted ownership shares to stock and made an initial public offering of its stock at $19. Peter's ownership value quintupled. Each owner was given a free share in a frame. On July 12, 2010, Aon Corporation purchased Hewitt with cash and stock.
On September 30, 2002, Peter retired at age 62, with no particular plans--other than to pretend like it was a weekend or a vacation. He began to look into his and Marilyn's genealogy and never stopped. He also started going to the Darien YMCA three times a week. At the invitation of Bob Towne (1918-2008) of Stamford, he joined the Darien Senior Men's Association.
Peter and Marilyn went to Vermont to visit Ed and Karry and spend their 2002 Thanksgiving at Dan and Sandra O'Brien's house. This was the first of many Thanksgiving dinners with the O'Briens.
In May 2003, Peter and Marilyn went to the Sacramento Jazz Festival. Micki's husband, Johnny Varro, was the Emperor of the whole festival. There a husge Memorial Day parade and Micki and Johnny got to lead the parade in an open white car as they waved to the crowd. From there they went to Yosemite National Park and Lake Tahoe.
In July 2003, Peter and Marilyn attended the reunion of the Philip and Olive Taylor Biggins family at Valcour Island, near Plattsburg, New York. In June 2004 and July 2006, they attended reunions of the Minogue/Kane families in Arlington Heights, Illinois.
In Fall 2003, Peter took a course in James Joyce at Norwalk Community College. In 2004, the class morphed into a classics book club that meets biweekly at NCC. In June 2007, he began mapping the books and placing links to the maps on the Wikipedia pages about the books. The following year, Maps of the Classics was started to catalog the maps.
| | |
| --- | --- |
| 952 W. Altgeld Street, 2004. | Peter and Marilyn, celebrating their 40th wedding anniversary at the Mohonk Mountain House, New Paltz, New York, August 2004. |
In June 2004, Marilyn and Peter went to Chicago and drove by places where their families had lived. They went by 952 West Altgeld Street, where Peter's father had lived until age 15. Not knowing exactly who lived there now, Peter rang the bell, and Patricia Donahue Schwake opened the door and invited them up. It turned out that Pat is Peter's second cousin. Originally, the building had two entrances, 950 and 952 Altgeld. Each entrance had two floors, with one apartment on each. Peter's father lived with his family at 950. The 950 half of the building had been torn down when Marilyn and Peter visited in 2004. The 952 half was torn down in 2005. Genevieve Gier Donahue and James and Patricia Donahue Schwake were the last to live in 952 Altgeld.
They also went to Romeoville , where Peter's great great grandparents, Patrick and Bidget Biggins, had lived on a farm. While browsing in a book store in nearby Lockport, Marilyn discovered an 1873 DuPage Township plat map with Patrick's farm named on it. See: The Biggins Farm in Romeoville.
In August 2004, Marilyn and Peter celebrated their 40th wedding anniversary in the best room of the Mohonk Mountain House in New Paltz, New York, with all expenses paid by their children. Marilyn went swimming. Peter walked the carriage paths. It doesn't get any better!
In Fall 2004, Peter took a course in Web site development at Norwalk Community College, then started PetersPioneers.
In 2005, Peter and Marilyn went to Heidi's wedding in Sioux Falls, South Dakota. After the wedding, they visited Mount Rushmore with Micki and Johnny Varro and Marilyn's cousin Carroll and Mike. They met Michael McDonnel, Marilyn's third cousin, once removed, who happens to live in Sioux Falls.
In 2006, Marilyn retired after 16 years as a part-time ESL teacher at Norwalk Community College.
In Spring 2006, Marilyn went to Napa Valley with the same friends that she went to Europe with in 1962, Nancy Kuffess Abrams and Gail Chelius. At the same time, Peter took his first trip to Ireland.
| | |
| --- | --- |
| Biggins Bar on Bowgate Street, Ballinrobe, Co. Mayo, Ireland, 2006. Just after the name on the sign, it says "Est. 1863." The left side of the sign says "Beer Garden." The right side says "Fishing Tackle." From left: Peter Biggins, researcher, and John Biggins, proprietor. | Napa Valley Wine Train, 2006. From left: Gail Chelius, Nancy Kurfess Abrams, Marilyn, and friend Gretchen. |
In Summer 2006, Marilyn and Peter visited his Drueke cousins in Grand Rapids, Michigan, and had a mini-reunion.
They then took the ferry across Lake Michigan to look for Marilyn's Flannery cousins in southwest Wisconsin. They went to the library in Monroe and looked at old plat maps that showed where some Flannery farms were. Then they drove out in that direction. They stopped and asked the first farmer they saw, a young guy perhaps in his upper 20s. They asked if he knew of any Flannerys in the area. He said "I'm a Flannery." He was Brandon Flannery. He sent them to his grandmother Marilyn Flannery farther down the road. Marilyn said they wanted the "other" Flannery family and sent them down the road to Mary Jo Dammen. Mary Jo took them in, gave them some fresh-baked brownies, and introduced them to her three daughters who were getting ready to go camping. Then she got her mother Audrey Wilhelmson on the phone, who promised to send them information about the Flannery family history. Mary Jo offered to show them around the farm, but they declined because they had to meet someone in Chicago. It was a great day! Marilyn, who grew up in Chicago, had never met any Flannery relatives. As a budding genealogist, this was a major find for Peter.
They also attended the third annual Kane/Minogue reunion in Arlington Heights, Illinois, including a mini reunion with Biggins cousins.
At the end of that trip, Marilyn discovered a Frances Foy mural while browsing at a gift shop in the Chicago Cultural Center in the old Chicago Public Library on Michigan Avenue. She picked up a book entitled A Guide to Chicago's Murals by Mary Lackritz Gray published in 2001. There it was—a picture of the Frances Foy mural in the Chicago main Post Office on West Harrison Street. We went to the post office the next day, and there it was.
Marilyn and Peter spent the week after Christmas 2006 at Death Valley in Eastern California. It is one of the hottest places on Earth.
In January 2007, Marilyn and Peter flew to Florida. They went to places in Fort Lauderdale that Marilyn visited with her family as a young girl, including Cap's Place, which is only accessible by a boat shuttle. They also visited Key Colony Beach in Marathon, where Peter's parents had lived.
In Spring 2007, Peter and Marilyn took a trip to Germany, Switzerland, and Italy. The first week was spent in Germany visiting small towns where Peter's ancestors were from. Included was a trip to Schönholthausen and Ostentrop, where we met with Pastor Franz Rinschen of Maria Himmelfahrt Church, who had written a history of a house in Ostentrop where Johann and Elisabeth Bitter Drüecke lived. The second and third weeks were spent with Marilyn's sister Maureen (Micki) and her husband Johnny Varro in Waiblingen (near Stuttgart), Germany, Switzerland, and Italy. Johnny was touring the Stuttgart area with a Jazz band. Their son flew in from Liverpool to meet up with them in Rome.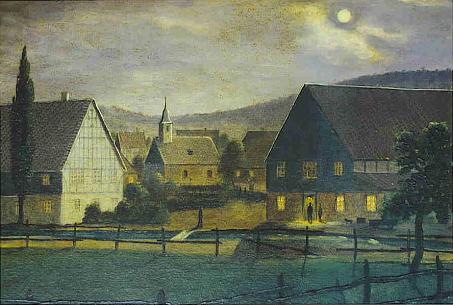 Oil painting of an idyllic scene in Ostentrop, Germany, just to the north of the intersection of Mittelweg and St. Lucia Straße. To the right is a house built around 1740, which was the home of Johann and Elisabeth Bitter Drüecke from 1790 to 1798, and their descendants thereafter. To the left is a half-timbered structure built by Johann Drüeke in 1786, prior to their marriage. The structures are now owned by two brothers, Andre and Markus Eckert, who are renovating them for use as their own homes. Between the two structures in the background is St. Lucia Chapel. Source: Stefan Schröder.
In Fall 2007, Marilyn went to China with her friends Nancy Kurfess Abrams and Gail Chelius. Marilyn sent this email to her family.
There is building going on all over here. Where I am writing this from now looks a little like New York City. There are many apt. buildings. Many go up 30-40 stories. The government owns the land, but a person can get a permit for 70 years to build on it.

Everyday I see something different. Today I saw a lady in a market making silk from cocoons. She grows the white cocoon in a mulberry tree and I saw the silk worm - crawling around in it. She puts the little thing in water for awhile, and then she picks a string out of it and winds it to be made into cloth. It is a very labor intensive job.

We also went to a Chinese tea house, and the beautiful lady there had a tea pot with a long spout (about four) feet. She poured the tea into our cups. It was quite a show.

China is trying to get their people soocialized for the Olympics. They are told:

Don't spit in the street or any place else.
Don't talk so loud.
Smile.

You must use bottled water or get sick. You cannot even use the tap water for your teeth.

When I was in the park dancing yesterday in Quan, an old man came up to me and shook my hand. Very early in the morning the people do tai chi in the parks. I like the fast-dancing group better. You all know how fast I dance.

I will tell you more when I get home. I miss you all! Hope all is going well for you.
While Marilyn was in China, Peter took a second trip to Ireland and discovered the Foy farm. He also took a side trip to London, England, to visit with Chris, who had just moved there from Liverpool.
| | |
| --- | --- |
| Eastward view of five of 18 blackface sheep on portion of 21-acre Foy farm of Margaret and the late Thomas Joseph Kerrigan. Derreennascooba, Killavally (Killawalla), County Mayo, Ireland, 2007. Lough Nacorralea is in the background. Dominick Foy was born on this farm in 1820. | Great Wall in China, 2007. From left: Gail Chelius, Marilyn, and Nancy Abrams. |
In September 2007, Peter redesigned the Web site for St. Thomas More Church in Darien and assumed maintenance of the site until June 2017.
In July 2008, Peter had his Y chromosome DNA tested. His DNA is kit #127469. This was done at the request of Daniela Maneta, who started the Biggins DNA Project. Eventually he figured out that he was related to the Three Collas who lived in the 4th century. In May 2009, he started a web page called DNA of the Three Collas. In June 2009, he became the first member of the Clan Colla DNA Project and a co-administrator with Josiah McGuire.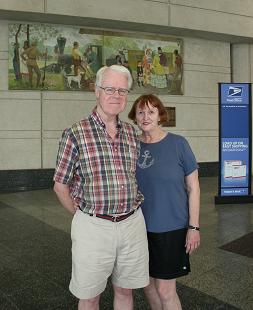 Peter and Marilyn Carroll Biggins in front of "Advent of the Pioneer, 1851" painted in 1938 by Frances Foy. In East Lobby of Chicago Main Post Office, 433 W. Harrison Street. Photo by Mikal J. Sutherlin, U.S. Postal Service, July 2008.
In July 2008, Marilyn and Peter paid another visit to the Chicago Main Post Office on West Harrison Street to see the Frances Foy mural Marilyn discovered two years earlier. This time Marilyn suggested we visit the Postmaster. We phoned up from the lobby and were thrilled when Musette Henley, customer relations coordinator, came down to meet us and took us up to meet the postmaster, Gloria E. Tyson, who was very gracious and discussed efforts to preserve murals in post offices around the country. Mikal J. Sutherlin, communications specialist, took us back down to the East Lobby and took the excellent photograph seen on this page.
In February 2009, Peter redesigned the Web site for the Middlesex Genealogical Society in Darien and assumed maintenance of the site. He also became a Director of the Society. In September 2015, he became President of the Society.
In October 2009, Marilyn went to Egypt and Jordan with her friends Gail Chelius and Nancy Abrams. She floated in the Dead Sea, which is eight times saltier than the ocean. She also went to Petra (Jordan). It was very special to see the huge rocks and have armed guards wherever they went. She felt like a celebrity.
Peter took the opportunity to return to Ireland. He met Patrick McMahon in Dublin and the two of them had lunch with Katharine Simms at Trinity College Dublin. Patrick is a geneticist and fellow administrator of the Clan Colla project at Family Tree DNA. Katharine teaches Irish History at TCD. He saw the Book of Kells in the TCD Library. He took a rented a car and drove to Carrickmacross, County Monaghan, where he revisited Gerard Beggan. Gerard subsequently had his Y-DNA tested and matched Peter. Peter went on to Cavan town in County Cavan. He met with Concepta McGovern of Cavan Genealogy at the Cavan Town Library. He then met his third cousin Gerry Lee. Gerry contacted a local farmer John McCabe, who took Peter to the Beggan farm in Drumgill townland where his great great grandfather almost surely was born (see Patrick Beggan of Drumgill). Peter then visited Charlie and Theresa Kerrigan in Killadeer, County Mayo. Charlie is a third cousin, once removed. They are descended from (see Thomas and Mary Tracy Foy). The next day, at the suggestion of john Bigginbs at Biggins Bar, Peter visited with the Patrick Biggins family in the townland of Cornfield, four miles north of Ballinrobe. Patrick's son John was there along with John's girl friend Tracy Murray. John wwas a salesman for McHale, a manufacturer of balers in Ballinrobe and traveled in the U.S. Tracy was from Carrickmacross and worked for CIE Tours. On his way home, Peter stopped in Berlin to see Chris.
In February 2010, Peter and Marilyn visited Emily and Jack Williams in Henderson, Nevada, and went on to a snowy Grand Canyon and to Death Valley.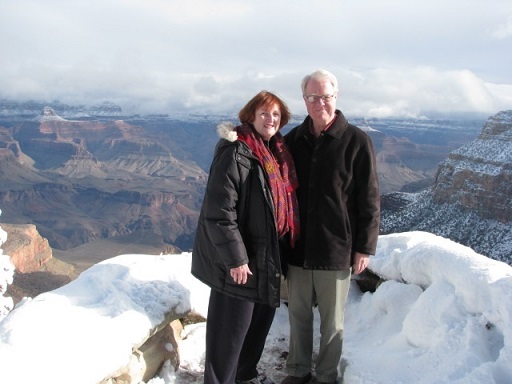 Peter and Marilyn at Grand Canyon in February 2010. Photo by Gail Wylie.
In June 2010, Marilyn and Peter went to Chicago and visited with his godson, Stephen Scallan. They also went to Peter's 50th college reunion at Loyola, visited Marilyn's cousin Carroll in St. Charles, and attended a reunion of Marilyn's distant Flannery cousins in Argyle, Wisconsin.
On August 29, 2010, Brendan and Erin Gallgan were married at St. Joan of Arc Church in the town of Orleans on Cape Cod.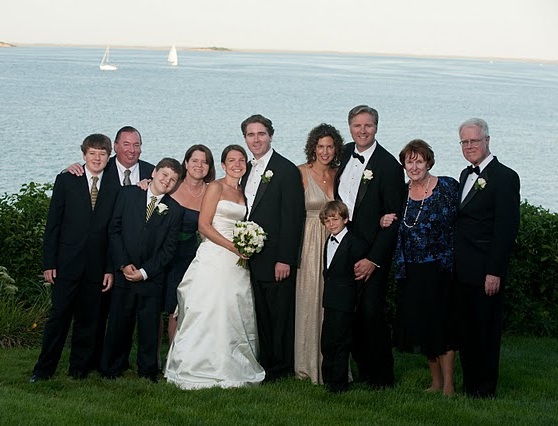 The Biggins family at Chatham Bars Inn for Brendan and Erin's wedding on August 29, 2010. From left: Sean, Roger, Daniel, Carroll, Erin, Brendan, Kerry, Jack, Ed, Marilyn, and Peter.
In October 2010, Peter made a presentation at a meeting of the Middlesex Genealogical Society on "How to Test Your DNA and Why." In November 2010, Peter became an administrator of the Biggins DNA Project.
In January 2011, Peter became administrator of a new Ely Carroll DNA Project. The Ely Carrolls include the descendants of Charles Carroll of Carrollton, signer of the American Declaration of Independence. Marilyn's cousin Michael Patrick Carroll had his DNA tested in March 2011 and found out that he was related to the Ossory Carrolls instead of the Carrolls of Ely Carroll. Nevertheless, Peter continues to administer the Ely Carroll DNA project. The Ossory Carrolls have Breassal Breac DNA.
In May, 2011, Peter and Marilyn took a trip to Turkey and Greece with Paul and Maryann Knag and toured with their son in Athens and Corinth. They visted the House of the Virgin Mary, which had been visited by four Popes, and the ruins of Ephesus, the second largest city in the Roman Empire in the first century. In Greece, they went to Athens, with a day trip to ancient Corinth and a side trip to the islands of Santorini and Mykonos. In Athens, they stayed in the Parthenon Hotel and the Phaedra Hotel. The latter had a view of the Acropolis from the balcony and the rooftop garden. In addition to the Acropolis, they visited the ancient Agora, Areopagus, and the National Archaeological Museum in Athens. One of the highlights was the new Acropolis Museum. Marilyn fell at the top of an escalator in the Athens airport and outside the Basilica Cistern in Istanbul.
In November 2011, Peter and Marilyn attended a two-day conference on genetic genealogy sponsored by Family Tree DNA in Houston. Peter made presentation on the DNA of the Three Collas. With them at the conference were Tom and Hilda Roderick. Tom, a geneticist and fellow administrator of the Clan Colla project at FTDNA, arranged for the presentation. Following the presentation, Peter and Marilyn visited the Leilichs in The Woodlands and Bruce Morrice in Dallas.
In March 2012, Peter and Marilyn took a trip to the Holy Land with Paul and Maryann Knag sponsored by the Yale Divinity School. Our leader was the Dean, Harry Attridge. Harry was retiring as the Dean of the Yale Divinity School, but he was to continue on as Sterling Professor of Theology, which was announced just before our trip. They described their trip in emails sent at the end of each day on the iPad that the children gave them at Christmas. They visited Bethlehem, Jerusalem, Jericho, Tiberias, Haifa, and Jaffa. See Sacred Land: Common Ground?. Marilyn fell at Caesarea. Gerontologist Dr. Leo Cooney, who was on the trip with us, recommended that Marilyn walk with a cane. At his urging, Marilyn went to see him at his office in New Haven in August.
In May 2012, Peter became administrator of a new Drueke DNA Project with his cousin Paul Drueke. In August 2012, he became an administrator of the Carroll DNA Project.
In July 2012, Peter's friend Bill Quarterman died in Plymouth, Michigan. Bill and his wife Gilli had been friends of Peter and Marilyn when they lived in Birmingham, Michigan, from 1978 to 1980. Peter and Bill were fellow students at the University of Chicago from 1960 to 1962. In June 1962, Peter visted Bill's family in Amarillo, Texas. Bill's father was Episcopal Bishop of Northwest Texas from 1958 to 1972. Bill worked for Ford Motor Company from 1962-1997.
In October 2012, Marilyn fell on her face in the middle of 7th Avenue at 54th Street in New York.
2013 was Marilyn's last Christmas letter. She started in 1977. She noted in the last letter that she has to use a cane to help her with her balance.
On February 28, 2014, Marilyn fell backward after setting her cane down to get into a chair in a classroom at Norwalk Community College before the start of a lecture on "Confessions of an Urban Archeologist" that was to begin at 12:30. There was a 27-day rehab stay at Wilton Meadows, a laminectomy on April 17, and a two-and-a-half month rehab stay at Regency Heights in Stamford.
On August 22, 2014, Peter and Marilyn celebrated their 50th wedding anniversary on Grand Isle in Vermont. Father Brian Cummings of Saint Anne's Shrine and Saint Michael's College officiated as they renewed their marriage vows in the presence of their children and grandchildren and Dan and Sandra O'Brien. A dinner followed at Shore Acres.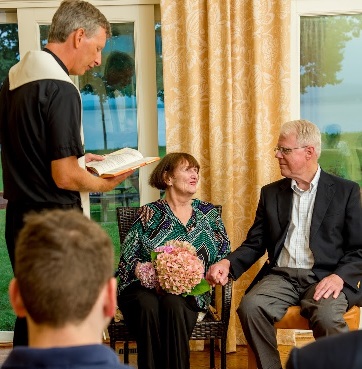 Peter and Marilyn Carroll Biggins renewing their marriage vows on the 50th anniversary of their wedding, August 22, 2014. Father Brian Cummings officiating.
On September 15, 2014, Marilyn fell and hurt her shoulder. She was in the main hallway at home with her walker trying to reach for her pik-stick in the bathroom so she could get bread on a lower shelf in the refrigerator. She went to Stamford Hospital for a week and then had a rehab stay on Long Ridge in Stamford.
On October 6, 2014, Peter's sister-in-law, Anne Roarty Biggins died at Johns Hopkins Hospital after a two year journey with lung cancer. A Memorial Mass was celebrated Monday, October 13, 2014 at 11:00 am in Our Lady Star of the Sea Catholic Church in Solomons, MD. Anne and Jim had been married for 45 years. Peter went alone as Marilyn was in the Long Ridge nursing home for rehab following a fall on September 15. Emily came from Davis, CA. Bill and Chris came from San Francisco. Sarah and Kelz came from Sun Lakes, AZ. Jim and Anne's boys were there with their families. Anne's sisters and brother were there with their families.
On October 17, 2014, Marilyn was discharged from Long Ridge nursing home, where she was doing rehab following a fall on September 15. The next day, Marilyn and Peter flew to Miami for a one-week cruise with Marilyn's sister Maureen (Micki) and husband Johnny Varro aboard the ship MSC Divina. Johnny was playing piano with Jazz Fest at Sea.
In 2015 we installed an elevator and a roll-in shower.
In September 2015, Peter became President of the Middlesex Genealogical Society, a position he was to hold for three years.
Dr. Resor referred Marilyn to Dr. Jeremy Schmahmann at Harvard medical School for his opinion. He met with her twice. In September 2015, he wrote that Marilyn seemed to have leukodystrophy.
In October 2015, Peter started the Breassal Breac Project at Family Tree DNA. Based on the Y-chromosome DNA of Marilyn's cousin Michael Patrick Carroll, her Carroll ancestors descend from Breassal Breac, who lived in the ancient Irish kingdom of Leinster around 200 or 100 BC.
On July 31, 2016, Peter's brother-in-law, Jack Williams, died at home in Davis, California. He had congestive heart failure. He was 78. Jack and Emily had been married 54 years.
On September 9, 2016, Marilyn was admitted to Stamford Hospital for heart problems, then transferred to Long Ridge for a 16-day rehab because she was unable to walk.
On November 18, 2017, Peter made a presentation to the Middlesex Genealogical Society on "Understanding DNA in Genealogy."
On January 16, 2018, Marilyn's sister Maureen (Micki) died of cardiac arrest at home in Palm Court, Florida, after a flu-like illness. She was 75. See: The Hollywood Reporter. Peter and Marilyn went to the Funeral Mass on January 26 at Saint Michael the Archangel Church in Clearwater. Micki was buried at Bay Pines National Cemetery.
On July 29, 2018. Marilyn had a seizure. Her arms and legs were jerking. She then became limp and seemed to be asleep. The symptoms were gone after a half hour except that she was quite confused. She was in Stamford Hospital for eight days. She had had grandiositiy and a heightened level of confusion for the previous 10 days or so.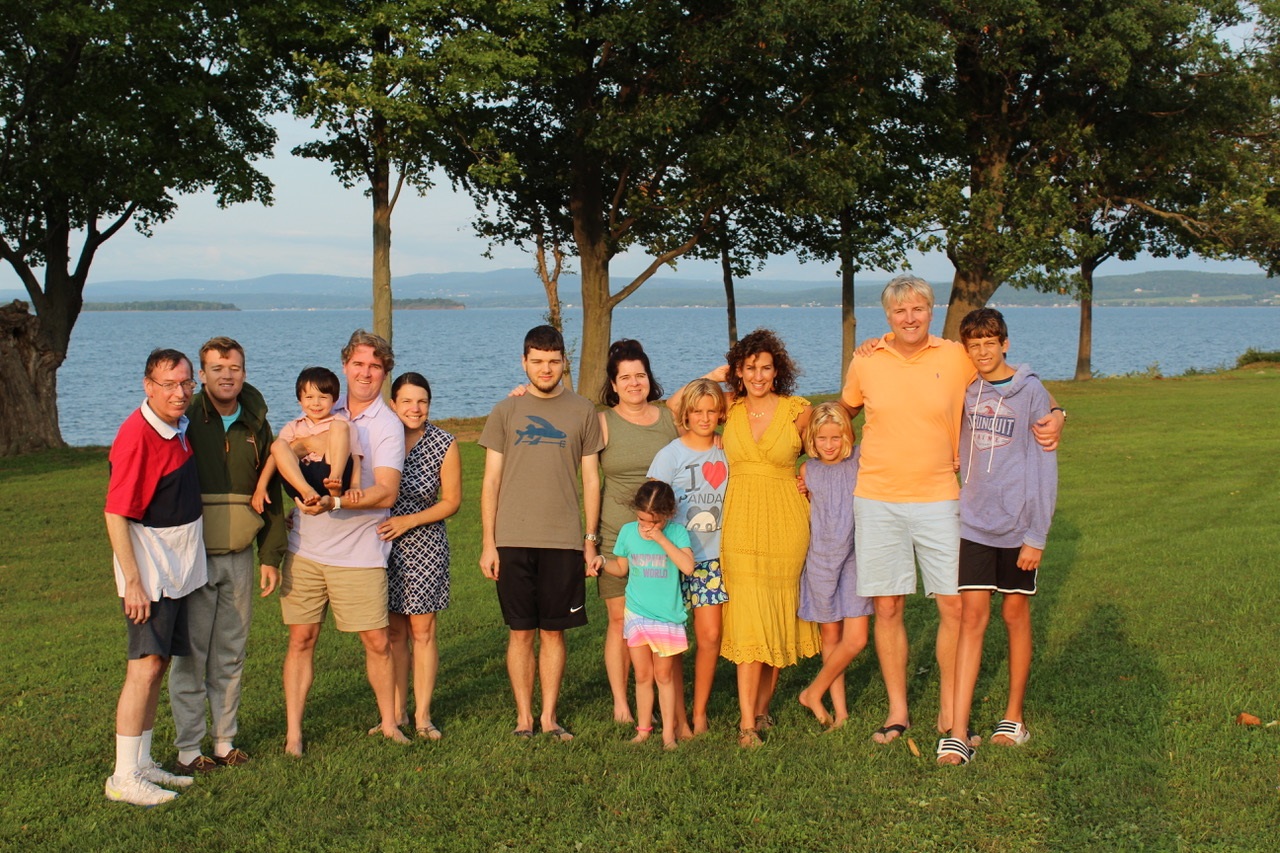 Peter and Marilyn's family at Emerald Point on Grand Isle in Lake Champlain, Vermont. Looking east northeast. Peter and Marilyn could not be there because of Marilyn's health. August 2018. Can you see the white dot on the mountain over the hand on Daniel's right shoulder? See: Jay Peak?
On October 6, 2018, Peter made a presentation to the Middlesex Genealogical Society on "Y-DNA and Genealogy."
In November 2018, Peter retired as President of the Middlesex Genealogical Society.
On April 4, 2019, Marilyn entered Sunrise Senior Living, an assisted living facility in Stamford (next to High Ridge Park, where Peter worked 40 years earlier). Marilyn was sleeping a lot and calling for her father (who died when she was 15). She was not eating much. She was having a hard time picking up the food with a fork or spoon and getting it to her mouth. Sometimes she did not want to get up or refused to eat when she did get up. She was getting harder to transfer into bed, which was higher than her wheelchair.
On February 3, 2020. Marilyn was admitted to Stamford Hospital for 15 days to adjust her hydration. A feeding tube was recopmmended. She did not want a feeding tube, but she did not want to die. On February 12, Father Michael Clark visited with Marilyn and Peter and Brendan. Father said that a feeding tube was the right thing to do morally in Mom's circumstance. The feeding tube was installed on February 14 and feeding commenced.
From December 2018 to February 2020, Marilyn dictated Mar's Memories to Peter. She was never happier than when she did this.
On February 18, 2020, Marilyn entered Ridge Crest at Meadow Ridge in Redding because she had to have a feeding tube, which required a skilled nursing facility.
On March 1, 2020, Marilyn's brother-in-law, pianist Johnny Varro, visited Marilyn at Ridge Crest and played her favorite song. Three days later he recorded it at Flux Studios in New York City with a special introduction: Have You Met Miss Jones? Peter and their children and their families were all at the recording sessions at one time or another. The songs are at Johnny Varro at Flux Studios.
On March 7, 2020, Ridge Crest was closed to visitors because of the corona virus pandemic.
In May 2020, Ridge Crest opened back up for outside visits every two weeks, then once a week, then, for Marilyn because of her condition, twice a week inside.
On the morning of September 16, 2020, Peter was doing the crossword puzzle at home in the family room. He heard Marilyn say "Peter" calmly and clearly from upstairs. He thought he must be hearing things . . . or maybe it was real.