In March/April 2007, Peter and Marilyn took a three-week trip to Germany, Switzerland, and Italy. Marilyn's sister Mickey and her husband Johnny Varro joined them for the second and third weeks. The trip was originally memorialized in Images. It was replaced in 2021 with this page.
Mickey died in 2018. Marilyn died in 2020.
After a chance "bon voyage" from Kieran and Marie O'Reilly on the train from Darien to New York, Peter and Marilyn flew Lufthansa from JFK to Frankfurt on a Boeing 747-400. Then they took an Avro RJ-85 from Frankfurt to Stuttgart. In Stuttgart they rented a Fiat Panda 1.1.
| | |
| --- | --- |
| Lufthansa Avro RJ-85 in Stuttgart. | Marilyn deplaning from Avro RJ-85. |
Königheim, Germany
During the first few days Peter and Marilyn went to Königheim, where Peter's great great great grandparents Leonhard and Maria Anna Hauck Fassnacht were born in 1791 and 1792. At the time they were born, Königheim was one of several non-contiguous blocks of territory in the Electorate of Mainz. Königheim is 15 miles south of Werthein, where the Tauber River flows into the Main River. In 1806, it became part of the Grand Duchy of Baden. Königheim is on the Brehmbach River, 67 miles southeast of Frankfurt in Baden. The town now is in the Main-Tauber-Kreis region of Baden-Württemberg.
In 1888, Maria Anna's granddaughter Maria Magdalena Zugelder married Michael Joseph Leuchtweis in Königheim. Michael was from Grossrinderfeld, 9.5 miles east northeast of Königheim. In 1889, they had a daughter Otilia. In 1893, when Otilia was 4, her mother, Maria Magdalena, died in Königheim. In 1898, Otilia emigrated from Königheim to Grand Rapids at age 9. In the 1900 census, she was living with the Kochs. In the 1910 census, she was living in Beal City with her uncle, Father Zugelder, and attending college. Otilia's father, Michael Joseph Leuchtweis, remained in Königheim when Otilia emigrated.
In 1888, Alexander Zugelder emigrated at age 19 from Königheim to study for the priesthood in the Diocese of Grand Rapids, which had been formed only six years earlier. The diocese sent him to St. Francis Seminary in Milwaukee, for four and a half years, followed by one and a half years at the Grand Seminary at Montreal. On June 19, 1894, Alexander F. Zugelder was ordained at age 25 at St. Andrew's Cathedral in Grand Rapids. He served as a pastor in four Michigan towns: Cadillac, Lake Leelanau (was Provemont), Beaver Island, and Beal City.
| | |
| --- | --- |
| View of the Brehmbach River from Schwan Hotel, Königheim, where Peter and Marilyn stayed for one night. The Brehmbach River flows into the Tauber River, which flows into the Main River in Wertheim, which flows into the Rhine River west of Frankfurt. | St. Martin's Church, Königheim. Where Father Zugelder, Otilia Leuchtweiss O'Hara, and Teresa Fassnacht Koch were from. |
Wertheim
After visiting Königheim, Peter and Marilyn went on to Grossrindefeld, where Michael Joseph Leuchtweisthen was from. They then went on to Werthiem to see the castle there.
| | |
| --- | --- |
| Marilyn touring the castle in Wertheim, a Protestant town north of Koenigheim, on our way to Kassel. | View from Wertheim Castle of the Main River and Kreuzwertheim, Bavaria, which is across the river from Wertheim, Baden-Württemberg. |
Kassel
From Wertheim, Peter and Marilyn went on to Kassel, where Peter's Schickell, Schumm, and Schmitt ancestors were from. With the defeat of Bavaria in the Austro-Prussian War in 1866, and the Treaty of Prague, Kassel was taken from Bavaria and became the part of Hesse.
| | |
| --- | --- |
| St. John Nepomuk Church in Kassel. | |
Niederheld, Helden, and Ostentrop
From Kassel, Peter and Marilyn went on to the Sauerland, where Peter's Drueke, Struck, and Berles ancestors were from. They stayed at the Hotel Repetal in Niederhelden two nights. They visted Helden, Dorlar, Altenilpe, Schönholthausen, and Ostentrop.
| | |
| --- | --- |
| Hotel Repetal in Niederhelden. Where Marilyn and Peter stayed for two nights' The son of the owner gave Peter a pin with St. Hippolytus Church on it when he heard his great grandfather was from there. | House built by Johann Druecke in Ostentrop, 1786. A larger view shows the words on the third horizontal timber from the top are in Latin and German and in English read "All for the Honor and Glory of God." See also: A House in Ostentrop. |
Our fifth day in Germany was a Friday. Around four o'clock in the afternoon, Peter and Marilyn found themselves at Mariä Himmelfahrt Church in Schönholthausen, which is in a hilly section of Westphalia called the Sauerland. They had just been to the Church and seen the cemetery. The location of the rectory was not apparent. A woman in the restaurant across from the church pointed it out, and they went over and knocked on the door. The Pastor, Franz Rinschen, answered the door. Peter told him they were from America and looking for information about Peter's ancestors named Drueke. "Drücken!" he said, "I think I have something your going to like." But he could not talk because he was in the middle of preparing the parish bulletin for the coming weekend. They agreed to come back the next morning. Things were definitely looking up.
At 10 o'clock the next morning, they rang the bell again and this time Pastor Rinschen invited us into his study, asked us to sit down, and began to tell us about the history he had written of houses in Ostentrop, a town in his parish just a mile from the church. He directed our attention to the Drücke house which was owned by my great great great grandparents, Johann and Elisabeth Bitter Drücke. The house is just to the north of the intersection of Mittelweg and St. Lucia Straße. The house, designated by Pastor Rinschen as HAUS 08, appears on pages 39-43 of his unpublished history of approximately 30 houses in Ostentrop, Germany. For more, see A House in Ostentrop and Johann Drücke: Trader and Transporter.
| | |
| --- | --- |
| Oil painting of an idyllic scene in Ostentrop, Germany, just to the north of the intersection of Mittelweg and St. Lucia Straße. To the right is a house built around 1740, which was the home of Johann and Elisabeth Bitter Drücke from 1790 to 1798, and their descendants thereafter. To the left is a half-timbered structure built by Johann Drüke in 1786, prior to their marriage. The structures are now owned by two brothers, Andre and Markus Eckert, who are renovating them for use as their own homes. Between the two structures in the background is St. Lucia Chapel. | Pastor Franz Rinschen, Markus Eckert, Marilyn Biggins in Ostentrop. March 2007. |
Loreley and the Rhine River
After Ostentrop, Peter and Marilyn drove south down the western bank of the Rhine River and stopped in Sankt Goar to view the Loreley Rock. Peter left a copy of the Drueke Whiskey Loreley in the archives of the Loreley Museum across the river from our hotel.
| | |
| --- | --- |
| Found on the Internet. Source unknown. Perhaps the model for the Drueke poster. Or vice versa? | Advertisement for Loreley Sour Mash Whiskey bottled by Wm. Drueke Co., Grand Rapids Michigan, Sole owners. Circa 1897-1910. Purchased by Peter Biggins on eBay in 2003 with the assistance of William Biggins. Size: 13" x 20". Elaine Gilliland Wandel has a glass litho that was taken out of a bar in Iona, Michigan, by her husband's grandfather. Printed backward at the bottom is: "F. Tuchfarber Co." |
| | |
| --- | --- |
| Am Markt Hotel, St. Goar. Near the Loreley statue. Where Marilyn and Peter stayed for two nights. . | View of the Rhine River fromthe Loreley Rock. |
Waiblingen and Stuttgart
The second week was spent in Waiblingen with Mickey and Johnny Varro, where Johnny was in the second week of a two-week tour playing at jazz clubs around Stuttgart with Peter Buehr. Waiblingen is near Stuttgart. They stayed at the Insel Hotel on the Rem River just outside the old town of Waiblingen.
| | |
| --- | --- |
| Hotel Insel, Where Peter and Marilyn stayed in Waiblingen with Mickey and Johnny and Jack and Billie Fanning. Viewed through a portal in the old town wall across the Rems River. | Marilyn, Mickey, and Johnny ascending the steps to the Mercedes Benz Museum in Stuttgart, opened in 2006. |
| | |
| --- | --- |
| Johnny Varro quintet at the Music Hall in Ludwigsburg on March 30. | Waiblingen Tower, at the entry to old Waiblingen. Across Rems River from Hotel Insel. |
| | |
| --- | --- |
| | Stuttgart Zoo flowers. |
The third week was spent touring Italy with Mickey and Johnny in an Opel Astra 1.6. On the way they stopped at Andelfingen, where Peter's great great grandfather, Wilibald Koch was from, and Herbetswil, Switzerland, where Marilyn and Mickey's great great grandmother, Maria Allemann, was from. They stayed in the Italian Riviera (Alassio), Rome, and in Tuscany (Siena). Peter and Marilyn's son Chris flew from Liverpool to join them in Rome for Easter.
| | |
| --- | --- |
| Peter, Marilyn, and Mickey standing ourside the Church of St. Cyriakus Church in Andelfingen , where Peter's great great grandfather William Koch was born in 1827. Their Opel Astra 1.6 is to the left. . | On April 28, 1845, Wilibald was issued a Wander-Buch by the Kingdom of Württemberg to work as a journeyman ropemaker. A Wander-Buch is a literally a journey book. It is at once a passport and résumé. When issued it has many blank pages for local authorities to give their stamp of approval and employers (Masters) to write about the employee (journeyman). |
Herbetswil, Switzerland
After Andelfingen, they headed down to Herbetswil, Solothurn, Switzerland, where Marilyn and mickey's great great grandmother Maria Allemann was born in 1802.
| | |
| --- | --- |
| Mickey and Marilyn inside the Herbetswil Church. | Marilyn and Mickey in Herbetswil. |
Montreaux
After Herbetswil, they went to Montreaux, Switzerland. Johnny had played in the Montreaux Jazz Festival a number of times.
| | |
| --- | --- |
| View of Lac Leman in Montreaux, Switzerland, Where Peter and Marilyn and Johnny and Mickey stopped for lunch on way to Alassio. | Marilyn overlooking Lac Leman in Montreaux, Switzerland. |
Great Saint Bernard Pass
They crossed the Alps at the Great Saint Bernard Pass, the most ancient pass through the Alps.
| | |
| --- | --- |
| Alpine view. | Mickey and Johnny at the Great Saint Bernard Pass. |
Italian Riviera
After going through the Alps, they went to the Italian Riviera, where they stayed in Alassio, on the Ligurian Sea, an arm of the Mediterranean Sea, between the Italian Riviera and the island of Corsica.
| | |
| --- | --- |
| Peter and Marilyn and Johnny and Mickey stayed at the Hotel Nuovo Suisse in Alassio for two nights. | Alassio on the Italian Riviera. View from pier. |
| | |
| --- | --- |
| Monaco Casino. | Monaco harbor. |
Rome
After the Italian Riviera, they drove to Rome, where they stayed at the Hotel Pyramid on the Via dei Magazzini Generali, near the Pyramid of Cestius. The pyramid was built about 18–12 BC as a tomb for Gaius Cestius.
| | |
| --- | --- |
| Johnny on Spanish Steps in Rome. Johnny won the contest on how many steps there are: 138. | St. Peter's Square. The line to get into St. Peter's Basilica stretched all the way around the square, so they enjoyed the view from without. Chris went to Mass there on Easter while they were on our way to Switzerland. |
| | |
| --- | --- |
| Marilyn, Chris, and Peter at the Colliseum. | A group of Romans. |
| | |
| --- | --- |
| Arch of Titus, at the entrance to the Roman Forum. Senatus Populusque Romanus!. Inspired the Arc de Triomphe in Paris and the Washington Square Arch in Manhattan. | Portico of the Temple of Saturn. |
Siena and Mazzolla
After Rome, they went to Siena and stayed two nights at the Sangallo Park Hotel. On the second day, they went to Mazzolla, a village in Tuscany, about an hour drive west of our hotel. At the time of the 2001 census its population was 46.
| | |
| --- | --- |
| Mickey and Johnny and Marilyn at the Piazza del Campo in the center of Siena. It is a large shell-shaped square. There is a bareback horse race twice a year around the edges of the square. It is regarded as one of Europe's greatest medieval squares. | Johnny taking a picture of Mickey and Marilyn on the way out of Sienna. |
| | |
| --- | --- |
| View from the small town of Mazzolla. | Mazzolla sign: Beware of dog! |
| | |
| --- | --- |
| Johnny playing at Trattoria Albana in Mazzolla, where they had a late lunch. | Francesco and Johnny. Email: francesco_drums@vigilio.it |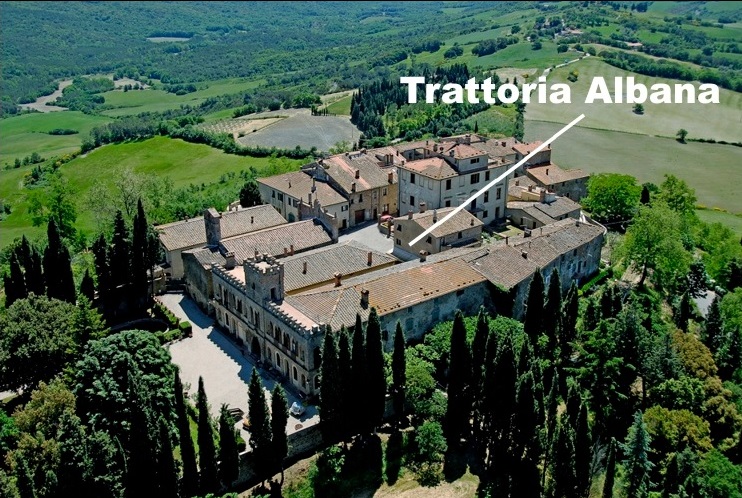 Drone view from the 2021 website of Trattoria Albana in Mazzolla: A small village set in the marvel of the Tuscan countryside, just a few minutes form Volterra. "A trattoria, that has been such for many generations, is today in the hands of Giuseppe who has restored it with love. Giuseppe is the chef who you would want to see working in a small restaurant and who uses the delicious products of the region. A charming and tranquil person who puts you immediately at ease and who proposes genuine cooking, created with passion. The vaulted antique terracotta ceiling, the inviting dining-room with a fireplace, a good selection of wines, all go to make even the shortest of stays for the traveller sampling a plate of local salami and cheese, pleasing."
From Siena, they took a 16 hour drive back to Stuttgart. Closure of the Gotthard tunnel caused a 4 hour detour to the San Bernardino Pass. They stayed in a hotel near the airport, picked up luggage the next morning that had left back at the Insel Hotel in Waiblingen, and went to the Stittgart Airport for their Lufthansa flights to Munich on an ATR 42 and then to JFK on an Airbus A340.