PetersPioneers came to America from Europe on sailing ships between 1834 and 1888, a period of 54 years. This page lists the families and, where available, the names of the ships they came on. Another page, Kassel to Tiffin, 1834, illustrates the journey of the family that we know the most about. It also happens to be the first family to immigrate to America.
U.S. Flag
Period
New States
Immigrants
13 stars
1777 to 1795
DE, PA, NJ, GA, CT, MA, MD, SC, NH, VA, NY, NC, RI
15 stars
1795 to 1818
VT, KY
20 stars
1818 to July 3, 1819
TN, OH, LA, IN, MS
21 stars
July 4, 1819 to July 3, 1820
IL
23 stars
July 4, 1820 to July 3, 1822
AL, ME
24 stars
July 4, 1822 to July 3, 1836
MO

John Adam and Maria Eva Schumm Schickell, 1834, Kassel, Bavaria, to Tiffin, Ohio, via ship Johannes Bremen to Baltimore, with children Veronica, Mary Augusta, Amalia, and Peter
Patrick and Bridget Biggins, Drumgill, County Cavan, Ireland to Ontario, Canada, then 1833-38 to Lockport, Illinois, with two children including Ann
Daniel McDonald, before 1836, Ireland to Whitehall, New York
Eliza Young, before 1836, Ireland to Whitehall, New York

25 stars
July 4, 1836 to July 3, 1837
AR
26 stars
July 4, 1837 to July 3, 1845
MI

John Schmitt, 1838, Kassel, Bavaria, to Tiffin, Ohio. Was a 49-er at Mathenias Creek, California, from 1849 to 1851
James and Bridget McNally, sometime before 1841, Ireland to Albany, New York
Franz Berles, 1844, Dorlar, Westphalia, Prussia, to Detroit, Michigan, via bark Sophie Bremen to Baltimore

27 stars
July 4, 1845 to July 3, 1846
FL

John and Anna Maria Spiekermann Green (Grüne, Grühne), 1846, Schönholthausen, Westphalia, Prussia, to Detroit, Michigan, via ship Philadelphia Antwerp to Castle Garden, with children Mary Regina, Dina, Elizabeth, and John

28 stars
July 4, 1846 to July 3, 1847
TX
29 stars
July 4, 1847 to July 3, 1848
IA
30 stars
July 4, 1848 to July 3, 1851
WI
31 stars
July 4, 1851 to July 3, 1858
CA
32 stars
July 4, 1858 to July 3, 1859
MN
33 stars
July 4, 1859 to July 3, 1861
OR
34 stars
July 4, 1861 to July 3, 1863
KS

Margaret Foy, 1863, Derreennascooba, County Mayo, Ireland, to Chicago, Illinois, via ship Arkwright Liverpool to Castle Garden

35 stars
July 4, 1863 to July 3, 1865
WV
36 stars
July 4, 1865 to July 3, 1867
NV

James Kenny, 1865, Ireland to Chicago, Illinois, with older sister Ellen

37 stars
July 4, 1867 to July 3, 1877
NE

Mary Hartigan, 1867, Ireland to Chicago, Illinois
William Peter Drueke, 1871, Niederhelden, Westphalia, Prussia, to New York City, via steamship Thuringia Hamburg to Castle Garden, with sister Anna Sophia and her fianc&eacutee Frederick William Wurzburg
Thomas and Bridget Foy O'Malley, 1871, Derreennascooba to Chicago, Illinois, with children Michael, Thomas, John, Margaret, Anne, Catherine, and Mary

Theresa Knoche Berles, 1874, Dorlar, Westphalia, Prussia, to Grand Rapids, Michigan, via steamship Neckar Bremen to Castle Garden, with son Anthony, his wife, Wilhelmina, their children Theresa, Elizabeth, and Joseph

38 stars
July 4, 1877 to July 3, 1890
CO

Edward and Catherine Higgins Carroll, 1880, Ballyneety, County Limerick, Ireland, to Chicago, Illinois, via steamship Parthia Queenstown (Cobh) to Castle Garden, with children Thomas, John, Patrick, David, James, Mary, and Anna


Alexander F. Zugelder, 1888, Königheim, Baden, to Grand Rapids, Michigan, via steamship Toronto Liverpool to Quebec City

43 stars
July 4, 1890 to July 3, 1891
ND, SD, MT, WA, ID
44 stars
July 4, 1891 to July 3, 1896
WY
45 stars
July 4, 1896 to July 3, 1908
UT
46 stars
July 4, 1908 to July 3, 1912
OK
48 stars
July 4, 1912 to July 3, 1959
NM, AZ
49 stars
July 4, 1959 to July 3, 1960
AK
50 stars
July 4, 1960 to present
HI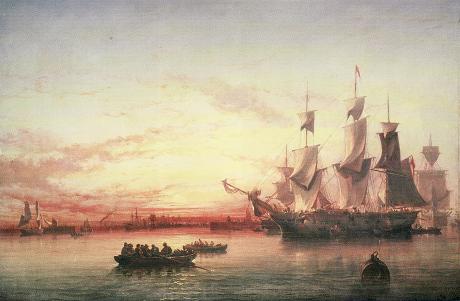 An Emigrant Ship, Dublin Bay, Sunset, 1853, by Edwin Hayes (1819-1904), Gift of Miss Mary F. Kilgour, 1951. National Gallery of Ireland, Dublin.

In October 2012, Dan Hogan posted on the Irish-in-Chicago Mailing List of Rootsweb the following passage from Ireland: It's Scenery and Charcters &c. by Samuel C. and Anna Maria Hall, 1841, Vol. 1, pp. 27-29:
We stood, in the month of June, on the Quay of Cork to see some emigrants embark in one of the steamers for Falmouth, on their way to Australia. The band of exiles amounted to two hundred, and an immense crowd had assembled to bid them a long and last adieu. The scene was touching to a degree; it was impossible to witness it without heart-pain and tears. Mothers hung upon the necks of their athletic sons; young girls clung to elder sisters; fathers—old white-headed men—fell upon their knees, with arms uplifted to heaven, imploring the protecting care of the Almighty on their departing children. "Och," exclaimed one aged woman, "all's gone from me in the wide world when you're gone! Sure you was all I had left!— of seven sons—but you! Oh Dennis, Dennis, never forget your mother— your mother!—don't, avourneen—your poor ould mother, Dennis!" and Dennis, a young man—though the sun was shining on his grey hair— supported "his mother" in his arms until she fainted, and then he lifted her into a small car that had conveyed his baggage to the vessel, and kissing a weeping young woman who leaned against the horse, he said, "I'll send home for you both, Peggy, in the rise of next year; and ye'll be a child to her from this out, till then, and then avourneen you'll be my own." When we looked again the young man was gone, and "Peggy" had wound her arms round the old woman, while another girl held a broken cup of water to her lips. Amid the din, the noise, the turmoil, the people pressing and rolling in vast masses towards the place of embarkation like the waves of the troubled sea, there were many such sad episodes. Men, old men too, embracing each other and crying like children. Several passed bearing most carefully little relics of their homes—the branch of a favourite hawthorn tree, whose sweet blossoms and green leaves were already withered, or a bunch of meadowsweet. Many had a long switch of the "witch hazel," doubtless to encircle the ground whereon they slept in a foreign land, so as, according to the universal superstition, to prevent the approach of any venomous reptile or poisonous insect. One girl we saw with a gay little goldfinch in a cage—she and her sister were town-bred, and told us they had learned "lace-work" from the good ladies at the convent "that look'd so beautiful on the banks of the Cork river," and they burst out weeping again, and clung together as if to assure each other that, sad as it was to leave their country, they would be together in exile. On the deck of the steamer there was less confusion than might have been expected. The hour of departure was at hand—the police had torn asunder several who at the last would not be separated—and as many as could find room were leaning over the side speechless, yet eloquent in gesture, expressing their adieus to their friends and relatives on shore. In the midst of the agitation, a fair-haired boy and girl were sitting tranquilly, yet sadly, watching over a very fine white Angora cat that was carefully packed in a basket. "We are going out to papa and mama with nurse," they said, in an unmitigated brogue; "but we are very sorry to leave dear Ireland for all that." Their father had, we imagine, been a prosperous settler. "Oh, Ireland, mavourneen—oh, my own dear counthry—and is it myself that's for laving you afther giving ye the sweat of my brow and the love of my heart for forty years!" said a strong man, whose features were convulsed with emotion while he grasped his children tightly to his bosom. "And remember your promise, Mogue, remember your promise; not to let my bones rest in the strange counthry, Mogue," said his wife; "but to send me home when I'm dead to my own people in Kilcrea—that's my consolation."
It is impossible to describe the final parting. Shrieks and prayers, blessings and lamentations, mingled in "one great cry" from those on the quay, and those on shipboard, until a band stationed in the forecastle struck up 'St. Patrick's day.' "Bate the brains out of the big drum, or ye'll not stifle the women's cries," said one of the sailors to the drummer. We left the vessel and her crowd of clean, well-dressed, and perfectly sober emigrants with deep regret, that, while there are in Ireland so many miles of unreclaimed land, such a freight should be conveyed from her shores. The communicating plank was withdrawn; the steamer moved forward majestically on its way. Some, overcome with emotion, fell down on the deck; others waved hats, handkerchiefs, and hands, to their friends; the band played louder; and the crowds on shore rushed forward simultaneously, determined to see the last of those they loved. We heard a feeble voice exclaim, "Dennis, Dennis, don't forget your mother—your poor ould mother!"