In June-July 1935, my maternal grandparents, Will and Rose Drueke, took a trip out West from Grand Rapids, Michigan. Will was 51 and Rose was 53. For Will it was mostly business. For Rose it was pleasure, but a strenuous trip nonetheless.
We don't know anything about the car they drove in.
They stayed in hotels but mostly in a new kind of place called a motor hotel or travel court. They picked up mail from their family at prearranged hotels in the larger cities.
We have detailed information from letters written by Rose. But the letters cover only the trip down to Texas and out to Los Angeles from June 2 to June 24. There is nothing about the trip up to Washington and back to Grand Rapids, other than the list of prearranged hotels where they picked up their mail.
Several times Rose mentions that they stayed in a place that had Beautyrest mattresses. These mattresses were introduced by Simmons in 1925. Simmons promoted its products aggressively with ads that included testimonials from famous people such as Eleanor Roosevelt in 1927 and Henry Ford, H.G. Wells, Thomas Edison, Guglielmo Marconi and George Bernard Shaw in 1929. Eleanor Roosevelt continued to promote the brand into the 1930s, through her radio show. Cole Porter mentioned the Beautyrest brand in the lyrics of his 1934 song "Anything Goes."
Their six children were grown and unmarried. They were all living at home, except for Irene.
Irene, 28, a graduate of the University of Michigan, and working at The J. L. Hudson Company in Detroit.
Marian, 26, a graduate of the University of Illinois.
Joe, 24, Vice President of the Drueke company, and responsible for sales.
Bill, 22, Treasurer of the Drueke company and responsible for manufacturing.
Jane, 20, my mother to be, graduate of Grand Rapids Junior College, Secretary of the Drueke company.
Rosemary, 18, graduated from high school while Will and Rose were on the trip out West.
| | |
| --- | --- |
| Drueke's Chess Primer, written to instruct beginning players. Composed by William A. Shinkmann (1847-1933). | Drueke Family, backyard of 120 Grand Avenue, Christmas 1935. From left, Bill, 23; Marian, 27; Jane, 21; Will, 52; Rose, 53; Rosemary, 19; Irene, 28; and Joe, 24. |
In 2015, my sister Emily sent me letters she had received from our cousin Betsy Drueke that our grandmother Rose had written about the trip. The letters were addressed mostly to Tanta, her aunt who raised her after her mother died. There was one letter from our grandfather Will to the children.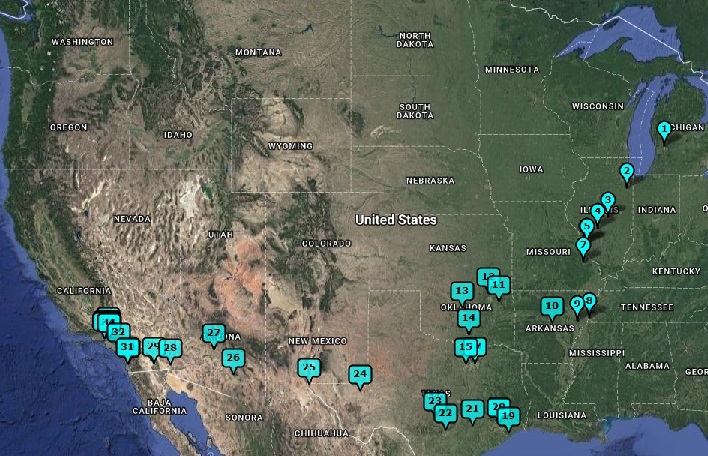 Map of trip out West.

Sunday, June 2, 1935: Grand Rapids to St. Louis. On June 4, in Memphis, Rose sent her first letter to Tanta:
Memphis, Tenn.
June 4, 1935
My dear Tanta,
I should have begun my letter to you yesterday. It was a wonderful day and cool in St. Louis. But after writing a long letter to Irene--I had not written to her since she was home and helped me so much to get ready for my trip. Then I wrote to Ida when Will announced he was ready to leave St. Louis.
On Sunday, June 2, we went six o'clock Mass and left Grand Rapids at 8. We drove steady and made good time. And had our noon lunch, some sandwiches, and coffee just before we got to Kankakee, Ill. The sun was shining bright but saw some heavy clouds in the South sky. Going through Kankakee there was a regular cloudburst. But we kept on going and it was very amusing how the roads would be dry ahead of us and it would suddenly start to pour down rain. We went down through Illinois on a shortcut road, a new belt line and went through very few cities. We went through Decatur. Had a fine 50 cent chicken dinner at a little town called Raymond. We arrived at St. Louis at 8 o'clock and were very tired. Found just the kind of hotel we were looking for.
Monday, June 3, 1935: St. Louis to Farmington. The first letter to Tanta continues:
We both had a very good night's sleep. At 8:30 Will left the hotel with his two heavy sample cases. At ten, I walked down to the shopping district--it was 10 blocks from the hotel. Will worked through the lunch hour. I wrote letters, then took the bus to see the wonderful St. Louis Cathedral.
At 5 o'clock we had an Italian dinner and left St' Louis.
Will opened some new accounts and decided that business was good in St. Louis.
There were 21 days of rain in May in St' Louis, and the Mississippi R. is surely high. We saw the flooded banks but none of the tragic parts of it. All the Negro homes on the banks are built way high up on stilts.
When we got out of St. Louis and going South, it seemed just like leaving civilization. The houses kept getting smaller and so far between. All hills and winding roads and curves. The trees were so pretty on the hills. We saw so many beautiful blooming rose bushes.
We drove until very dark and we both began to get cross and knew it was time to stop. The first town that had a hotel since St. Louis was Farmington. Hotel like Portland, Mich. only worse. But we slept just the same.
Tuesday, June 4, 1935: Farmington to Memphis. The first letter to Tanta continues:
We were up at 5 A.M. and on our way at once. It took us a lot longer to get to Memphis--got here at 11 A.M.
The car is parked side of a hotel--it's a block from the river & there is a nice breeze blowing. I was surely disgusted to see my first page of your letter blow out of the window. I must send it as is--because I am expecting Will--it's 4 P.M. I did have time to copy my first page--it was much water soaked. I doubt if you could have read it.
It's 5:30 P.M. and we are ready to leave.
Had a letter here from Irene. She got a wonderful raise. Says she has one sleeve of my coat finished.
Also got a letter here from Jane.
Lots of love
from Rose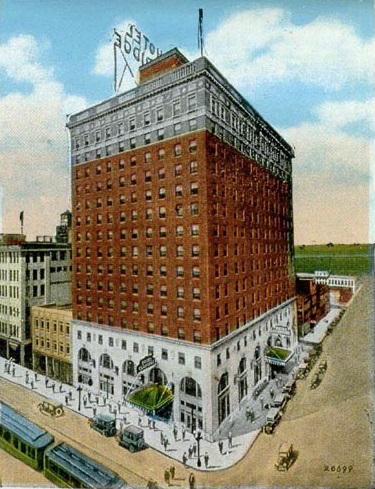 Will and Rose arrived in Memphis at 11:00 am. They parked the car on the side of a hotel a block from the river, probably the Claridge Hotel, where there itinerary said they had mail sent to. Source: Internet.
Tuesday, June 4, 1935: Memphis to Forrest City. On June 7, in Dallas, Rose sent her second letter to Tanta:
We left Memphis at 5:30 P.M. Drove as far as Forrest City, a little town 40 miles from Memphis. We got there at nine o'clock, walked up and down the main street twice, and were glad to go to bed.
Wednesday, June 5, 1935: Forrest City to Muskogee. The second letter to Tanta continues:
We were up at six A.M. and on our way to Little Rock, Arkansas. It was an interesting drive. I saw ever so many Magnolia trees all in blossom. It's a poverty stricken country down there There is so much low land % so many little streams & now the whole district is flooded. The roads must be government roads--very good roads built high up above the level of the land. It is evident that the Negro is still a slave to the white man down there.
The cotton plant is a tiny 2 x 4 leaf leaf plant just now and the fields are full of Negroes cultivating it.
We arrived at Little Rock at nine A.M. It's quite a town but Bill was surprised to fined "no business there."
We started on our drive to Tulsa, Okla. Went to a movie at Muskogee, Okla. & stayed in that town over night.
Thursday, June 6, 1935: Muskogee to Ardmore. The June 7 letter from Dallas continues:
The country from Memphis to Fort Smith is very flat and the roads are very straight.
We left Muskogee at 6:30 A.M. and arrived at Tulsa 8:15--63 miles. Had our car greased & gone over at Tulsa.
Tulsa is a very beautiful and prosperous looking city. Such beautiful large homes and churches. Right in the center of the town there is a grand Methodist church modernistic in structure.
Will was ready to leave Tulsa at noon. We bought a bag of Hamburgers and a thermos of water and were on our way to Oklahoma City a distance of 123 mi. We tried to make time--you never saw more winding roads and hills. But outside the city it was very flat country & and you could see the city for 20 miles. The city has far more wealth than Tulsa. There are miles of oil wells around it. The State Capitol is one of the finest we have ever seen.
We arrived there at 3:30. I was very tired but Will did not lose a minute--he parked me in front of a big dept. store, grabbed his samples, and went to work. He didn't come back until 5:30. He was all smiles, had opened some new accounts, and had some orders. We had our dinner and were again on our way. We drove 103 miles to stay at Ardmore but outside the city we saw a little settlement called English Village. It was like a little park--in the center there was a lovely garden & a lawn with easy chairs on it. There were about 14 new and clean looking little cottages around this on a landscaped drive--evergreens around each cottage--just what we were looking for. Our cottage had 5 windows in one large room & a bath room. Each cottage had a cement drive & canopy for the car at the side. Will turned on the radio in the car & we had a good program of music & news flashes. It was ideal. The cottage had waxed hard wood floor, light green, big check gingham curtains at the windows, and a beauty rest mattress on the bed.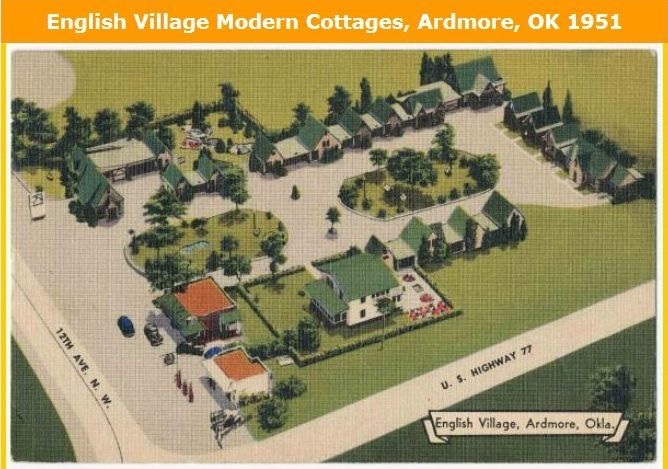 Will and Rose stayed here in one of 14 cottages in a place called English Village. "It was like a little park, in the center there was a lovely garden and a lawn with easy chairs on it." Source: Internet.
Friday, June 7, 1935: Ardmore to Dallas. The second letter to Tanta continues:
We left our English Village early to resume our driving. We were in the State of Texas at 7:30 A.M. and drove 120 miles on a tarvia road to Ft. Worth. I kept my eyes on the many varieties of flowers that were new to me. There were fields of orange colored galardia, a purple flower resembling a thistle & a different kind of a yellow daisy.
We have had a strenuous week.
We spent the morning in Ft. Worth--Will is much satisfied with the business there. We left after our noon lunch and came here to Dallas. I registered at the Hilton Hotel while Will went out to look for business. And I think we will stay here and rest until Sunday.
It seems so good to be in a room and relax. Most all my writing was done in the car.
I was pleased to hear that you were over to the house one day (Tues. night). Jane sent us an air mail letter to Fort Worth yesterday--we got it, too.
I wish you could write me a letter to Ida's:
c/o Mrs. I. M. O'Keefe
5305 El Cajon Ave.
San Diego, Cal.
I hope both you and Uncle Charlie are well. I think of you lots.

Loads of love
from Rose
Friday, June 7, 1935: Fort Worth. Rose also wrote a letter to the children:
My dear Family,
We arrived here about 9:30 this A.M.. They call this a cold day down here. I tried to get fixed up in one of the dept. stores & my lipstick had turned to liquid.
You see we are on schedule. Yesterday was a very hot day and a hard day. We made both Tulsa and Oklahoma City.
Friday, June 7, 1935: Dallas. The June 7 letter to the children continues:
My but we are travelling fast. It was noon when I was writing this letter & Dad came all smiles convinced he had all the business there was. He was quite Happy about Fort Worth business. It was a 35 mile drive here to Dallas.
I am enclosing my diary that I am mailing to Tanta. Please all of you get together and read the pages I am sending in your letter & someone take them over to Tanta. Did you read the first few pages I sent to Tanta?
The letter Jane wrote yesterday was in Ft. Worth this A.M. So you see we get good mail service on air-mail.
I was mighty glad you asked me about the measurements for Economy. I never would have thought of that again.
How is the garden? I can't realize that it is really being sprinkled every day. Is it? Who is checking up on it. Have a real system about it--maybe take turns--the lawn in from with get burned if it isn't done every day.
Marian--what new flowers are in bloom? Do you see anything coming up near the garage where I marked those tiny sticks--there are seven places. It is the big bean stalk Uncle C. gave me. When that "basket of Gold" in front of the bird bath is done blooming cut off the blossoms. And is the Oriental poppy done blooming? Be sure to cut those leaves way down close to ground to give other things space. Tell me everything.
I expect Rosemary to tell me lots. Send me a big newsy letter at San Diego.
I enjoyed Jame's letter. Enjoyed reading about your Tues. night menu. Guess you will be well nourished While I am away. So glad Tanta came over, but I hope she doesn't overdo trying to walk over. Call her some noon and offer to get her. And have that little one cup tea pot where she can see it & have some food for her. She will help herself--just tell her.
This is the first breathing spell for us--it's Friday and we are going to stay here until Sunday to rest. It's quite strenuous.
I hope to get a letter from every one of you. Jane, you can mail Marian's and Rosie's with you air mail letter. I am quite anxious to hear from each to hear what you are all doing.
I have had 3 letters so far from Irene. She said she mailed one sleeve to you--then Jane said she had one sleeve finished and one sleeve started--and Dad looked up so bewildered and said "How many sleeves are you going to have?"
Saturday, June 8, 1935: Dallas. On June 12, in Pecos, Texas, Rose sent her third letter to Tanta:
My dear Tanta,
I mailed my last pages to you yesterday. Last night we went to a Movie to see Will Rogers in "Doubting Thomas." We didn't care so much for it--maybe we were too tired.
Today Will had some good business in the morning. He can see no one Sat. afternoon, so we decided to stay in room and rest. We were comfortable as long as we sat near the fan. It was so very hot there. We went out for a walk at 5 but took refuge in an air cooled movie. We saw "In Caliente" with Del Rio, Pat O'Brien & Horton in it. It was a very funny show & I hope you can see it. We had dinner at seven then a long walk & located our Church.
| | |
| --- | --- |
| Poster for the comedy film "Doubting Thomas" with Will Rogers and Billie Burke. Released June 7, 1935, by Fox Film Corporation. | Poster for "In Caliente" for the musical film with Dolores Del Rio, Pat O'Brien, and Leo Carillo. Released May 25, 1935, by Warner Bros. |
Sunday, June 9, 1935: Dallas to Galveston. The third letter to Tanta continues:
We left Dallas after Mass for a 250 mile drive to Houston. We reached Houston at 3 P.M. At 5 we decided to go 50 miles further to Galveston, Texas, to spend the night on the Gulf of Mexico. How I marveled at the first palm tree I saw. I am so glad we went to Galveston--it was so different. I kept thinking of my father because he played down there one season. We took a cottage in Miramar Court. It was like a hotel room--room & bath and porter service. We were right on the ocean with just the street in front of us.
Monday, June 10, 1935: Galveston to Schulenberg. The third letter to Tanta continues:
Will woke up at 5:30, put on his bathing suit & was going to have an ocean dip but he came back dry. The ocean was quite wild & he didn't realize the shore line was all rocks as you will see on the postal I sent Billie.
We were repaid for going to Galveston because stopped in the city and had some business there.
We were back in Houston about 10:30 and Will went to work at once. It was the hottest day we had. I was feeling quite miserable until I thought of Bill trotting all through the town with those 2 heavy grips. When I saw him at noon his collar was flattened right down.
We left Houston at 5:15 after having a soft shell crab dinner.
On the way in and out of Houston we noticed so many of the tall trees in the woods with a dead looking moss hanging down from the branches. It looked cave-like.
We drove as far as Schulenberg, a little German town. And spent the night at a little hotel called "Von Winden." Everything was so well painted & clean & prosperous looking in this town.
Tuesday, June 11, 1935: Schulenberg to Kerrville. The third letter to Tanta continues:
We were again on our way. We had 100 miles to make to San Antonio. The flowers on the road were so beautiful. I stopped on the road to gather a few verbena lavender. The soil seemed a rust color like dead wood stump.
Saw our first cow punchers--3 young fellows with big hats & long ropes, riding horse back.
All along the fields we saw huge big Round leaf cactus plants. Saw fields of sugar cane.
We arrived in San Antonio at 9:30 A.M. It's very much Mexican. It is different from any thing so far. There is much Spanish architecture. I just loved the town. The river winds all through the city. Every few blocks you find yourself crossing the river at a different angle. It's very narrow and there is a well kept lawn right close to the river bank & beds of lovely flowers along each bank. And the bridges are so interesting. Then at different places there are water falls. The people down there just rave about their city--if you ask for information--they tell you so much & you have to just walk away.
Some man took me inside their theater--it cost $2,000,000--it is purely Mexican & beautiful.
Then of course we went to the "Alamo." Texas has really put up a big fight for her existence. I heard so much in the "Alamo" that I never have known before.
Then we went out 2 miles and saw one of the old Missions. It was so interesting.
We had a Mexican cooked dinner. I would like to have stayed there. We drove 75 miles to Kerrville & stayed at "Bass Court." We had a perfect cottage--cement--4 rooms, toilet & bath. A nice place to stay.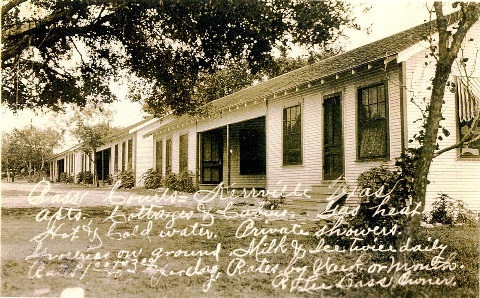 Will and Rose stayed at the Bass Court in Kerrville. The next day they headed for El Paso. Source: Internet.

Wednesday, June 12, 1935: Kerrville to Pecos. The third letter to Tanta continues:
On our way at 7 A.M.
531 miles to El Paso

We were soon driving in the mountainous district and before long it began to rain. We found that there had been so much rain that the mountain streams were all overflowing. Found ourselves very much in the flooded district of Texas. In lots of places the road was under water--but we kept on going. Until we got to a real wash out that held up all traffic. We could see the flood coming up the hill & road way inch by inch. Then we detoured via San Angelo. Most of the road was very bad.
We saw ever so many cow boys with big hats o, with their lasso ropes on horse back--just like we see in the movies. And the little Texan store all have those wood canopies in front supported by wood props where they tie the horses.
Then we saw 3 cow boys rounding up 100 cows in the road--it was very interesting.
Today we saw a herd of wild goats coming out of a canyon. You ought to have seen their climbing up a steep wall of rocks when they heard our car.
I never saw so many sheep.
In one town we say a building with sign "Mohair and Woolen Mill."
Texas is surely "God's flower garden." Fields and fields of flowers--so many different kinds. The road along here is all in bloom--couldn't be planted better. Today we saw more yucca in bloom and that big round leaf cactus has a large yellow lily-like flower. So much purple verbena & orange gaillardia.
Lower Texas is certainly rich in oil fields--miles of oil wells.
As we near Pecos the country becomes quite monotonous--no more flowers or trees, sandy soil with lots of sage brush and cactus.
We are in Pecos--people much excited here--last night they had a cloud burst--which flooded the streets & yards. It was the first rain they had in 17 months. We are in "Boulder Court"--lovely new stone cottages--new furniture, a beauty rest mattress--private bath & all.
Loads of love tonight from
Rose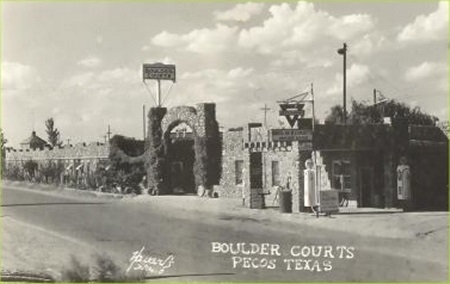 Will and Rose were heading for El Paso from Kerrville, but were delayed because of flooding. They stayed in Pecos at Boulder Court. The town was flooded from the first rain they had had in 17 months. On the way, they saw goats, cactus in bloom, cowboys, and oil wells. Source: Internet.

Thursday, June 13, 1935: Pecos to El Paso. The fourth letter to Tanta begins:
My dear Tanta
We left Pecos at 6 A.M. It's a wonderful cool day due to the heavy rainfall of yesterday. It was a steady up-hill road fro Pecos, a vast expanse of flat country and could see a chain of weird looking mountain peaks in the distance before us. We drove 50 miles before we saw the first house. The land is sandy desert land with nothing but desert plains. We saw quite a bit of cattle - it seems criminal to have cattle there - the cows were so thin and poor looking - they go walking around smelling of the desert plants.
Gomez Peak is 50 miles from Pecos, it's 8500 ft. high (about 1-3/4 miles high).
The altitude in Sierra Blanca was 4623 ft. - highest point on our road.
We drove about 50 miles along the Rio Grande River. It's very fertile along the river. All Mexicans just across the border of Mexico - they live in a very primitive way - in tiny little 4 wall adobe houses made of dirt - some have no windows in them. We arrived in El Paso at 10:30 A.M. Coming into the city we registered at the "Grand Court." The little low Spanish cottages were cement. A fountain at the entrance surrounded by palms and flowers. There were roads & gardens around each cottage. Our's had a bedroom, kitchenette with an eating nook, and bath and toilet. At the Hussman Hotel, we found letters from Jane, Irene & Marian. In the afternoon after Will finished his work we crossed the border to Juarez, Mexico. The buildings are all very low - nothing much there, many tiny curio shops - not so clean or inviting. The old Mission church is right on the Market place. It is now in hands of officials - some hard-looking men. A man asked Will if he wanted a guide in the church. When Will said "no" he said"Then you will have to go back & sit down - no one allowed in front of this building. He was gruff. A tough looking man in the rear kept his eyes so sharp on Will & I - I was afraid he was going to pull a gun. The main altar was entirely stripped of everything. People are allowed to go there and pray. They were kneeling all over on floor - there still seems to be some faithful. The people on border live in these tiny houses - rows of them built together. We were glad to get back on American soil & eat our dinner
Someone told us it hadn't rained in El Paso for 4 years.
Thursday, June 13, 1935: El Paso. A second letter to the children:
My dear family - Just arrived here at 10:30 A.M. - found your letter written here Mon. & Tues. We are going to Mexico this afternoon for an afternoon vacation. We registered here in the grandest place yet. I "Court Grand" - have a stone cottage with a flower garden around it. The court has a stone wall around it. The office is like a hotel lobby - give all kinds of service - it looks just like a little village with a park around it.
Have Marian's letter, too. Enjoy all you say - Jane and Marian. I want especially to hear from Rosemary. I am beginning to feel uncomfortable about not being home for the graduation. You are all doing so wonderful but I feel maybe I am neglecting my duty. Is the dress all O.K. that I ironed - mean in length etc. I know you girls will attend to everything. I am under the impression that the Graduation is on June 21st. Is that right? It seems like so long between class day and it. I am ashamed not to be sure of it.
You could call up Bern & have her tell you the name of Clarence's street. We wouldn't need number just address of street near Alexander.
Try and take Tanta's letter to her as soon as you can - but I do not want you all to read it first. There seems to be very little time to write letters. Have Tanta keep the pages of my diary together. I know I slipped up on the numbering but I will straighten that out when I get home.
Jane - Dad said - write Van Winkle - "we have their order and not crated - we must have cash in advance or at least 25 percent and the balance C.O.D.
Hear that Alexandria Hotel in Los Angeles is out - so change it c/o Hotel Mayfair on out itinerary. Be sure to change it or we will be out of luck with mail.
Is there any definite plan for Rosie's going to Des Moines.
Marian - wouldn't it be a good idea to have her maybe stay over night at Ed Killean's in Chi? I'm sure it would be too hard to try & make the bus trip right thru to Des Moines. I will write to Ed Killean - send me his address.
There is a lovely park here across Hussman Hotel - I am writing in the park with car parked right in front of me.
Lots of love from
Mother
Friday-Sunday, June 14-16, 1935: El Paso to San Diego. The fourth letter to Tanta continues:
My dear Tanta
We got up this A.M. at four and left El Paso at 5. We drove steady through the Rocky Mountains 2-1/2 hours. A wonderful road. We saw two wild coyotes and several eagles. We stopped at Lordsburg 45 min. to rest.
This A.M. we had only 35 miles more to drive in Texas then about a25 miles thru New Mexico state. Seeing very little fertile land mostly yucca plants & low desert shrubs.
Near noon we were driving thru very barren desert land just cactus growing. I didn't think it could get hotter but Will said it was only the beginning. We had completed a 330 mi. drive when we got to Tucson. We had our lunch & Will went to work. I took refuge in the lobby of an air-cooled hotel. Will worked until 6:30. The U. of Arizona is in Tucson - its a beautiful campus. All palm trees & blooming century plants & cactus. Spanish architecture. We had an Italian dinner in a garden under a palm tree.
We started our night driving much later than usual. It got so very dark soon & we went miles and miles seeing the outline of mountains on each side and those weird looking tall cactus plants all along the road - well you know - I didn't like the drive one bit. I thought we would never get to Phoenix, Arizona. I was very tired and we registered at Hotel Luhrs - an air cooled hotel. Will worked all day Saturday and I was much contented to stay in the hotel room. I felt sorry for Will working because it was so hot. They keep the hotel curtains and windows down all the time.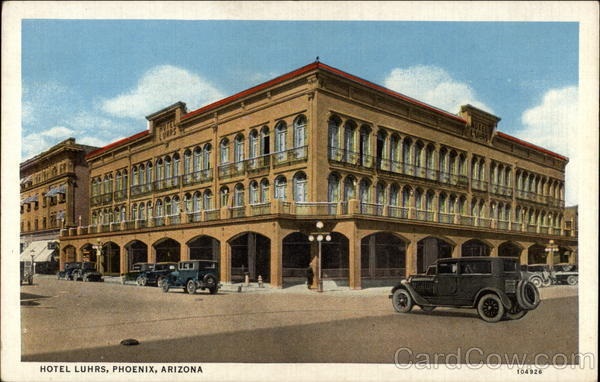 Will and Rose stayed here in Phoenix after driving late into the night from Tucson. It was air-cooled. Will worked the next day, Saturday, all day. They stayed another night but left a wake-up call for 2:30 am. They had breakfast and started for San Diego. Source: Internet.
We decided to stay right there until Sunday A.M. and start on our drive to San Diego before daylight.
I thought I would take my bath at night - so I drew the hot cold water into the tub - and the cold water was so hot I decided to let the filled bath tub stand & get cool so I could take my bath in the A.M.
I wouldn't believe this if someone told me. We left a call for 2:30 - Had our breakfast and were on our way through the desert. It was a beautiful sight to see the moon and the dawn breaking and the sun coming up over the desert. There seemed to be a little breeze that day so we really did not suffer so much.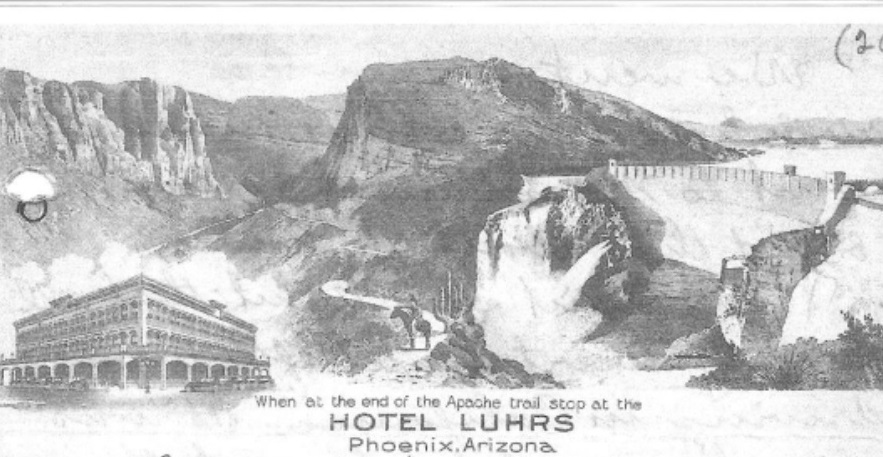 Hotel Luhrs stationary.
I am using this paper because it is so typical of that country.
It began to get very much warmer as we reached Yuma in the heart of the desert at 7 o'clock. Will was very happy and good-natured until we crossed the border from Arizona to California. And when he was asked to open all his grips before entering California. He just balked like a mule & wasn't going to do it. He said a few things & got so mad he said he was going to turn back, etc. After about 6 cars getting ahead of us - he resigned himself to the situation & all our baggage was hauled out & examined.
We went as far as El Centro and had some coffee & lunch and we went to mass there at 9 o'clock. We stayed there about 1-1/2 hours.
We didn't seem to hit that all sandy desert until after we were driving in California. It was surely much different then - nothing bu sand and sand drifts & hills. Then we had to do a lot of mountain driving until we got to Ida's. You can see the mountains from ida's house. We arrived there at 2 P.M.
She was watching for us. Her mother is wonderful. She is 89 years old - feeds her chickens every morning and sprinkles her garden every day. She has a grapefruit tree, a fig tree, 2 apple trees, an alligator pear tree (avocado), an apricot tree & a lemon tree.
We just visited that afternoon and evening
---
Ida. One objective on the trip was to see Ida O'Keefe, a childhood friend of Rose's from Grand Rapids. Ida married James O'Keefe in 1907. He was a lawyer, sometime before 1910. They had a child there in 1910. Sometime during the 1920s, James died, and Ida's mother came to live with her. In the 1900 census, Ida, 18, was living with her parents, Lorenzo and Mollie Mosher and two older brothers at 151 Watson Street in Grand Rapids. In the 1910 census, Ida was living in San Diego with her husband James, then 31, and their son Len, then 2, born in California. They had been married three years and were living at 3331 Albatross Street. In the 1920 census, Ida was living in San Diego with her husband James, then 42, and their son Len, then 10, born in California. In the 1930 census, Ida was a widow living with her mother Mollie Mosley, then 83.
---
Monday, June 17, 1935: San Diego. The fourth letter to Tanta continues:
Ida and Will and I spent this day at the San Diego Fair. We had our lunch in the Better Foods building. We saw a Shakespeare play in "The Globe Theater" at the Fair. The Fair was much smaller than the "Chicago World's Fair." But the many beautiful flowers and flowering trees and palms made the setting much prettier. That night we had dinner at a chop suey place downtown.

Ida and Will and Rose visited the 1935 San Diego Exposition in Balboa Park. After lunch at the Better Foods building, they saw a Shakespeare play at the Globe Theater. Source: Internet.

Tuesday, June 18, 1935: San Diego. The fourth letter to Tanta continues:
Will was downtown on business all day long in San Diego and Ida and I "just visited." Then we went downtown in her car, had lunch, and sat in the car on the beach a long time.
Wednesday, June 19, 1935: San Diego. The fourth letter to Tanta concludes:
We left Ida's at 8:30 A.M. Will had a few stops to make downtown. We had our lunch at the "Brass Rail" and left for Los Angeles. We stopped a long time at the beautiful grounds of the "Old Missionary Church" at Santa Anna. Also stopped at Ralph and Celia's house, they were not home. I picked two oranges off one of their trees. We arrived in Los Angeles at 6 o'clock and registered at the "Mayfair Hotel." We converted our 2 oranges into 2 orange blossoms at the hotel.
Tuesday-Wednesday, June 18-19, 1935: San Diego. A third letter to the children:
My dear family
Yes we are on schedule. We arrived in san Diego Sunday - about 2 o'clock Sunday afternoon. Ida was watching for us. Monday, Dad, Ida & I spent at the fair. It is cool here on the ocean - had my white coat on all day - and saw people at the Fair wearing fur coats.
Today Dan worked all day with Mr. Morris. And I visited with Ida - we are having such a good visit - I am much surprised to find her mother so active. Ida has a lemon tree, a grapefruit tree & and a fig tree in her yard. Also an "alligator pear" tree with a lot of fruit on it. And I forgot - an apricot tree just loaded with apricots.
Today we went to express office and got my boucle suit. I am so happy about it - it looks grand on. Tomorrow noon I leave for Los Angeles & I am going to wear it.
Received a letter here from Jane, Rosemary & Irene. Also dad got his sox on Father's day - he likes them & also needed them.
He also appreciates my laundry work at home now because he paid $2 for having his laundry done.
Will somebody please read this letter to Tanta & tell her my next pages will come later because I haven't had time to get to them since I arrived here.
I reached this far in my letter at Ida's last night.
This A.M. we left her at 8 and I am finishing at hotel while Dad makes 2 stops. I have on my boucle suit & it looks & feels grand. Ida said I must wear my white hat with it - so that's what I seem to be wearing.
[Will] Sold three orders here - about $170 net - expect to do more in Los Angeles.
Love
Dad and Mother
---
Aunt Amelia. Another objective of the trip was to see Rose's Aunt Amelia in Los Angeles. Amelia Hauser, sister of Charles Hauser, was 74 years old. Rose was raised by Tanta and Uncle Charlie Hauser after her mother died. Amelia married William Jaeger in 1882 at Saint Mary's Church. William was born in Chicago, Illinois, and was employed as a cigar maker. In the 1920 census, Amelia Jaeger, widow, 58, was living in an apartment at 3955 Seventeenth Street in San Francisco. Living with her were son William, 35, a musician, son Edwin, 28, a hardware salesman, and grandson William 9. In the 1930 census, Amelia Jaeger, widow, 69, was living in a rental at 2445 Grand Street in the Walnut Park section of Los Angeles County. Living with her was her grandson William, 19, born in California. Rose wrote Uncle Charlie and Tanta saying that "Will Jaeger is playing the piano - he is doing some song writing with another boy - he is so enthusiastic. Gracie Allen has taken on with one of his songs." In the 1940 census, Amelia Jaeger, widow, 79, was living alone in a house she owned at 2958 Hope Street in Walnut Park. This is most likely where Aunt Amelia was living when Will and Rose visited her.
---
Thursday, June 20, 1935: San Diego. A letter to Uncle Charlie:
Dear Uncle Charlie and Tanta -
Last night I called Aunt Amelie and she wanted me to come right out to he house. But we were very tired & decided to rest first.
So here I am with Aunt Amelia this afternoon. She has a precious little Spanish type bungalow - and lost of room and wants us to stay here. I am expecting Will in a little while.
Young Will Jaeger is playing on the piano - he is doing some song writing another boy - he is so enthusiastic. Gracie Allen has taken on one of his songs.
Aunt Amelia looks fine. She is so well and wants to know about you all. She said she would love to have you here with her. Tomorrow A.M. Will Jaeger is taking us to his factory. Sunday we are going to a mountain cottage where Will and Eva are staying this summer.
Ed Jaeger is in Seattle & Harry Hagy is also out of the city but will be home Saturday.
I will write you again.
Love from Rose
---
Uncle Charles' sister Eleanora married James Henry Hagy at Saint Mary's Church in 1882. Hagy was born in Sandusky, Ohio, and was employed as a finisher.
---
Thursday, June 20, 1935: Los Angeles. The fifth letter to Tanta begins:
My dear Tanta,
Aunt Amelia gave us such a hearty welcome. & urged us to stay with her. So we checked out at the Hotel Mayfair. She has a lovely Spanish design bungalow - has a housekeeper & her home looks perfect all the time. She has a large living room across the front of the house, a dining room, kitchen and breakfast room - this part of the house is closed off entirely. Then in the rear she has a large guest room with twin beds. Her own room has a separate dressing room & closet in it. Then young Bill Jaeger has a nice big room with wash room and toilet of his own. The bathroom is beautiful lavender & black tile, has built-in towel drawers & cupboard & dressing table, both shower and bath.. Her kitchen is yellow & black tile - the kind I hope to have some day. The house is only 7 years old & it belongs to her.
Tell Uncle Charlie the lawn looks like velvet - no dandelions.
That night Eva and Will and their 6 yr. old baby (Virginia) were over. Also Vera and Margie came.
Friday, June 21, 1935: Los Angeles. The fifth letter to Tanta continues:
Will was busy all day working in Los Angeles with our Western representative Mr. Bert Morris.
In the A.M. Aunt Melia & I went over to visit Aunt Annie and Uncle Charlie.
I find them also living in an aristocratic looking little Spanish bungalow. They have a big arch window pane almost as high as the room in the front of the house. These homes all have some shady nook or porch-like place at the side called "patio" where they have swings & porch furniture.
In the afternoon Nome took me driving through Beverley Hills and Hollywood. Saw many grand house & estates belonging to movie stars. We called on Vera. Harry and Vera have a beautiful home.
Will & I had dinner at home of Mr. and Mrs Bert Morris. Then the four of us went for a long drive through Canyons and and hills & along the ocean. Saw summer homes of Marian Davis' and Mary Pickford's along the ocean front. Also passed Will Rogers estate & ranch, Harold Lloyd's & Tom Mix's.
Saturday, June 22, 1935: Los Angeles. The fifth letter to Tanta continues:
Aunt Melia & I went out in car & did some errands & called on Aunt Anna & Uncle Charlie again.
At noon Will came and then Harry and Vera took the 3 of us out. We saw lots and went to St. Monica beach. Will talked a guard into letting us inside gate of Fox Film Corporation. We couldn't see much. Did see Will Roger's make-up bungalow.
That night Will & I were entertained at dinner in the home of Mr. & Mrs. Rossie. A grand home and dinner.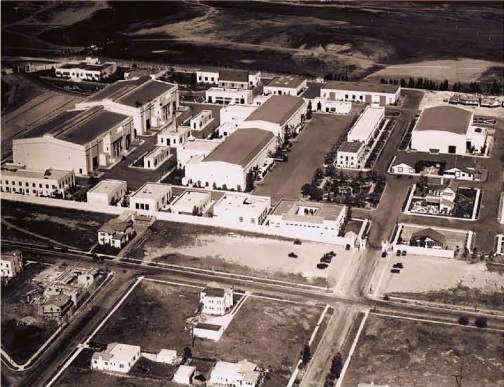 Will talked a guard into letting them in the gate of Fox Film, where they say Will Roger's make-up bungalow. Source: "The Fox Film Corporation, 1915-1935: A History and Filmography" by Aubrey Solomon.

Sunday, June 23, 1935: Los Angeles. The fifth letter to Tanta continues:
Aunt Melia, Bill & I went to Mass at St. Matthias Church. Then stopped to see the famous St. Mary's Church given by Mr. Doheney.
We met Will Jaeger and Eva who had tickets to take us to Forrest Lawn Memorial Park to see the noted window of the "Last Supper." It was beautiful. And also the little "Annie Laurie" Church and the Church of the Flowers. Will and Eva were married in the Church of the Flowers.
Then we spent the day in Will & Eva's mountain home. They live right in the Mountain valley (but up high) near a village called Tujunga (pronounced Tahunga). I thought it would be a little modest cottage but it's a white stucco Spanish bungalow - has electric refrigerator & all modern conveniences. They are up there on account of Virginia'a sinous trouble.
At 5 o'clock we drove to Pasadena - later Harry and Vera came to dinner.
Monday, June 24, 1935: Los Angeles. The fifth letter to Tanta continues:
Ed Jaeger came home from Seattle & took Aunt Melia & I downtown to have lunch with Will. We ate at a little Spanish restaurant.
The End. The letters end here. We do not have the end of the fifth letter to Tanta. We do not have any letters about the rest of the trip. Their mail pick-up itinerary (below) was to take them up to San Francisco, Sacramento, Portland, Tacoma, Seattle, and Spokane, and then back to Grand Rapids via Helena, Salt Lake City, Pueblo, Denver, Lincoln, Omaha, St. Joseph, Kansas City. Perhaps the letters were last or perhaps Rose got tired of writing. There is an article about the Redwood Empire with two photos of redwood trees. This is followed by a page with commercial photos of Santa Barbara and of cactus in Arizona. Lastly there are two page of commercial photos of Yellowstone Park.