In May-July 1950, my maternal grandparents, Will and Rose Drueke, took a vacation to Europe. They toured France, Italy, Switzerland, Germany, Belgium, Holland, and England.
I was ten years old. What I remember is that Grandma and Grandpa gave me an Omega watch from Switzerland. I was reminded by my sister Sarah, who was seven at the time, that I also received a rosary.
In 2015, my sister Emily sent me the itinerary, brochures, and letters that my grandmother had written about the trip. Our mother Jane Marie Biggins transcribed the letetrs in 1997 with her Monorail computer, with the following note:
Saturday, June 28, 1997. Today I am starting to copy my Mother's letters written from Europe in 1950. The earlier pages are missing but I do know that they sailed from New York on May 20 of that year on the S.S. America. I am starting my document with the first letter I have, written by my mother. from Paris, France and dated June 1,1950. Page #9
Sunday July 27, 1997. Today I have finished transcribing my Mother's letters. Betsy Drueke found them in a drawer and mailed them to me before I left Colorado. Little did I know then that I would acquire a computer and accomplish this feat. Sheer determination!
My love to all who will read these papers and also my love to those who don't get around to doing so.
Jane Marie Biggins
216 Nopal, P.O. Box 1037, Florence OR 97439
One of the reasons for Will and Rose going to Europe was that Pope Pius XII had proclaimed 1950 a Holy Year of pilgrimage to Rome. The Holy Year began with Christmas 1949 and conclude with Christmas 1950.
Rose celebrated her 68th birthday in the middle of the Atlantic Ocean on the ship from New York to Havre. Will and Rose celebrated their 44th wedding anniversary in Lucerne, Switzerland.
Will and Rose still lived at 120 Grand Avenue where they had raised six children (though Irene had died in 1937). They had 19 grandchildren (five more would come in the next four years). Wm. F. Drueke & Sons, the game company started by Will at 601-603 3rd NW in Grand Rapids, had been handed over to their children, Bill, Marian, and Joe. In March that year, they had their children and grandchildren with them for a family reunion at 120 Grand Avenue.
Their travel agent was James Wagenaar Travel Bureau, on the grouind floor of the Keeler Building in Grand Rapids, Michigan. Their tour was conducted by Transmarine Tours. Steamship transportation was first class on the S.S. America. Land transportation was by rail, with private motorcoach also in Germany. Hotels were first class, but "not of the formal luxury grade." A tour director was in charge throughout the land portion of the tour. Sightseeing was by motorcoach with English speaking guides.
Traveling with Will and Rose were Frank and Agnes McKay from Grand Rapids and Agnes's sister Alma Hermanson. Frank McKay had an insurance and a realty business, He owned a bank building in Grand Rapids and a hotel in Miami Beach. He also had been active in Republican politics, serving as Michigan State Treasurer from 1925 to 1931 and floor manager for Wendell Willkie at the 1940 Republican convention in Philapelphia.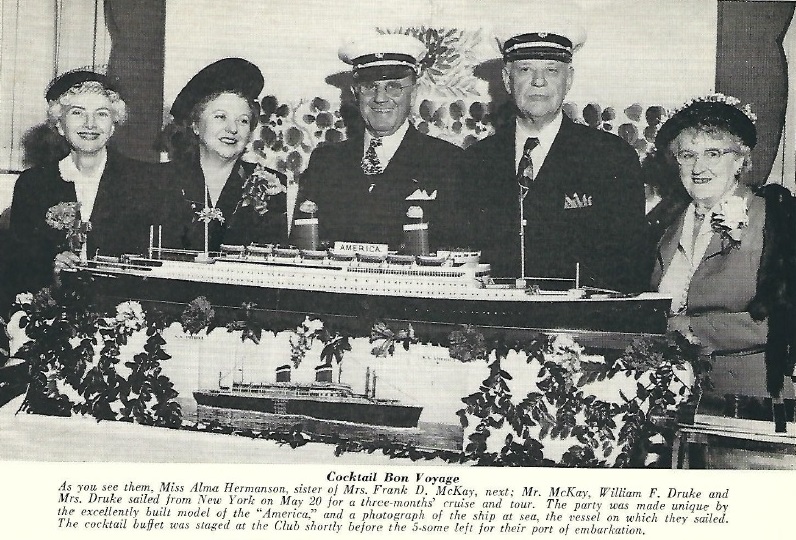 Picture at a Cocktail Bon Voyage for the Druekes and McKays at the Peninsular Club in Grand Rapids shortly before their trip.
Wednesday, May 17: Grand Rapids. Daughter Marian drove Rose and Will from Grand Rapids to Detroit, where they met with Otilia O'Hara, Rose's second cousin who came to America in 1898 at the age of 9, graduated from the University of Michigan in 1913, and married John O'Hara in 1917. They had dinner at Joe Muer's, a seafood restaurant that started in 1929. That night they took the New York Central Wolverine sleeper to Grand Central Terminal on 42nd Street in New York. They stayed at the Biltmore Hotel, which is connected to the terminal underground. On May 24, aboard ship, Rose wrote her first letter:
May 24, 1950
My dear Family,
It's one week ago today that we started our trip and I haven't written one word. It is very difficult to settle down to writing. There is so much doing all the time.
It was so nice to have Marian drive us to Detroit and to have that visit with Otilia, then dinner at Joe Muer's. It was an easy and restful trip on the Wolverine sleeper from Detroit. We slept all nite, had breakfast on the train and before we realized it we were in Grand Central station and in the Biltmore hotel which connects with the station.
Thursday, May 18: New York. Will and Rose stayed at the Biltmore Hotel, which is connected to the terminal underground. They went to dinner with the Mckays and to a play after dinner. The next night they saw a movie and stage show at Radio City Music Hall.
Of course, we had a grand room. McKay's took us to the "Lombardy" which is a super place, where we had our dinner that night then to a show "Happy Land." It rained every day while we were in New York.
The second night Dad and I went to "Radio City" and saw the movie "Father of the Bride" with a gorgeous stage show.
Saturday, May 20: S.S. America. Rose and Will embarked from New York en route to Havre, France. They boarded the S.S. America from Pier 61 at West 21st Street (now part of Chelsea Piers). They stayed in First Class: Room M-19 to Havre and M-55 from Southampton. Both were outside rooms with a shower and toilet on the starboard side of the Main Deck. The fare for two was $970 to Havre and $1,000 from Southampton.
The S.S. America was built in 1939 at Newport News, Virginia. According to a brochure Rose saved, it was the "largest, fastest, and most luxurious American-flag liner." It was owned by United States Lines from 1940 to 1964. From 1941 to 1946 it served as a troop ship, the USS West Point.
The steamship was 723 feet long and 93 feet wide. By contrast, Marilyn and I took a cruise to the Caribbean from Miami in October 2014 on the MSC Divina, built in 2011, which was 1,093 feet long and 124 feet wide.
Tuesday, May 23, was Rose's 68th birthday, which she celebrated on boad the ship with Will, the McKays.
May 20, 1950 - At 10:30 am we were in a taxi bag and baggage on our way to Pier 61. It was so thrilling to see the boat and we were very happy until the baggage man said, "You will have to show your passports." A big swear word came from Dad and he couldn't think where they were. So he opened his big trunk on the pier and the single packages of terry towels came flying out on the dock. After some agitation the passports were found.
Our phone just rung here in my ear and scared me almost out of my skin. Dad said "Come up to the lounge - there's a good movie on but I decided to stick to my writing.
This is a wonderful ship we have just everything.
Our room is super. Our steward "Andrew" is always right here near our room. He talks, looks and acts like Charles Boyer. He waits on us "hand and foot."
There is a lot of entertainment planned for us, movies and games something all the time.
My pen writes terrible since Dad had it filled for me. I will rewrite this when I get home.
Today was our first really beautiful day - our first all day sunshine. Lots of cloudy days and rain. There have been some waves and rolling sea but none of us have minded it. Guess the pills are OK.
It was all so exciting when we boarded the ship. We found the 2 dozen American beauty roses from my children and grandchildren and they're still beautiful. A big bouquet of yellow roses from Mr. and Mrs. Geo. Kingston, and 5 telegrams. One from M L Drueke, Mary and Harriet Dively. One from Louise Ballschneider. One from Ed and Marie Hake and Dad had one from Harvey Clay. Margaret Kellar sent Alicia and I each a corsage, an orchid for our birthdays and we wear them every night.
Alicia and I were going to celebrate together on the 24th but Frank and Dad planned both the 23rd and 25th. Last night was for me it was a special feast and the orchestra played and sang "Happy Birthday."
Tomorrow night the first mail will go from the boat we shall stop at Cobh.
I was going to write Marian a list of things to remember for me but I thought of nothing and wrote nothing.
We sent Stevie a Happy birthday Radiogram on her birthday, May 23rd. You might ask her if she received it, Marian.
Billie, it was grand of you to let Dad take those field glasses. He is having a wonderful time with them hanging around his neck. Of course, you know, everything on deck gets a peek thro, them.
Marian please call Mrs. Louis Hake and get the address of Ed and Marie Hake of Philadelphia tell (Mayme) we had a wire from them on the boat.
Also give me Harriet Drueke's address. Also Mrs. Carl Snappe's.
May 25, 1950 - Tomorrow morning we dock at Cobh, Ireland for a couple of hours and the ship's mail will be sent from there.
I certainly am ashamed of these blotted pages but have no time to rewrite them today.
Today is Alicia's birthday and also the Captain's dinner and party with a lot doing.
Marian, mail this to Jane and Al to read and have them return to you to be saved for me.
With all our love to all of you,
Mother and Dad
On Thursday, May 25, Rose wrote her first letter, and it was mailed from Cobh when the ship stopped there the next day. Rose wrote in her second letter:
That night, Thursday, we had the Captain's dinner and a gala night- there were favors of all kinds - champagne - and everything to eat. It was also Alma's birthday. Then a concert in the ballroom by 4 celebrities who were aboard - two Metropolitan Opera stars - Licia Albanese and Giuseppe Di Stefano; a violinist David Mantagu and a pianist Leopold Mannes. Then dancing. But the big feature was to stay up all night and see Ireland at dawn. The McKays and Druekes called it quits at 2 A.M.
Friday, May 26: Cobh, Ireland. The S.S. America docked in Cobh, Ireland, on its way to Havre. Rose mailed her first letter from here. Rose wrote in her second letter:
A very few people down to breakfast. Dad woke me at 6 A.M. to see Ireland. The ship was docked. But I rolled over and slept until eleven, Dad got up and went up on the upper deck with his monoculars. We had breakfast in our room after I woke up. Nothing eventful that day as everybody busy packing to be ready to land.
Saturday, May 27: Havre, France. Rose and Will disembarked at the Quai Johannes Couvert Havre. Rose wrote:
Saturday May 27th the representative from Lissome-Lindeman was at our door at 7 A.M. He was a fine young man about eighteen (his father he said was connected with the Hamburg-American Line). The boy was a big help when we landed. It's a strange feeling when you enter a foreign country and no one can understand you. Then going through customs- they only opened My one big bag - didn't move a thing - then stamped them all O.K. Our boy introduced us to our chauffeur, Urban Heinz. He is a German from Luxenberg and lives in Paris - speaks English, French, and German and is most obliging and patient, answering all our questions. He drove from Paris last Friday night to meet our boat and served us until today (June 1) He is taking some people to Switzerland and we will have some other driver to take us to the train leaving tomorrow night for Lourdes.
We were shocked when we saw the harbor of Havre. You know the Germans had it when the American's made the surprise attack and bombed the place. It makes a person just sick to see a whole town blown to pieces - just walls left of huge buildings. The shipping buildings have been rebuilt but the business places are just one story temporary buildings now and all over there are clumps of concrete and debris. There were 6000 citizens killed in the bombing of Havre.
So we began our driving in France. Our first impressions along the main street - in front of the stores on the sidewalk were lines of men with two wheel carts selling material, tin ware, groceries, and meats. We saw a woman sweeping the street. Everybody carries some kind of a sack or burlap - nothing is wrapped in paper - and they all buy this 24 inch long French bread to carry in their hands or under their arms.
Then we saw a nun (a sister) riding a bicycle and she was all alone. Sure looked funny to us. Driving through the country, these people have nothing but these two-wheeled buggy's with one horse. And they have covers like the Covered Wagons.
Saturday, May 27: Lisieux, France. After Rose and Will disembarked at Havre. they went to Lisieux. They stayed at the Hotel de l'Esperance in Lisieux. The Basilica of Sainte-Thérèse de Lisieux was started in 1929 and finished in 1954. Sainte-Thérèse was canonized in 1925. The basilica was built for pilgrims who came in increasing numbers to venerate the new saint in the town where she had lived and died. Rose wrote:
At noon, we arrived at Lisieux - another town all in ruins. There are no sidewalks in Lissieux and how I wished I had myoid heavy platform shoes. - A bad town for toeless shoes.
Our hotel was pretty good. A very funny little elevator holds just 3 people - all glass in a wooden frame. You could see where all the plaster on all the walls has been mended.
There was a nice huge dining room and the food was good. There were many groups of pilgrims who came in while we were there. We were much impressed by a group of 24 boys from 14 to 16 years old from a private boy's school in England. There were four boys at a table and every table had a carafe of wine on it. A waiter gets a shock when you ask for a glass of water. They say "a dinner without wine is a day without sunshine. So - we are drinking wine!
After our noon lunch we walked over to the Carmelite Convent and we were disappointed that no one there could understands English. Then we went to the church which is very old and primitive. There were throngs of people going and coming. It rained all the while we were in Lissieux.
Then we went to our room to rest and Dad began searching all his pockets. He thought he had lost his tickets for the whole trip - so he went back over all the territory in Lisieux and things looked pretty serious for us. When he came back, I said "where is the passport" and then our anxiety grew worse. So we both thought and really began to think when I began to look - and found them, in my pocketbook.
The new shrine of the "Little Flower" a huge grand church high upon a hill and not yet all completed.
Sunday, May 28: St. Malo, France. After Mass, Will and Rose went to St. Malo, where they stayed at the Hotel France at Chateaubriand. The historic walled city was almost totally destroyed by American shelling and bombing as well as British naval gunfire in 1944. It was rebuilt over a 12-year period from 1948-1960.
On their way to St. Malo, they stopped at the Bayeaux where they had lunch and visted the Tapestry Museum. After Bayeaux, they visted Mont St. Michel, at the mouth of the Couesnon River near Avranches. It is a tidal island accessible to pilgrims only at low tide. The tides can vary greatly, at roughly 46 feet between high and low water marks. A brocure saved by Rose quotes Victor Hugo as saying "Mont-Saint-Michel is to France what the Great Pyramid is to Egypt."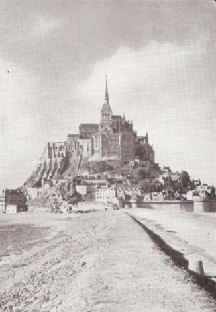 Photo of Mont St. Michel on the front of a brochure saved by Rose.
Sunday May 28th we went to mass in the old chapel and after breakfast Heinz called for us and we were on our way to St. Malo - which was an all day drive through Normandy, France. And it was "Apple Blossom" time in Normandy and a beautiful day.
We stopped a little while at the "Deauville Beach Hotel" ­ the finest and swankiest Hotel on the Ocean in Normandy. Then went through the city of Caen - the destruction was terrible there. Two beautiful Cathedrals blown up and the city in ruins.
We had our lunch at Bayeaux which was the first city to be liberated by the Allies in 1944 after the war. Visited the beautiful "Notre Dame" Cathedral there. Then saw the Tapestry made by De La Reine Matilda 900 years ago. It was the story of the Norman Conquest.
Mont St. Michel was most interesting. It's a huge Cathedral built on a solid rock in the Ocean. We stayed there two hours. We will have a lot to tell about that.
We got to St. Malo at 6 o'clock. We had a huge room on the ocean side. Don't know why we were sent there - its so blown up. The Hotel lady told us how they had lived in cellars two weeks. The hotel is still in bad shape and we were glad to be on our way to Paris next morning.
Paris will be a different story. Wish we could stay here longer. We are doing lots and will have a lot to tell. I am working hard on my French. I advise you all to get busy and get some before you go to Paris.
Lots of love, Mother and Dad
Mail this to Jane and Al
Monday, May 29: Paris, France. Will and Rose went from St. Malo to Paris and stayed at the Royal Monceau Hotel, not far from the Arc de Triomph. Rose wrote
On Monday May 29, we left St. Malo after breakfast. It was a long drive through many little French towns. All over they were still celebrating Pentecost which is a two day holiday all over France. Everything was closed and everybody seemed to be going on picnics. They were having First Communion in a couple places and the people led by priests and Mass servers walk along the road. So many bicycles on the road and the priests riding with their cassocks on and berets on their heads.
At noon we stopped at Alençon where the "Little Flower" was born. We had a good meal at the hotel - then visited the house where she was born - it is occupied by Carmelite nuns.
Then we resumed our driving and as we neared Paris, the roads were wider and there was so much traffic!
We arrived at Versailles at 5 o'clock. There we drove through the grounds of Louis 14th who built the castle and Louis XV & XVI lived there. The grounds cover 10 sq. miles. It is very beautiful ­ flowers, fountains, lakes and canals. It is now just a show place for people to visit. Of course you know the Versailles Treaty was signed there in the "Hall of Mirrors". Dad and I found that it was too late that night to see the interior.
Coming into Paris at 6 o'clock is really something. It was a real traffic rush! The streets all run diagonal from the Arch de Triumph. They haven't near the traffic aid or as many lights as we do and at every diagonal crossing it seems that every car is headed a different way and the best driver gets there first. And how they speed - bicycles all over just scooting between the cars. Dad said he would never attempt to drive there. The Arch de Triumph is just two blocks from our hotel.
Tuesday A.M.: We took a taxi down to the shopping district. (They say "Down to the Louvre" which is 10 minutes from our Hotel.) We went to the Lafayette Galleries which is a big department store. (Galleries means store in France.) Dad went to the chess dept. They were delighted seeing our new plastic chess. The girl took us to the perfume counter and we bought some. Then we went to the Grand Opera House and bought tickets for the opera "The Magic Flute." Had our lunch at the Cafe de la Paree - a sidewalk cafe across from the Opera House. That afternoon, Heinz took us out. First we went to the Arch de Triumph. Napoleon started building it in 1806. He died in 1814 and it wasn't finished until 1836. Hitler marched through it when he thought he had conquered France. Then we went to the tomb of Napoleon which was once a huge church and very beautiful. The tomb is in the center.
Then saw the American Embassy - also passed the home of the Duke of Windsor where he and Wally are now living.
Then went in the church of Magdeleine which is on the big square - it's of Greek architecture and has no windows. There also the huge St. Augustine Church - the order Luther belonged to. Then drove to the other side of Paris where Dad went to see a chess man. Also drove around the district of Eiffel Tower and Museum etc. The tower was built for the 1903 Exposition.
That night we went to a play - it's a New York play "Our Town".
Wednesday afternoon Heinz took us out again - a visit to the Notre Dame Cathedral and the "Sacred Heart Basilica," the newest church in Paris. It's way up high on a hill and very beautiful and impressed me very much. Then Dad went out again to the Chess place.
We had good seats for the Opera that night and we were happy to see some GRAND Opera and the huge house!
Thursday, June 1 - we spent at the "Louvre" - the art gallery and saw many famous pictures such as "Mona Lisa" and "Venus de Milo" sculptures. Thursday night we really went the limit and took in a nite club, "The Lido." I must mention that 'Carrie Finnell" who we saw in New Orleans was one of the attractions.
Friday AM, June 2 - Dad took a trip back to Versailles to tour the "Palace of the King." He came back so dead tired, he resolved he was all through trying to see everything!
At 9:30 PM we left Paris for Lourdes. The train was very funny to us, The staterooms and beds were all made up and Dad in his dainty little voice said: 'They must have a club car - or some place to eat!" A man sitting in one of the upper berths with his legs dangling down said "If you can find a place to sit, call me down". It was Col. Dunn in an American Navy uniform. He was sitting up there saying his breviary. And that's the way we met him. He is a grand man to know and I think we will always keep in touch with him. He came down and sat with us on our lower until midnight. And we made the pilgrimage to Lourdes with him.
Saturday, June 3: Lourdes, France. Will and Rose stayed at the Hotel Moderne. In 1858, a young Roman Catholic girl Bernadette had visions of Mary. In her visions Mary pointed to a spring of water which could heal. A spring later appeared in a cave. Thousands come each year for the healing gifts of the water.
Sunday, June 11, 1950
My dear Family,
On Saturday, June 3rd, we arrived in Lourdes. Had our breakfast at the Moderne Hotel and a nice spacious room. Fr. or rather Col. Dunn was at the Grotto hotel which was quite a walk up a hill from us. Lourdes is the most inspiring place. The Basilica Church is at the foot of a mountain. In front of the entrance is a large circular walled space where every afternoon at four crowds gather amd hundreds of wheel chairs and cots are and a priest carries the Blessed Sacrament to each cot and prayers are sung. And this certainly gets you! Then at night we joined the pilgrimage - a procession about 3/4 mile long (2 single rows) singing an Ave Maria song like a litany. We marched in this with Col. Dunn.
We were up at Col. Dunn's Hotel at lunch time and he was at ours at dinner time with us.
The Grotto where Our Lady appeared to Bernadette is at the side of the church and has an altar in it. Dad served Col. Dunn's mass in this place and said it for our family. This was June 4th Sunday and we had to leave at 8:30 A.M. How I would have loved to stay another day!
Sunday, June 4th was a long all day ride on the train - until midnight. We had to change trains three times. The first train was not so good. The second train very good- more modern. All staterooms and each compartment had six seats in it - each seat had arms and at the head, rests or wings like a fireside chair. And large windows that they keep open most of the time. Don't you recall in movies how the foreign cars show people standing at windows and how they take their bags in and out windows.
Monday, June 5: Nice, France. Will and Rose stayed at the Hotel Negresco, across from the beach.
Then when we got to Marseilles - that last change was not so good. There were four times more people to get on the train than there were seats. Lucky we had met some people who were on a Cook's Tour and they let us ride in their chartered coach and it was so jammed full that nobody was comfortable. We had planned to go on a diner on that train but there was none. The Cook's Tour had box lunches - I had fun getting a hand-out here and there but Dad was so sore about the situation the he wouldn't accept a bite. We finally got to Nice at midnight and to add more injury to our misery, our man was not there to meet us. We took a lone taxi across the street who took us to a forlorn hotel on a side street. There was a man quarding the desk and we found out we were in the wrong hotel. The Negressco Hotel was just around the comer and they came and got our luggage. The Negressco is the last word in hotels. It was elaborate. Our room was really a suite. The twin beds were in an alcove separated from the room by ecru lace and heavy linen portieres and had the same kind of lace in the bedspreads -just beautiful. Then there was a French Door the opened on a marble balcony. And wasn't I surprised in the A.M. when we opened them and there was the Mediteranean Sea across the street. It was the most restful place. We were so glad to stay there two days and two nights.
That next day we hired a taxi for a visit to Monte Carlo. It was very interesting to watch the gambling.
The Negresco is in the swankiest part of the French Riviera and we did enjoy walking on the boardwalk along the Sea.
Tuesday, June 6: Genoa, Italy. Will and Rose stayed at the Colombia Hotel in Genoa, across from the huge statue of Christopher Columbus.
On June 6th at 8:30 we left Nice by bus. All day we rode along the French Riviera up and down and around the French Alps, thrilling curves and a very narrow road. At noon we stopped at a very interesting villa for lunch, "Alassio." In the afternoon we arrived at the Italian border. My large grip was the one picked again for inspection at the customs. I opened it. They just put their hand on the interior and told me to close it up again.
It was the most beautiful drive along the shore of the Mediterranean Sea and the Italian Riviera and up and down the Italian Alps. A lot of trees just like the Florida palms and beautiful flowers. I know now why they call it "Sunny Italy."
We arrived in Genoa at 5 P.M. The Columbia Hotel is another marble hotel and all marble floors with beautiful woven rugs to fit the rooms. It's the largest seaport in Italy. A huge monument of Columbus across from the Hotel - you know it was his birthplace.
The next morning we left Genoa for Rome at 8:30.
With love, Mother & Dad
Wednesday, June 7: Rome, Italy. Will and Rose stayed at Le Grand Hotel et de Rome, near the Piazza della Repubblica. They could see the Fountain of the Naiads by Rutelli from their room.
In Rome, they were joined br Fr. Henze, who was probably a cousin of Will. Will's father was born in Niederhelden in 1853 and emigrated to New York in 1871. His father's older sister Anna Maria marrried a Henze in 1867. They had a daughter, Emma Henze, whom Will and Rose would later visit in Helden, Germany. Fr. Henze may have been a brother of Emma. See: Descendants of Johann and Elisabeth Bitter Drüecke.
On their first day in Rome, Fr. Henze took Will and Rose to Tre Fontane, Trappist abbey where they raise the lambs whose wool is used to weave the pallia the Pope gives to new metropolitan archbishops on June 29, the Feast of Saints Peter and Paul.
On their second day in Rome, the Feast of Corpus Christi, Fr. Henze took Will and Rose to St. Mary Major and St. John Lateran basilicas in the morning and and the Corpus Christi procession in the afternoon. The procession is led led by the Pope from St. John Lateran to St. Mary Major on the Feast of Corpus Christi, the Thursday after Trinity Sunday, 60 days after Easter.
On their third day in Rome, Fr. Henze took Will and Rose to a special audience with Pope Pius XII in the morning and the Catacombs in ther afternoon.
On their fourth day in Rome, Fr. Henze took Will and Rose to a public audience with Pope Pius XII and 40,000 other people in St. Peter's Square.
On their last day in Rome, Fr. Henze took Will and Rose to the Vatican Museum and the Sistine Chapel.
My Dear family:
We arrived at Rome 3:30 P.M. on Wednesday June 7th. Fr. Henze met us at the station and accompanied us to the Grand Hotel. We had a nice large room looking over the "square" and could view the fountain "del Rutelli" from our window.
I was very tired and it was very warm. We had some wine in our room and without taking a minute to freshen up Father had us on our way to see St. Peters, St. Paul, and the Trappist Church. St. Paul was beheaded the place where the Trappist Church is and across the street we went or rather climbed high up on a hill where on April of 47 - 3 years ago - I remember Dad reading it - A man who was preaching against the "Immaculate Conception" had a vision of "Our Lady." His three little children were with him and saw it too. There have been many cures and a constant crowd of people there. The church of the Trappists is called "Tre Fontane".
June 8th, Thursday. In the morning we went with Fr. Henze and visited the St. Mary Major Church (One of the four Basilicas) and St. John Lateran Church. And in the afternoon we went to the "Corpus Christi" procession which was something! There were 500,000 people in the crowd. We were up on a roof peeking through a cement railing (I was sitting on a 5" board from 4:30 P.M. until 8 o'clock). The procession started at six and lasted 2 hours. I have pictures of it to show you.
June 9th, Friday A.M. We had our special audience with the Pope. I will tell you about it. In the afternoon we made a motor tour out the Apian Way" Saw many ruins of Ancient Rome and went down in the Catacombs.
June l0th, Saturday: Went to St. Peter's again to a public audience with the Pope. It was very impressive. A crowd of 40,000 people in St. Peter's. I didn't see much and was very tired and took my camp chair and sat in a corner. But Dad and Father managed to get nearer the front and could see. The Pope spoke in 6 different languages to different groups. I wouldn't have missed going even if I couldn't see. The people wave handkerchiefs and flags and clapped their hands and shouted.
Sunday, June 11th: In the A.M. we called for Fr. Henze and went to the Vatican Museum and the Sistine Chapel. We realized that we had walked miles going through these places. We were very tired. We took a good rest after lunch and then packed our bags and left Rome at 8 P.M. and arrived at Naples at 10 o'clock.
I didn't tell you that every afternoon at one o'clock all the stores and shops close until 4 P.M. You just don't see anybody on the streets. Everybody takes a Siesta. Then the stores keep open until 8 o'clock at nite. It was the same in France only it was from 1 to 3. We received the copy of letter Marian sent to Sienna and yesterday we arrived here (Florence) - got the letter about Bill's family and Marian going to the cottage, about the refrigerator etc. Is the dock put in? Have you had much asparagus? and any at the cottage?
Now we are leaving for Venice. Did Joe and family get to the cottage that weekend?
Hope everybody is well. We are both feeling marvelous.
Love to all, Mother and Dad
Tuesday, June 13: Naples, Italy. Will and Rose stayed at the Excelsior Hotel on the Bay of Naples with a view of Castel Nuovo, and Mount Vesuvius in the distance.
Milan, Italy, June 22, 1950
My dear Family
Leaving Rome at 8 P.M. June 13, we arrived at Naples at 10 o'clock, very tired. Going through the Vatican Museum and the Sistine Chapel that A.M. was too much for one day. We were glad to get to bed and sleep.
June 14 , Wednesday, In the morning we went out on our little balcony and saw that we were right on the Bay of Naples and it was a great sight to see American Battleships right there before us and our American Navy boys did look good to us. We left there at 9:15 on a bus tour. Our first stop was at a little place where they cut cameos. It was so interesting to watch the fine hand work cutting them out of shells. Then we came closer to Mt. Vesuvius. The last eruption was six years ago - you could clearly see the big open crater at the top and the lava all around. Then we came to Pompeii and we walked and walked through all those ruins of 2000 years ago. It was so interesting but not so good for a silly old woman with open toed shoes. It was a road of black cinder dirt. The old stone roads were still there but very bumpy to walk on.
Then we rode miles and miles on mountain roads way up high - then down and around breath taking curves, with the Blue Mediterranean Sea below us. The scenery was beautiful and the farms along the mountains were productive. You see olive groves and lemon groves all over Italy. The lemon trees were just filled with lemons - I never saw such large lemons.
Then we came to Amalfi, the most unique city built on the rocks of mountains. Had our lunch there at the Capuchin restaurant high up on a rock where we had to take an elevator right up in the open. We were with two other couples taking this trip - Dr. & Mrs. Kessner of New York and Mr. & Mrs. Chas. Porpora from New Orleans. That night we stayed at Sorrento, where Dad made a business contact. The Hotel in Sorrento was built on the edge of the Sea. We were with Kessners that night.
June 15th, We were taken from the hotel in row boats to the main dock and went to the island of Capri in quite a large boat. The first thing we did at Capri was to go to the blue Grotto in tow boats. I always thought that you just looked in at the Grotto but you really go into it. The water is very blue and quite a sight to see. Then a bus took us way up on a high rock for lunch. At four o'clock P.M. we were back on our boat again that took us back to Naples and at 7 P.M. caught a train that took us back to Rome to sleep at the Grand Hotel.
Friday, June 16: Siena, Italy. Will and Rose stayed at the Excelsior Hotel, northwest of the Piazza del Campo.
June 16th - At 8:30 we took a bus for Siena. We stopped at Orvieta for lunch and went to see an outstanding Cathedral there. A little nine year old boy (whose father was the guide there for years) took us around. He is a child wonder. We were amazed at his knowledge and vocabulary. A young man from Evanston, Ill. took his picture and promised to send us one.
At 5 P.M. we arrived at Siena and Mrs. Graziana was waiting for us at the hotel. We had such a nice visit. She told us how the Germans took possession of their home which was a mansion on a 160 acre estate with a high wall around it. The Germans kept the servants and ordered her to go into Siena and find a place to stay. Then they found out that Mr. Graziana was an international banker connected with the London bank and they were going to kill him as a spy. Then the Americans were coming and the Germans fled and advised Mr. Graziana to get out of his house as they had placed a mine under it. He went into his wine cellar to get the servants and while there the whole top of his house was blown up.
Mrs Graziana then left us at 7P.M. to take her bus for home.
June 17th: We left Siena at 9 A.M. and we passed the Graziana place 5 miles out of Siena. She was standing at her big iron gate with 2 beautiful big white dogs and waved goodbye to us. We were then on our way to Florence.
There are some changes in our itinerary - I will tell you why later. We will not get to Lucerne Switzerland until the 28th. Skip Regensburg, Germany. So write us in Munich next and until you have further notice (Bayerisher Hof).
Hope you are all well and happy.
With love, Mother and Dad
Saturday, June 17: Florence, Italy. Will and Rose stated at the Excelsior Italia Hotel in Florence, on the Arno River northwest of the Ponte Vecchio.
Genoa, Italy, June 27, 1950
My dear Family,
Lots has happened since I last wrote and that was only a week ago. June 17, Saturday noon we arrived at Florence from Siena. All along the road saw the terrible destruction from the war. Also saw the large cemetery of our American soldiers. At Excelsior Hotel had a grand room on the river side. We took a buggy ride to see the Cathedral and more of Florence. Met our friends, Dr. & Mrs Kessner registering at our hotel. Evening we went to an Opera and Ballet "Ifigenia in Aulide" by Gluck, in an open air theater in a beautiful garden.
Sunday nite, June 18 - dinner with the Kessners and spent the evening playing Canasta.
Monday, June 19: Venice, Italy. Will and Rose stayed at the Royal Danieli Hotel in Venice, just east of St. Mark's Square.
Monday, June 19 - We left on the train for Venice. When we arrived there and saw all those Gondolas taking 2 and 4 people at a time it seemed like fairyland. As we glided along the streets of Venice it seemed like a dream. I surely loved the experience. The "Daniella" was very beautiful, all marble and we had a front room. Everything in it was the last word. The new dining room just completed was on the roof. Then we went down and sat in the elegant parlor. When we got up to leave, I walked to the reception hall and didn't see the miserable 5 inch step and fell down bodily - men came rushing from all directions. And they began pulling me up. I found I couldn't step on my right foot. They dragged me up to my room. There was a swelling the size of an egg puffed out on my ankle. A doctor came and said it was a strained ligament and packed my foot with wet dressing.
I thought of Tanta's little wheel chair as Dad would drag me to the bathroom on a chair.
Tuesday, June 20th. I stayed in bed most all day. The doctor came again and had a nurse bind my foot with a rubber bandage. We left Venice at 6 P.M. for Milan.
Wednesday, June 21: Milan, Italy. After an arduous train ride from Venice to Milan, Will and Rose stayed at the Continental Hotel in Milan. On Thursdasy, June 22, they had their picture taken feeding the doves in front of the Milan Cathedral.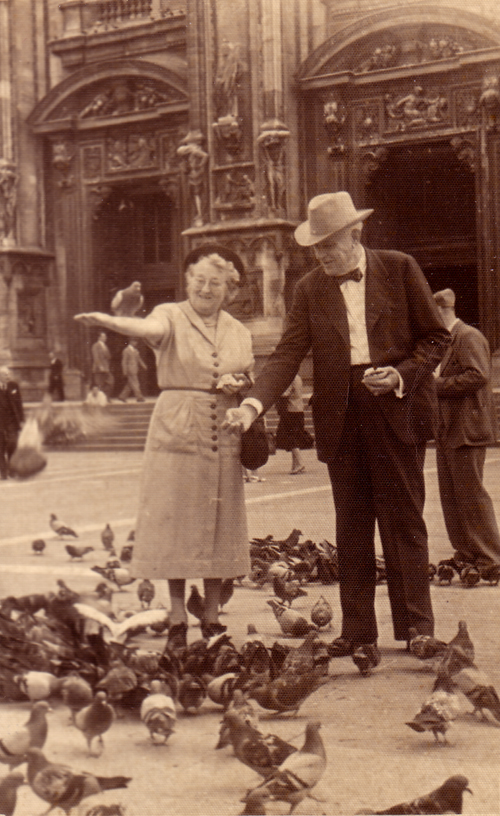 Rose and Will Drueke feeding the pigeons in front of the Milan Cathedral in June 1950. Milan Cathedral was built from 1366 and 1485.
It was a long drive and we stayed in the diner a long time. Coming back to our compartment I noticed Dad's small bag was missing - it had been stolen. There were 12 coaches on the train so when we got to Milan at midnight, Dad decided to go way up to the first one and look for his bag. I was back in the 3rd last coach. There wasn't a man around to hand the other 3 bags out of the window for me so I walked way back to the station and got a man with a cart. But when he found he had to get up in the train and get the bags he threw up his hands and walked away. Just then my train was switched back about four blocks. (Isn't there anybody who can speak English I yelled!) (everybody on that train was going to France). - And a young brakeman said "I know a little." When he saw how desperate I was, he tried to motion that the train would come back six tracks over but I couldn't figure out that I was to go down 2 stairways and come up the 4th. So he said "you run and I go too but I got work." Was I ever glad that I had a couple packs of cigarettes to hand him. Then I ran twice as far back and got a man with a cart. He was a Grouch and grumbled too when he found he had to take the bags out of the train.
All I could say was "Taxi" and he took me through a long dark corridor - then the baggage elevator, pitch dark. And when he went to open the opposite door of the elevator, I was shaking like a leaf, thinking my hour had come! He took me through a big baggage room - men yelling at him. Then the taxi - a tough looking driver - there wasn't a light anywhere on the streets and little allyways as we sped. I thought of the D.A. stories - I ventured to say "Where is the Continental Hotel?" Up went his hands and he said "Conti nata Ie! conti nata Ie!" So I patiently prayed on.
And Dad was at the station looking for me and for the train - thought he had lost me and the rest of the baggage. He had been talking to the police and they phoned back to Verona police - a man was caught there with Dad's bag. Was I ever glad when I heard Dad's voice in the hotel.
Wednesday, June 21: Dad got an early start to go to the police. They would not send his bag like they would in the U.S.A. He had to go way down there and get it. He will tell you details of that. Dad got back late that night. I rested all day - Remember I had a sore foot through all this?
Thursday, June 22nd: In the morning we went to the beautiful Milan Cathedral and you have probably received our picture feeding the doves. In the afternoon we took a ride with a guide and toured the city.
Friday, June 23rd: We took that bus ride through the beautiful lake section and were back at 7 P.M.
Saturday, June 24: Geneva, Switzerland. Will and Rose stayed at the Beau Rivage Hotel. Geneva is at the southeastern end of Lake Geneva, where the lake flows into the Rhône River. It is in the French-speaking section of Switzerland.
Saturday, June 24th: Most of the day on the train into Geneva, Switzerland. The Beau Rivage hotel is a swankey resort hotel on Lake Geneva and it's the height of the season.
Sunday, June 25th: I felt so tired and my foot ached and I thought I should do something about it. We both got the same idea to see a doctor and have him put me in a hospital to rest while Dad went into France to buy those chess. I have a fine French doctor who put me in the 'Clinic La Colline' Sunday A.M. He said I had a sprained ankle. I have a German nurse and having all the works and liking it. Doctor had a rubber bandage made for my ankle and said it would be tip-top if I went with Dad June 28th to Lucerne on condition that I would find a good place there to rest. We will stay there until July 3rd and then go to Munich. So keep writing to Munich.
Your letter to Interlaken was forwarded here. Tell Rosie I received her letter. Also call Marian Banks - tell her I received hers. Tell her about me. Am wondering if Stuart sprayed our roses? I had tri-o-gen in the garage. It's really fun to have Dad come to the hospital to see me - it's a nice place - all French but my nurse.
Love, Mother and Dad.
Thursday, June 28: Lucerne, Switzerland. Will and Rose stayed at the Grand Hotel National.
June 28 was Will and Rose's 44th wedding anniversary. They were married at St. Mary's Church in Grand Rapids. The wedding was announced by Tante and Uncle Charlie. Will and Rose never reached their 50th anniversary. Will died five months before it.
Rose saved a brochure for Mt. Pilate, which overlooks Lucerne. It can be reached via "the famous Pilatus Railway which climbs on a daringly built tract from the lovely shores of the Lake straight to the high alpine regions of the Pilatus." It is the steepest rack railway in the world, with a maximum gradient of 48% and an average gradient of 35%.
Munich, Germany - July 4th, 1950
My dear Family:
My last letter I wrote while in the hospital in Geneva. We left Geneva the 28th of June - our wedding anniversary. It was a four hour ride to Lucerne, Switzerland. Dad bought 1/2 small chicken, a couple of buns, and a bottle of wine which we ate at noon on the train. We are not taking any more chances leaving our luggage to go into the dining car. It was a very scenic ride along the snow capped Swiss Alps.
Our hotel room at the Grand National was the best yet - we were right on the shore of Lake Lucerne, We would sit on our verandah right over the lovely tree -shaded promenade all along the lake and watch the swimmers and the continuous stream of pleasure boats. And a whole background of mountains - and at the right - that huge Mount Pilatus towering above everything.
One day we took a pleasure boat ride to Mt. Riggs - then took a scenic cog road train up the mountain 8000 ft. and there - certainly had a fine view through the glasses. It looked as if the snow on surrounding mountains was 30 ft, deep. We were with a young couple from Ypsilanti, Michigan. They took a picture of us up there - hope it comes out well.
Lucerne is certainly a beauty spot of the world. It was so peaceful there that we hated to leave.
Monday, July 3: Munich, Germany. Will and Rose stayed at the Bayerischer Hof in Munich.
Sunday July 2nd we left Lucerne and spent the day on the train coming here to Munich.
We were shocked to see the whole center of this town in ruins. The Germans are hard at work trying to rebuild it. This hotel, a 650 room hotel ­ mostly all destroyed is partially rebuilt. No elevator service yet and out of all the windows you see nothing but broken down walls and debris. I certainly admire the Gennan people. They are working so hard and yet they seem so cheerful. They are grand to the Americans.
Our first night here we went to a German Operetta, which was good. It was very modern and up to date. Wonderful costumes and singing and dancing.
It is very hot here. I was compelled to shop for a cool dress. I got a blue and white polka dot dress and now I look like all the other German women.
Heard from the McKays here. They may meet us at Frankfurt.
This noon we are taking a train to Oberamergau. Coming back tonight.
Love from Mother and Dad
Tuesday, July 4: Garmisch, Germany. Will and Rose spent the 4th of July traveling from Munich to Heidelberg, stopping in Garmisch at the suggestion of Capt. Shriver, whom they met on the train. Capt. Snriver was head of all American and German transportation in the American Zone. he drove them to Oberammergau, where they were unable to get tickets for the Passion Play, and then back to Garmisch and Lake Riessersee. He got them on an Army train back to Munich. Rose bought a cuckoo cl;ock in Oberammergau, which perhaps was the cuckoo clock we always saw in the cottage at Coldwater Lake.
Koln, Germany July 13, 1950
My dear Family
My last letter I sent from Munich, July 4th, before we went to Oberammergau. On the train we sat with Captain Shriver of the U.S. Army and immediately became great friends and he offered us - if we got off at "Garmisch," his army post, he would drive us to Oberammergau from there. He had just taken his wife and 2 children to Frankfurt and after checking at Garmisch was looking for some way to spend the 4th. We found that he was the head of all American and German transportation in the American Zone and that he really was somebody.
Garmisch is a lovely little town, so unique and different, in a valley with mountains all around. It was away from all bombing and fighting during the war and our army has a post there.
Then in Oberammergau, we thought we might get tickets for the Passion Play and stay the next day for the play - but no chance. We bought a cuckoo clock there for the cottage. Do not open any of our packages until we get home.
Then Capt. Shriver drove us to Lake Riessersee - a resort the army took over - and it is so beautiful there. We enjoyed every minute - met people and had dinner with the Captain. Then he drove us back to Garmisch. He put us on an army train which was much better than a German train - had belonged to German generals. He showed us Himmler's train - really something! It was grand to be with the American military personal.
Wednesday, July 5: Heidelberg, Germany. Will and Rose stayed at the Hotel Haarlass on the River Neckar.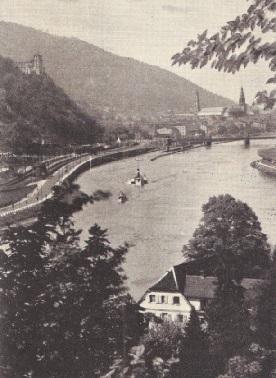 Picture of Heidelberg on the Neckar River as showen on the front of a brochure saved by Rose. The Hotel Haarlass is in the foreground. Heidelberg Castle is on the hill to the left. The Church of the Holy Spirit is in the upper right. The bridge over the Neckar is the Staustufe Heidelberg.
We were back in Munich that night and planned to leave the next day which was July 5th and stop at Heidelberg to break up the long trip to Frankfurt. With great difficulty we got a reservation there for the night. But to our disappointment found we were out of the city five miles a hotel like we found up North in Glen Harbor, Mich.
The American soldiers have taken over every hotel in Heidelberg but one - and that's always filled.
Thursday_ July 6 - Drove back to Heidelberg (taxi) in the morning along River Necker and saw the old notorious castle and the "Old Heidelberg" where the setting of the play "The Student Prince" was written.
Friday, July 7: Frankfurt, Germany. Will and Rose stayed at the Frankfurter Hof, a few blocks north of the Main River.
We left Heidelberg at eleven and reached Frankfurt at 2 P.M. Had my hair done there - and at 5 P.M. sitting in the lobby of the Frankfurter Hof when the McKays arrived. Did not expect them until the next day and we were all so happy to see each other.
Later 5 of us were sitting together in the lobby when we saw Mr. & Mrs. Irving Stroup from Grand Rapids. Then the seven of us went to a German restaurant - had dinner and a lot of fun.
The Frankfurter Hof was a very beautiful hotel - had been damaged but they did wonders repairing it. The elevators are not yet in and we were on the third floor - not just three flights of stairs but a double flight for each floor making a six stairway climb.
Friday July 7th: We all went on a walking and shopping tour in the A.M. My one prize purchase was a lacy Dresden figurine for one of our window shelves.
Saturday, July 8: Mainz, Germany. Will and Rose took a boat north on the Rhine River from Mainz to Cologne. Not too far north of Mainz they would have passed the Loreley Rock. Will's father, a whiskey wholesaler, had named a sour mash whiskey he sold after Loreley.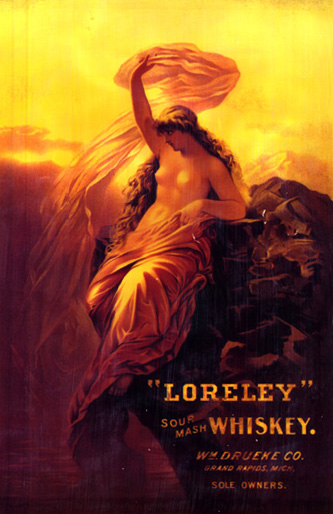 Poster for "Loreley" Sour Mash Whiskey. Circa 1897-1910. Purchased by Peter Biggins on eBay in 2003 with the assistance of William Biggins. Size: 13" x 20".
Sat. July 8 - We left at 7 A.M. for Mainz and at 9:30 A.M. took the boat there for our trip up the Rhine to Koln. A beautiful trip. We sat in the bow of the boat at a table for 5 the whole trip. At noon had lunch and played some canasta part of the afternoon. Arrived at Koln at 6 P.M.
Saturday, July 8: Cologne, Germany. Will and Rose stayed at the Excelsioir Hotel Ernst, opposite the Cologne Cathedral.
Koln was hit the worst of all. We were just shocked to see whole blocks in ruins. The Excelsior hotel is in fairly good repair and very nice. The wonderful Koln Cathedral is across the street from the Hotel - the altar part was unharmed but the center part was badly damaged and heads of the Apostles on the outside were shot off. They say it will take 20 years to repair it.
Koln was 75% destroyed: 68 Catholic churches and 4 Protestant ones all damaged - most of them all blown up. Our room was on the other side of the hotel and across that street was a church blasted all to pieces. Not a pleasant view.
On that day - July 8th there was a big celebration in town. It was 1900 years ago that the town was founded. There was a big display of fireworks over the Rhine and everybody was out in the streets and singing all night.
Monday, July 10th: Agnes, Alma, and I went through the shopping district in the morning and of course bought some things. At noon they left us to go to Switzerland and we planned our trip to go see Dad's relatives. We left Koln at 7 A.M. Tuesday July 11th and came back to Koln on Thursday, July 13th and tomorrow, July 14th we will leave here and be in Brussels tomorrow night.
With love, Mother and Dad
P.S. I forgot my paragraph of Sun, July 9th. We went to mass at the Dom Cathedral across the street - at 11 :30 the Cardinals Mass with much ceremony on account of the 1900 year founding.
That afternoon the five of us took a taxi around - you can't imagine the terrible destruction!
That night had dinner at a night club and saw a good floor show.
Mother & Dad
Tuesday, July 11: Niederwenigern, Germany. Will and Rose started a side trip to visit relatives in Westphalia. They took a train to Hattingen, changing in Hagen. They took a taxi from Hattingen to Niederwenigern, a small borough of Hattingen on the Ruhr River. There they visited Victor and Anna and their children. Rose wrote to her children and families:
Brussels, Belgium - Sunday, July 16, 1950
My dear Family:
Tuesday, July 11 - we checked most of our baggage at the Excelsior hotel, Koln and left at 11 A.M. to go to Niederwenigen. We changed trains at Hagen to get to Hattinggen, had lunch there and then taxi to Niederwenigen. We had wired Victor and Anna so they were at a window waiting for us.
Their uncle, a bachelor, owns a little tavern and they live with him. You should have seen the food on the table for us - we were so sorry we had eaten. They are so hospitable! Their children, Ursala age 4 and Mathew, age 9 months old are darling. Had dinner with them at 6 0' clock and then went back to Hattingen to sleep.
Wednesday, July 12: Helden, Germany. Will and Rose stayed in Hattingen Tuesday night and the next day, Wednesday, they took an early train to Helden to visit Emma Henze. Will's father was born in Niederhelden in 1853 and emigrated to New York in 1871. His father's older sister Anna Maria marrried a Henze in 1867. Rose wrote:
Wed. July 12: Took an early train to HeIden to see Emma Henze. Took a taxi to her grand big home high upon a hill. Her son and his wife were glad to see us but Emma was in a hospital. She had caught her finger in a sausage machine two weeks before, had to have it amputated and was having a bad time of it. They gave us a grand meal and then we taxied to the hospital to see Emma.
They told us how the American soldiers came to their house and ransacked everything and how they stole everything - all their jewelry­wedding rings and all at the point of their guns. It did'nt sound very good. They have beautiful dishes and silverware which they saved as they buried it in their ce11ar.
Wednesday, July 12: Siegen, Germany. Will and Rose took a train from Helden to Siegen, where they visited Dr. Padberg. Rose wrote:
Then we took the train to Siegen and planned to stay there overnight a: there were three hotels. But found the town was all shot to pieces. Could'nt get a room for love or money. We phoned several nearby towns and taxied miles and when we got to one and I saw the rickity patched walls, I told Dad I was aftaid to stay there. We went back to Siegen and called Dr. Padberg where we were going to stay the next morning. It was 10:00 P.M. and he said "you come right over here." So we taxied back in the other direction.
They were grand people and we visited late that night and they got us up at 5:30 the next morning as we had to taxi back to Siegen and take an early train back to Koln.
Thursday, July 13: Cologne, Germany. Will and Rose took the train from Siegen back to Cologne.
It was Thursday July 13 . We stayed in Koln that night to rest. Friday, July 14, We left Koln at noon and were soon out of Germany and arrived in Brussels at 6 P.M. Found the letter Marian wrote on July llth. Also a business letter to Dad.
Love from Mother and Dad
Friday, July 14: Brussells, Belgium. Will and Rose stayed at the Palace Hotel. Rose wrote the letter shown above and below.
July 14 - Friday noon we left Koln and arrived at Brussels, Belgium at 5 o'clock. There was a decided change in the kind of homes in Belgium. There were blocks and blocks of brick buildings all joined together - the side would be just solid brick walls for another part to be added and never any side windows.
July 15, Saturday. Walked around the shopping district in the A.M. After lunch had a private car with driver and guide take us on a city tour. Saw the King's palace - he is expected to return from exile in Switzerland. There are a great many who do not want him (Leopold). We saw that famous carved pulpit in the church - carved from the trunk of a tree. That took so many years to complete.
Sunday, July 16. Driver and guide took us to an all day tour at Bruge. It was a unique medieval city and kept that way. There were many canals and quaint brick bridges. We went through an old convent where they were making lace. I bought a couple pieces. There we saw some beautiful paintings done by an unknown painter.
Monday, July 17: The Hague, Holland. Will and Rose stayed at the Des Indes Hotel in the heart of The Hague, not far from the North Sea.
Monday, July 17. Driver called at 9 A.M. Mailed two large packages (one for McKay that we could not send from Germany). Then we were on our way to the Hague. We went through Antwerp, the largest modern city of Belgium. Then Rotterdam - a big ship building town. There were many large ships docked there. It is a part of the Holland-American Line. And there were so many new clean looking apartment building with large picture windows. We arrive at the Hague at noon at the des Indes hotel.
At three o'clock we had a new driver and guide who drove us around the city. An interesting town - then went to a fishing village where herring are caught. Saw barrels and barrels standing on the shore, many of the fishermen's wives mending the nets - they wore funny white starched hats. Their homes were all along the shore and all joined together - clean and good looking buildings.
Then we came to a whole area the guide said had been bombed down to the ground (high apartment houses) by the English, by mistake! They thought the Germans were there and 3000 were killed in 10 minutes. There are many tragic tales told everywhere.
I decided to have my shoe heels straightened and was so surprised to see I had worn a hole in the bottom of my shoe.
Tuesday, July 18: Arnheim, Holland. Will and Rose stayed at the Bilderberg Hotel in Arnhem. Arnheim is the German spelling of Arnhem.
Tuesday July 18 - Driver called for us for a whole day drive to Arnheim. Saw the Queen Mother, Wilhelmina's home. And also the summer palace of the Queen. We spent the night at a resort hotel, Bilderberg, outside of Arnheim.
Wednesday, July 19: Amsterdam, Holland. Will and Rose stayed at the Victoria Hotel, near the train station in the center of Amsterdam.
Wednesday, July 19: Driver called for us at 9 A.M. and we arrived at Amsterdam at noon at the Hotel Victoria. At 2 P.M., the driver called for us with a guide and we were taken to Volendam on the Zuiderzee. It was a treat there to see all those native fishermen in their native costumes and wooden shoes which they wear all the time.
Then we took a boat over to the island of Marken. It was all so different in these places - they are the most contented and happy people. We notice that they take off their shoes when they go into their houses. In the winter, they put straw in their shoes to keep their feet warm.
I intended to finish my notes tonight but if I want this letter to get in the mail to go to Ireland tomorrow - must close now and continue it to be mailed in New York Sunday noon when we arrive there.
Love, Mother & Dad
Friday, July 21: London, England. Will and Rose stayed at the Savoy Hotel in Central London, with panoramic views of the Thames River. It was built by impresario Richard D'Oyly Carte with profits from his Gilbert and Sullivan operas.
London, England, July 21, 1950
My dear family,
Just a note this A.M. Had a nice trip on the plane from Amsterdam last night. Left there at 6:30 but by the time it took to go through customs and located in our room here at the Savoy, It was 10:00 P.M.
Guess we will really get home all right. But, yesterday I decided to sit in our car while Dad roamed around in a museum. I saw an ice cream cart a few steps from the car and decided to get one. Our driver had backed the car up on the walk so instead of stepping on level ground, I stepped on the walk off to the pavement and sprained my other ankle. So now you know!
I got a first aid bandage at the airport and I managed to slide along, Guess it will be all right as it is bandaged tight. But I won't see much of London. And it's raining hard all morning so will be contented to stay in.
Had a nice letter here from Jane - so will write her today - you need not send her this. Did you know on our list which is wrong - Hague is in Holland and also Arnheim is in Holland. Maybe that is why we haven't heard from you. We are hoping yet to get a letter from you before you leave.
Very happy to get a letter from Doris.
Monday, July 23: Southampton, England. Will and Rose boarded the S.S. America at the Southern Railway Docks in Southampton for their return to New York six days later.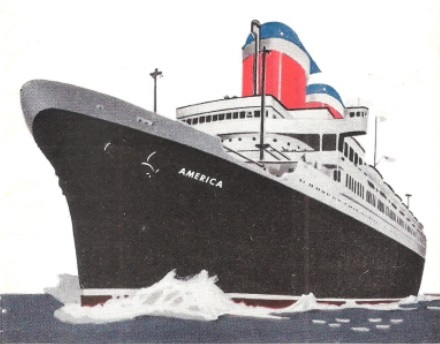 Picture of the S.S. America shown on the front of a brochure saved by Rose for the First Class Deck Plan.
Aboard the S.S. America July 24, 1950
My dear Family:
It seemed so good to get on the boat last night with our own people again We left London at 6:30 on the boat train - a two hour ride. The boat did not leave until midnight. We arrived at Le Harve at 6:30 this A.M. and the boat stayed there until 3 P.M. Think my last notes were mailed from Koln.
Monday, July 30: New York. Will and Rose returned to Pier 21 and boarded the overnight train for Detroit and Grand Rapids.
Tuesday, July 31: Grand Rapids. Will and Rose returned home after a trip to Europe that started May 17 and lasted 10 weeks and 5 days.