Census for Lawrence and Mary Lynch Hayes Household
| | 1850 | 1860 | 1870 | 1880 | 1900 |
| --- | --- | --- | --- | --- | --- |
| Source | Image | | Image | Image | Image Image |
| Index Name | Hayes | | Hayes | Hayes | Hayes |
| Address | Williston, Vermont | | Williston, Vermont | Williston, Vermont | |
| Head of Household | Larry Hayes, 26, laborer on farm of Alonzo F. Saxton, born in Ireland | | Clarence, 46, farmer, born in Ireland | Lawrence, 56, farmer, born in Ireland | Lawrence, 79, farmer, born in Ireland, immigrated in 1845, naturalized |
| Wife | Mary Linch, 24, on farm of Alonzo F. Saxton, born in Ireland | | Mary, 45, born in Ireland | Mary, 55, born in Ireland | |
| Daughter | | | | | Margaret E., 45, nurse, born in Vermont, parents born in Ireland |
| Daughter | | | Mary, 18, domestic servant (Johnson farm next door), born in Vermont | Mary, 26, born in Vermont, parents born in Ireland | Mary, 46, born in Vermont, parents born in Ireland |
| Son | | | Lawrence, 10, born in Vermont, parents born in Ireland | Lawrence, 19, farm laborer, born in Vermont | |
| Unknown | | | Thomas, 30, farmer, born in Vermont | | |
| Granddaughter | | | | | Mabel M., 9, born in Vermont, parents born in Vermont |
| Grandson | | | | | John W., 8, born in Vermont, parents born in Vermont |
Genealogist Maureen O'Brien has provided the following information.
Lawrence Hayes was baptized in Kilteely & Dromkeen Parish, County Limerick, Ireland, on August 26, 1824. The 1900 census says Lawrence immigrated to America in 1845.
Mary Lynch was born in Ireland on February 13, 1818.
Lawrence and Mary's first child, Mary Ellen, was born in Williston, Vermont, on October 10, 1852. So, they were probably married in 1851.
Daughter Margaret Elizabeth was born in Williston in 1854. Sons Thomas and John were born 1857 and 1859. John died in 1863.
Son Lawrence was born in 1861. He married Jennie Duprey in 1891. See: Lawrence and Jennie Duprey Hayes.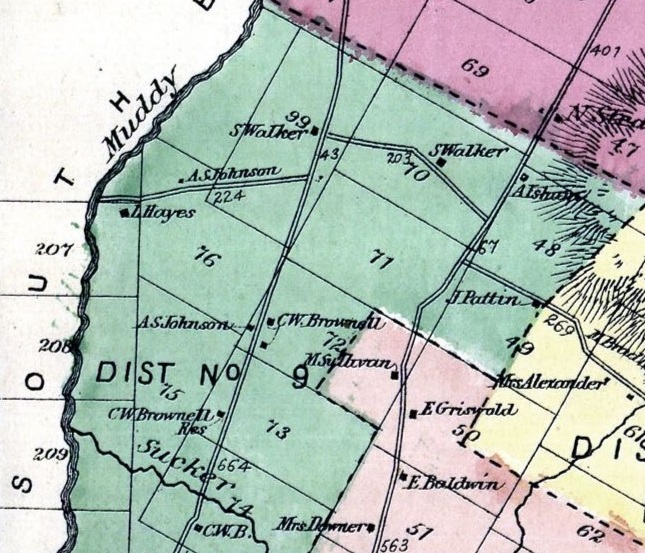 L. Hayes farm in Williston on what is today Van Sicklen Road, between Muddy Brook (South Burlington border) and South Brownwell Road. Source: 1869 Williston Map published by F. W. Beers & Co. Source: Historic Map Works.
Mary Ellen died on June 6, 1898. Lawrence died on July 11, 1906. They are buried in St. Joseph's Cemetery in Burlington. See: Find A Grave.
The 1900 census includes grandchildren Mary Mabel and John. They are also included in the census with their parents, Lawrence and Jennie Duprey Hayes.


Larry Hayes obituary, Burlington, July, 11, 1906.